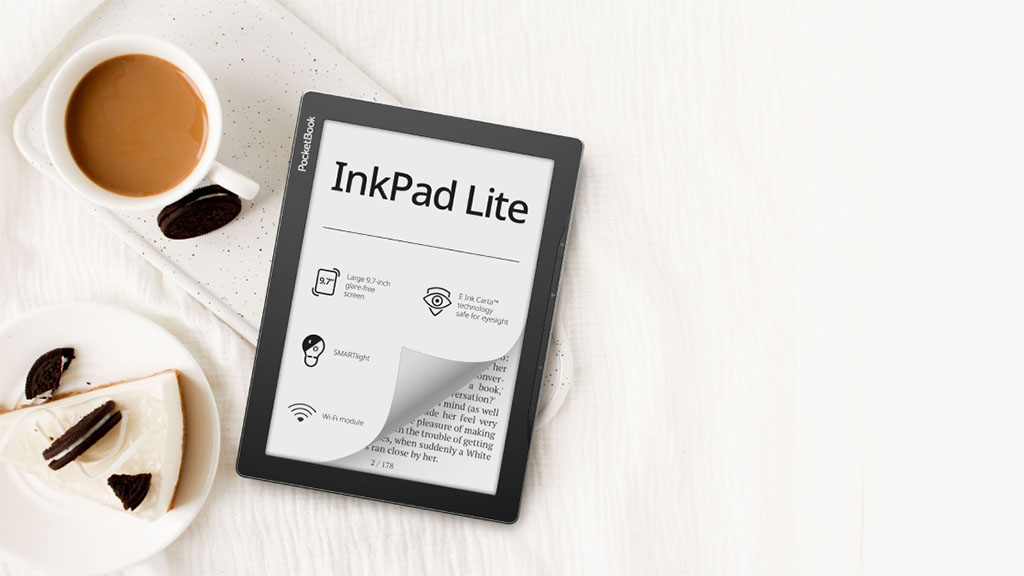 To make big-screen reading an affordable affair, PocketBook has made the important announcement about the latest e-reader InkPad Lite with E Ink Carta display.
Need for a Bigger and Affordable E-Reader
With the world living a digital-based life, the dependence on devices like this has increased manifold. This e-reader from PocketBook is specially designed to benefit students and all those dealing with digital content with its big screen.
From comfortable reading to taking notes marking and highlighting important texts, all is possible in this amazing PocketBook E-reader.
Excellent Features of PocketBook InkPad Lite
This 9.7-inch large screen device supports the SMARTlight feature that allows users to adjust the brightness and color to suit e-reading.
PocketBook InkPad Lite is manufactured to aid better and comfortable reading session. The large screen fits in more text and readers can adjust the fond to will suit them. So every care is taken to minimize any possible vision problem.
A front-Lit display made possible by 24 LED Lights keeps reading comfortably at night and in low-light conditions.
E Ink Carta Technology guarantees a real printed book-like reading experience by making the screen as natural as possible to increase comfort for the eyes.
The device is designed to be handy and compact. Facilitating easy and hassle-free reading, be it any classic or a textbook, the design is appealing and easy-going. The right-side control buttons are an innovation to the design and add to the convenience of the readers. Flipping pages is easier with the side buttons.
This compact device with more screen size from PocketBook is sure to win over the hearts of the readers with its ergonomic design and heightened convenience.
It is suitable for both right-handed and left-handed users. Thanks to the G-sensor that helps in detecting the orientation of the device.
PocketBook InkPad Lite will expand the possibilities as it supports 4 graphic and 19 book formats. It supports all the popular formats and no longer do users need to convert files to access them.
Features like Dropbox and Send-to-PocketBook opens up better communication between e-readers who can now exchange books very easily.
It allows better synchronization of books with other devices with the help of pocketbook Cloud and PocketBook Reader App.
It is powered by a dual-core 1.0 GHz processor, that gives it the power to load pages and applications on high speed and provide the most smooth e-reading experience. Turning of pages is also very smooth.
Imagine charging the device once and using it for almost a month. Yes, this device provides this freedom to you with its 2200 mAh battery.
It supports 512 Ram and 8GB of internal storage that can be expanded to 128GB via MicroSD Card.
Related: 10 Best Writing Tablets
As per the information surfacing, this pragmatic PocketBook InkPad Lite will be available for purchase from autumn of 2021. You can buy this amazing and powerful high-end e-reader for $299 once it is available.
Source: Pocketbook