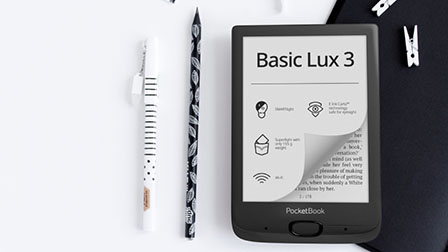 A multinational company and the third largest manufacturer of e-reading tablets, PocketBook has launched a new entry-level e-reader tablet. The company claims that its new PocketBook Basic Lux 3 has so much to offer in this basic model.
The company has constantly been striving to provide the latest technology in its e-readers; to make reading more enjoyable and convenient. With Basic Lux 3, the company has brought its Smartlight feature in the tablet that not just is self-lit unlike those older basic Kindle tablets without light but also has color temperature settings.
You can adjust different brightness levels and set warmer to cooler tones according to the time of the day. This color temperature feature is available in one of the advanced versions of the Kindle tablet. In a nutshell, the Smartlight feature in a basic model is quite promising.
This feature also allows setting presets to quickly enable favorable light settings. The Basic Lux 3 has a 6-inch screen. This is perfect for one-hand reading. Not to mention, this PocketBook tablet features an E-ink Carta screen. The screen resolution it offers is 758 × 1024.
This electronic ink display offers the utmost real paperlike viewing experience. That simply doesn't strain your eyes. Also, when you read on it in the direct sunlight, it doesn't produce any glare, unlike smartphone screens. In fact, the direct sunlight makes the screen more readable, just like the text on real paper becomes more readable in bright light.
The PocketBook Lux 3 is definitely fit for outdoor use thanks to e-ink technology. However, it's a basic e-reader and doesn't come with an IP rating for the protection against water or dust particles. So, you'd have to use it away from the beach or pool.
The e-reader comes with a wi-fi module. That makes transferring books easy by using the DropBox PocketBook service or the Send-to-PocketBook function. Moreover, the PocketBook reader app lets you sync with all your devices to maintain the reading status the same across them.
One more enticing feature is that you can access different branded book stores on it, unlike Kindle. So, whatever app you're using before and want to continue reading your book where you left off, you can do that. This also means that you don't have to use the PocketBook app always.
PocketBook Basic Lux 3 module can read 23 formats in total including 4 graphic and 19 text formats. That eliminates the need to keep converting books to compatible formats now and then. Surprisingly, the e-reader can also read DRM protected PDF and EPUB files.
The tablet configures 512 MB RAM and comes with 8 GB of onboard storage. The storage is quite big and can store thousands of books. Moreover, it also comes with a memory card slot so that you never have to worry about running out of storage.
The RAM and technology used make the PocketBook Basic Lux 3's battery last up to even a month as well on a single full charge.
The e-reader weighs just 155 grams, making it super convenient to carry wherever you go. It comes in Black color.