Weren't you waiting for an open-source tablet to come out for so long? Well yes, Pine64 company started working on their tablet in the last year but with their ongoing work on Pinephone and Pinebook, the project got delayed. And again, this COVID stuff in China put the production of these tablets to a halt. Finally, after factories started running and PineTabs will be available for pre-order this month.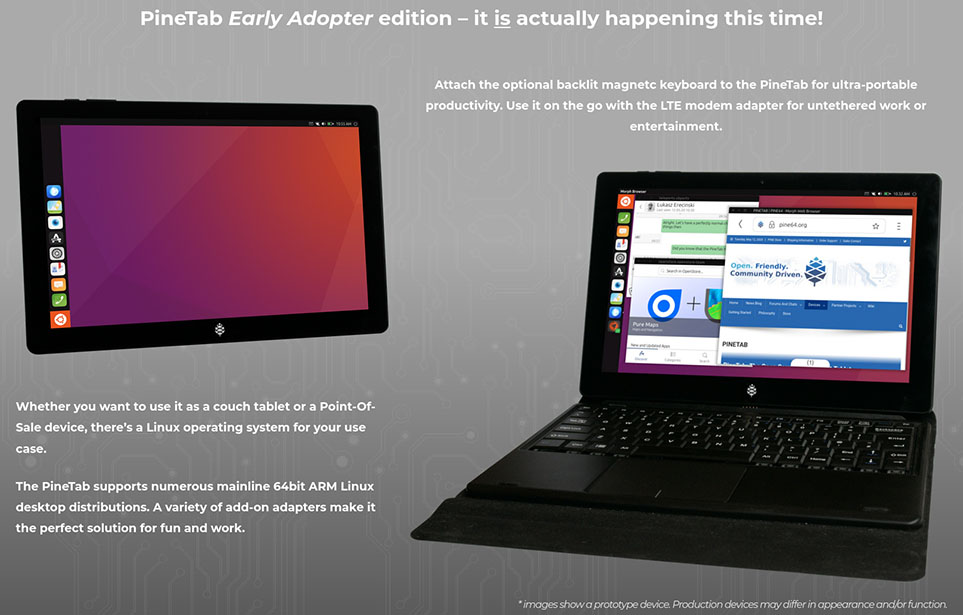 You might be wondering how an open-source tab that runs on a Linux OS would be a great choice as a tablet. If you ask me, I would definitely give it a shot for this tablet as it has all the features packed and super budget-friendly. Well, let me just tell you Pine64 launched Pinebook laptop for $100, Pinebook Pro for $200, and Pinephone for just $150! And this new PineTab will cost just $100. Here's the rundown on the nitty-gritty of this device.
Pinetab supports a keyboard, which can be purchased separately for $20. The keyboard is backlit and attaches magnetically with the Pinetab. The price point of this slate just never cease to impress me. However, it is important to note the first batch of these tablets will be more like a beta version and you might want to wait for later batches. Pine64 hasn't given this batch any special name but it will be a batch of limited numbers of pilot devices.
It will have a 10 inches IPS LCD display which is great at such price. The tab comes with a quad-core processor with 2GB RAM, similar to what's inside the Pinephone. The front-facing camera is 2 MP and the rear-facing camera is 5MP. You can't shoot videos or capture photos with the utmost clarity but for general purpose, it's just fine.
The storage capacity of Pinetab is 64GB eMMC. In addition, you can extend this memory using a Solid State Drive or a MicroSD card which will be bootable. It comes with a USB 2.0, video output, and USB-OTG output ports. The battery is also quite powerful with a capacity of 6000 mAh.
An interesting thing about this slate is it can run on the OS designed for both laptops and phones. When you connect a keyboard, you can actually run the device on a PC OS. The first batch of these devices will be shipped with UBports' Ubuntu Touch operating systems. Pine64 is claiming that the choice for the OS will explode after it releases its first batch of Pinetabs. With the launch of open-source tablets, Pine64 has opened a multitude of opportunities in developing new open-source tablets.