When it comes to Phablet, you get two devices in one, and OYYU T7 Pro Phablet does it better. It is a device that can meet surfing needs or play videos for you while at the same time you can make phone calls or even video calls. I must say this, but the phablet looks cute! Not that it looks like a premium smartphone or the largest tablet, but a mixture of both that gives you an entry-level phablet.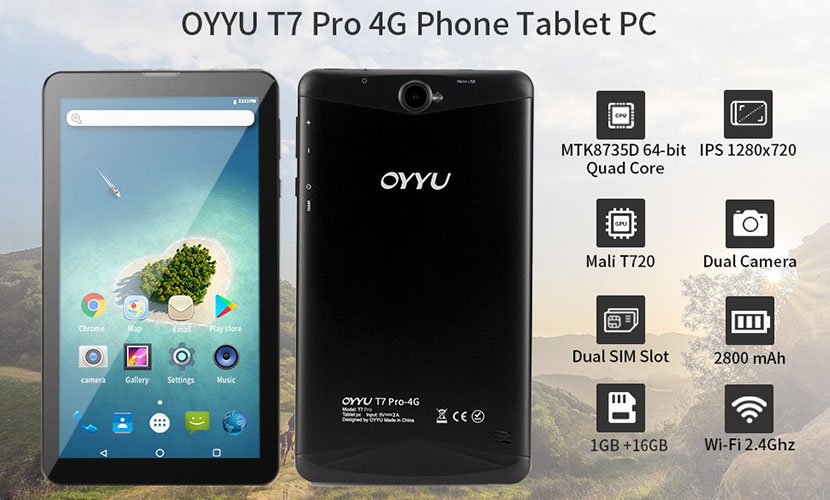 Now, on the working sides, it has got downhills. For most of the features or spec, the OYYU T7 Pro Phablet has can only provide you entry-level functioning, and the manufacturer themselves gives you a list of Dos and Don'ts if you want the Phablet to work well. However, it is a very low-cost device which defines its reason for compromised features. Read on, to see how it works.
RAM and Storage
The OYYU T7 Pro Phablet has 1GB RAM which is not strong enough to handle heavy workloads or tasks but will get you through the day with enough performance without the need for you being grumpy. It is is not the best of all, however, it handles your tasks efficiently provided you don't feed it gigantic files or data that it can't process. Along with 16GB ROM (expandable via microSD card), the 1GB RAM works together to give you a basic mobile like functioning. It did not give me any lags or glitches at the start and moving forward, as per the condition of not putting heavy data into it, I got pretty much what I wanted. It was smooth (not the smoothest) and working fine. You can definitely make this your partner for working on-the-go or doing a quick phone or video call or even gaming for that matter. Give it some time to process at the first time when you start the device and it will give you the best of multi-tasking functions too. Along with these two, it is geared with Mali T720 GPU which gives gaming a firm pedestal to run.
Processor and OS
You have to note down one thing though. It is a Pro version of this phablet. Even if it's not a heavy-performance phablet, it definitely is a high-performance one. The MTK8735 64-bit Quad-Core processor clocked at 1.1GHz defines that. It has a quad functioning behavior, which means it has 4 cores in the processor chip which divides the functions, naturally making the execution efficient and strong. It can be the of the most useful for your multimedia or gaming experience. This quad-core processor is strong enough to not leave a trail of lags which will sound like a cheap priced and badly manufactured tablet.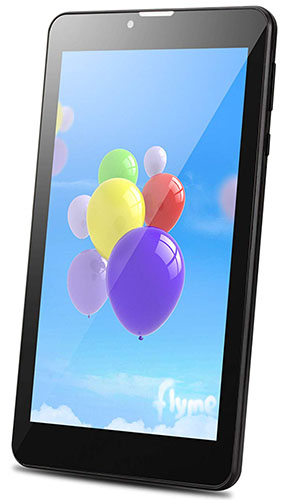 Also, with the Android 7.0 Nougat OS, you get the best of functioning for your 3D games or ultimate online browsing. Apart from the pre-installed internal apps, you can afford a lot of other apps that won't give a bumper to the device. This android version is pretty much updated with the latest features and battery saving capabilities that make it an higher-end version ultimately giving the device the high-end skills.
Design and Display
As said at the start, it definitely looks like a cute device to me. It has thick bezels both on vertical and horizontal ends. It has a metal case with curved edges and the same metal casing on the back. The bezels, however, has always been a problem for me, no matter what device it is. It makes it look fat and old. But it is not really fat as it only weighs 1.46 pounds which is light! With dimensions, 7.3 x 4.4 x 0.4 inches, this device is fitted with a 7-inch display with 1280×720 IPS HD screen resolution which gives you a bright and crisp image quality. Talking about brightness, the display color can be so bright that it may look like the image or the video is pristine but it is not. The given resolution is not the highest and does not even inch a little close to the 4K resolution, so calling it pristine would be a mistake. However, the wide display with comparatively narrow bezels than other versions of the same phablet brand (but is thick according to me), makes the viewing experience a good one.
Battery, Camera, and others
OYYU T7 Pro Phablet powered with a 2800 mAh 3.7V lithium polymer battery which gives approximately 6 hours of usage upon full charge. It is a powerful battery which does not take giant leaps to finish while usage. It provides power consistently. This phablet is also fitted with dual camera with 2.0MP that lets you make instant video calls or snap for capturing any moment you come across. As this is a light device, streaming and capturing becomes an easy task. It has an amazing network connectivity of 4G(LTE-FDD B2-1900 MHz/ B4-1700 MHz/ B7-2600 MHz/ B 17-700 MHz), 3G (WCDMA 850/1900/900/2100MHz), 2G (850/900/1800/1900Mhz). This LTE featuring tablet has dual sim slots for you to insert two sim cards for better network and calling usage. It is really amazing for me as you get to invest in a device that gives you both WiFi 2.4Ghz and 4G network connection. Impressive! Apart from that, it has also got one USB slot and a charging slot with microSD card and dual SIM card slots. Everything is inbuilt. It also has a built-in speaker which is loud and clear enough to give nice audio output to you while watching a video or making a video call.
Verdict
Apart from all of the above features and specs we talked about, OYYU T7 Pro Phablet also comes with a tablet stand which makes it easy for you to watch or video call. It is worth a purchase as it's an inexpensive device for your day to day needs. It will cost you just $77.99 (Amazon).