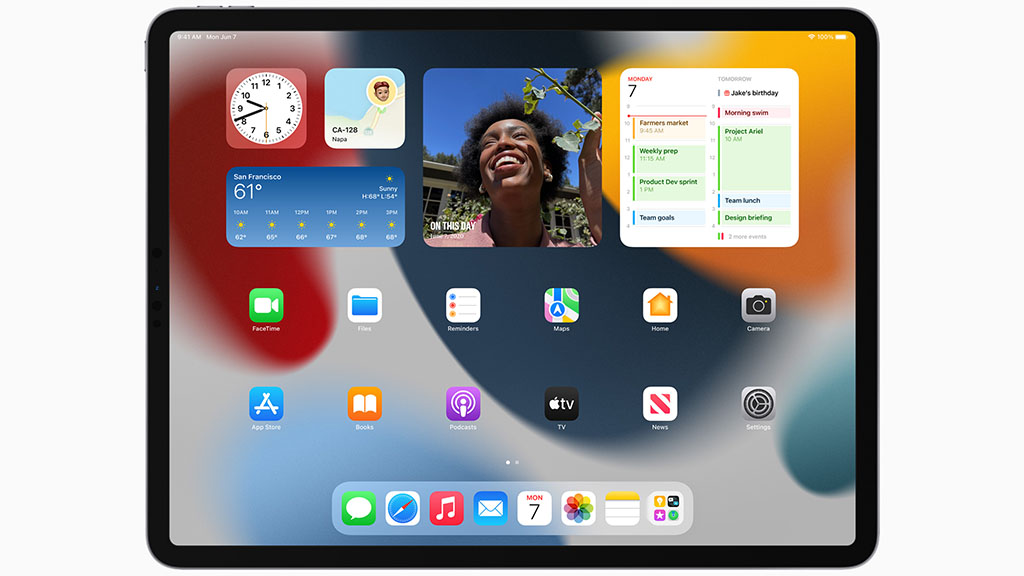 On May 7, 2021, Apple previewed the new iPadOS 15. Its new capabilities take advantage of the unique features of the iPad to help users improve work efficiency and further expand the versatility of the iPad.
New iPadOS 15 Brings An Assortment Of Great Features
iPadOS 15 provides a more intuitive multitasking experience, making functions such as split-screen browsing and slide over easier to discover, use, and more powerful.
Apple note is a system-level function of Quick Note, which provides a new way of collaboration and organization, whether writing using Apple pencil or just typing.
Use multitasking features and keyboard shortcuts to do more work
iPadOS 15 makes using multiple apps more accessible than ever. A new multitasking menu appears at the top of the app, giving users one-click access to Split Views or Slide Over. Users can now quickly access the home screen when using a split-screen shelf.
You can also use multi-window apps such as Pages and Safari for multitasking and promptly previewing emails. It has brand new keyboard shortcuts and redesigned menu bar.
Personalize and organize your iPad with App library and widgets
Users can now place widgets between applications on the home screen page to provide quick access to additional information and a more personalized experience.
The new, larger widgets are designed for the large iPad screen, which is great for viewing videos, music, games, photos, and more. iPadOS 15 also includes new widgets for the Find My, App Store, Game Center, Contacts, and Mail.
Capturing thoughts and organizing made easier with quick note and tags
The new feature of taking notes on the iPad makes it easier to record and organize ideas. Notes are extended to the entire system through Quick Note, a shortcut for taking notes anywhere in the system. Whether browsing Safari or searching Yelp restaurants, users can view quick notes anywhere to jot down ideas and add links, which is an easy way to return to their viewing.
Use SharePlay to share a more natural FaceTime call and experience
FaceTime makes it easy for users to connect with the people who matter most to them, and iPadOS 15 makes connecting with friends and family more natural. With SharePlay, users can now share experiences while chatting with friends via FaceTime, including listening to songs with Apple Music, watching synchronized TV shows or movies, or sharing screens to watch apps together.
Experience new feature with Safari
Safari has a new tab design that allows users to see more pages while browsing.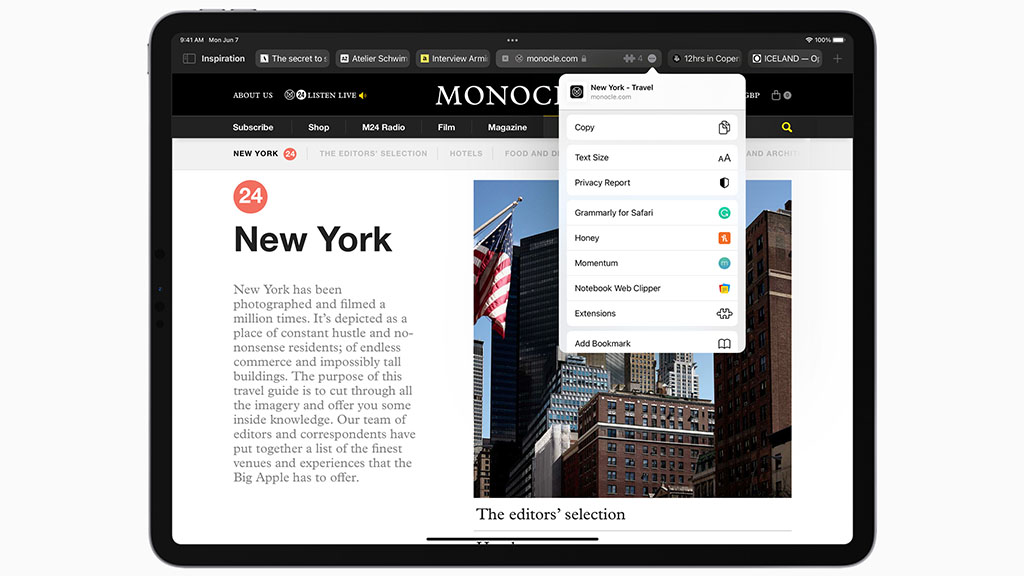 New intelligent photo features
Live Text uses device intelligence to recognize Text in photos and allow users to take action. For example, a snapshot of a store might show phone numbers and calling details. Visual Look Up will enable users to identify objects in the photo, such as the type of flower or dog breed.
The new translation feature made communication easier
The translator app included with the iPad has unique features to make communication more accessible and more natural. When using the translator application, the automatic translator recognizes when someone is speaking and in which language so that users can chat without touching the microphone button
Build your app on the new iPad and share it with the world
Swift Playgrounds is the easiest and best way to learn to code. Now, with Swift Playgrounds 4, users can use these tools to create iPhone and iPad apps directly on the iPad and send them directly to the App Store, opening up new ways to create apps and share them with the world.
New iPadOS 15 comes with some added benefits
Universal controls enable users to work with one keyboard and mouse. It lets you switch between iPad and Mac without additional settings.
Shared with you is a feature that helps quickly access contextual information across all the systems in Apple. You can share photos, articles, songs, Apple news through the Shared with your feature.
Maps provide new ways to navigate and explore the world. Users will receive significantly improved details in cities and local neighborhoods. Maps now have a modified nighttime mode, and it comes with a moonlight glow.
The new iPadOS 15 has taken data protection to a new level with further protection, visibility, and control. The app privacy report will provide how the applications are sharing data among them.
Siri is designed to protect user privacy. With voice recognition on the device, Siri request sounds are now fully processed on the iPad by default, which improves performance.
iCloud+ combines everything that users love iCloud with new advanced features at no additional cost.
It comes with new accessibility features. VoiceOver screen readers now use device intelligence to check objects in pictures so that users can learn more about people, Text, spreadsheet data, and other things in pictures.