Popular for its design and versatility, Microsoft Surface tablets are now even more portable, lightweight, and faster with Surface Go 2. Microsoft is making it available from the coming 12th of May and is now available for pre-orders.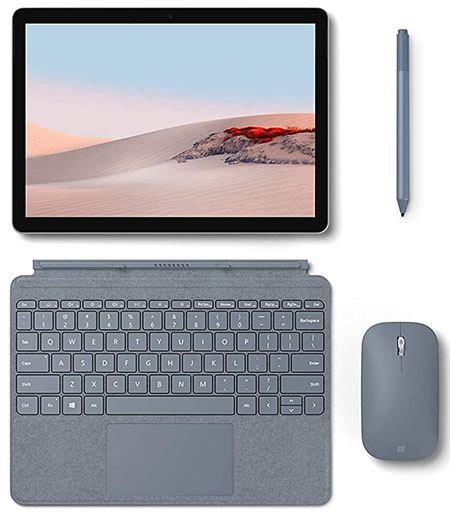 Microsoft has claimed that Surface Go 2 will be whopping 64% faster. Its 8th generation of Intel Pentium Gold and Core M processors are so promising.
You can choose the RAM from two options; 4GB and 8GB. One of the other major improvements is its battery life. Microsoft ran a test in February and it turns out that the Surface Go 2 can run 10 hours on a single charge on typical usage.
Big organizations like Renault/F1 Law School Admissions Council and some others across the globe are evidently using Surface devices for its versatility, performance, and portability. Surface Go 2 is going to be a good upgrade to that.
It has a 5MP front-facing camera for better video calling experience and an 8MP rear-facing camera. In addition, it has two mics making Surface Go 2 more effective in canceling noise during company meeting calls. It also comes with camera apps that scans documents and photos quickly so that you can work on it easily with the digital pencil.
Surface Go 2 has 10.5 inches display with its PixelSense technology with 1920 x 1280 resolution, that is, 220 pixels per inch. It has enterprise-grade security for signing in and a hello face lock. You can attach the keyboard that you can purchase separately to use it as a laptop with a touchscreen display. Also, mouse and pencil are optional accessories.
Related:
If you're concerned with warranty and the support, Microsoft gets your back well. They have a 30-day return policy, 12 months of in-store technical assistance and support, and 90 days of free of cost technical phone support. Warranty becomes crucial especially when you're purchasing devices in bulk for your company.
The color variants are Platinum, Black, Poppy Red, and Ice Blue. Well, Surface Go 2 is a perfect slate for children and students as well. They can learn and attend online classes, take notes easily, and complete their work on it using keyboards and mouse. Editing pictures and sketching is quite comfortable using the pencil. Moreover, it comes with an LTE connection so that you can make phone calls as well.
All in all, this device is in the middle ground of a phone and a laptop and eliminates the need for carrying a laptop and phones everywhere you go.