The new ThinkPad X12 Detachable is a Windows tablet, and it is likely to compete in the same marketplace as Microsoft Surface Pro 7. Many analysts view it as a lookalike model, but it is powered with more power efficiency features and upgraded hardware components. Lenovo uses the latest 11th Generation Intel i7 vPro processors that comes with four cores, and it is capable of Tiger Lake processing with fewer ports.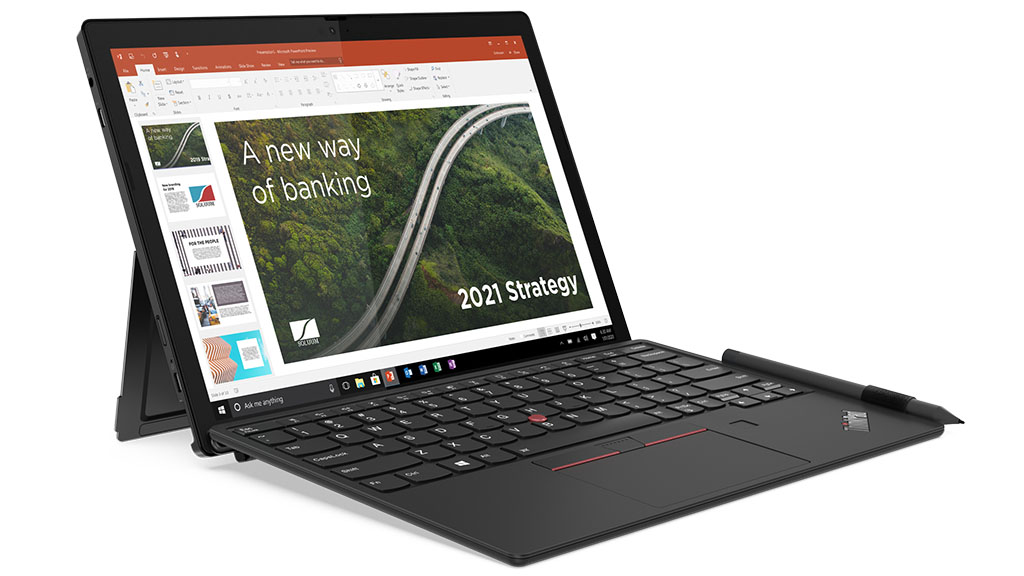 The chip-set of the ThinkPad X12 Detachable is more powerful than some of the traditional laptops. And by pairing the processor with 16GB of RAM, it can run high-demand applications without lag or overheating. Lenovo is offering SSD storage options with up to 1TB capacity. Users can now make fast data transfers and downloads on the go without having to drain half the battery percentage.
The performance of the ThinkPad shows no concerns even with less number of ports. Lenovo provided two USB Type-C ports, out of which one is Thunderbolt 4 enabled. An empty card slot is also embedded for users to insert an LTE modem.
Such connectivity features ensure fast connections with accessories like a precision pen or detachable keyboard. In terms of feasibility, Lenovo has gone above and beyond to introduce Smart Docks. They make it easy to address different pain points related to workflow and user productivity.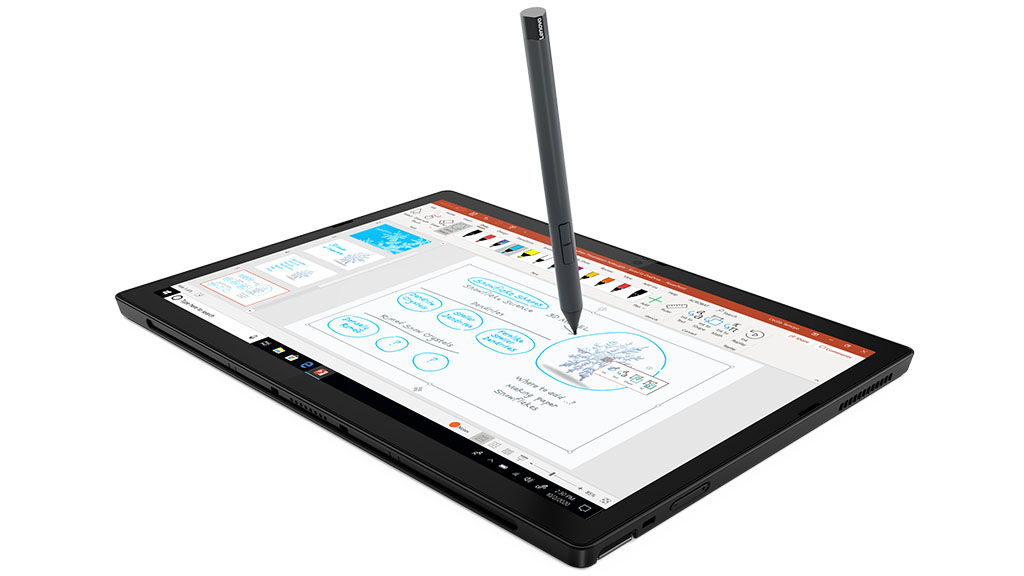 ThinkPad series is exclusively made for business professionals who are constantly on the move to the next location. This 2-in-1 tablet can provide the required portability and compatibility to thrive in those tough working situations. With the tablet weighing at just over 2.5lbs, users will find it extremely lightweight, and its ultra-thin form factor makes it even more accessible and easy to carry.
With respect to the display, the ThinkPad X12 detachable comes with a 12.3" IPS display, and it's the screen. It is protected with Gorilla Glass 5. The Full-HD display has a high-brightness capacity of 400 nits, so working outdoors under natural sunlight should not be a problem.
Lenovo has also incorporated a backlit fingerprint reader and touch-pad into its detachable folio keyboard. The 2-in-1 tablet has a laptop-like feel to it, but the digital pen takes the overall user experience to another level.
The ThinkPad X12 comes with a 42Whr battery, and it can last for almost 10 hours straight, so there is no stopping your favourite Netflix shows. The audio experience while watching movies is powered by Dolby premium applications and their corresponding microphones.
The applications associated with the digital or precision pen are endless. Users can carry it to any place and start using it at any viewing angle. The ThinkPad X12 detachable has very few design restrictions, and it allows users to get creative and dig deep into their imagination. The precision pen comes with a tilt feature, and it has high sensitivity levels to get faster response times.
When it comes to reliability in the long-term, Lenovo has the most potential, and it is because they make premium products that can survive a little wear and tear. The security features of the ThinkPad X12 underwent serious enhancements, and the overall safety has improved to a higher degree.
Features such as facial recognition with IR camera and webcam privacy shutter gives users more assurance and peace of mind. Along with safety, Lenovo also offers device management features to monitor ports and firmware updates.