In today's high technology and fast-paced era, computer devices sizes are shrinking day by day for delivering better flexibility and portability for the users. Lectrus LECT-TAB1011 is one of the devices which comes in a small packet but fetches incredible performance. Slim, sleek 3G unlocked tablet works on Android platform and can perform any required tasks without much hiccups or issues.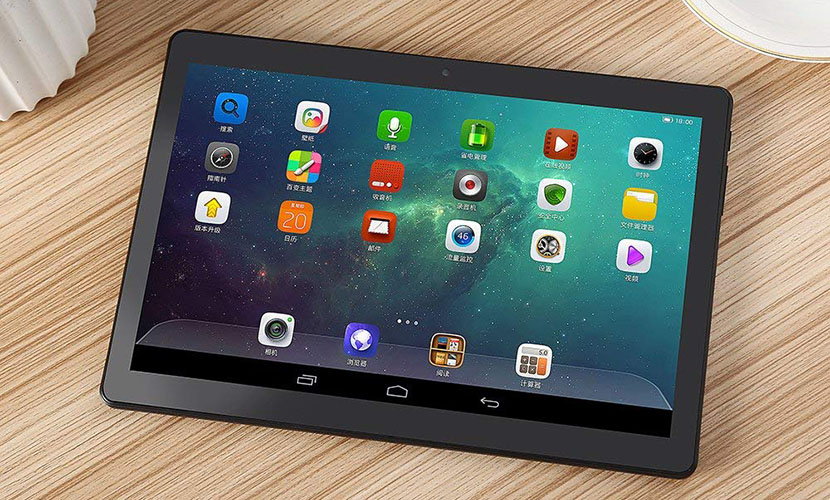 The 3G tablet receives the power from 1.5 GHz Athlon 2650e Quad-Core processor paired up with 1 GB DDR3 SDRAM. The 10.1 inch IPS touchscreen display is responsive. Dual sim card slots enable you to carry two sims simultaneously and alternate for calls or internet as per requirement. Micro SD card allows you to add up to 64 GB of space for storing data, photos, videos or files. Good battery life gives you the bandwidth of using it more on the go. This is a complete device which gives you the option of calling, performing day-to-day tasks, emails, and videos with minimal of presence.
Overview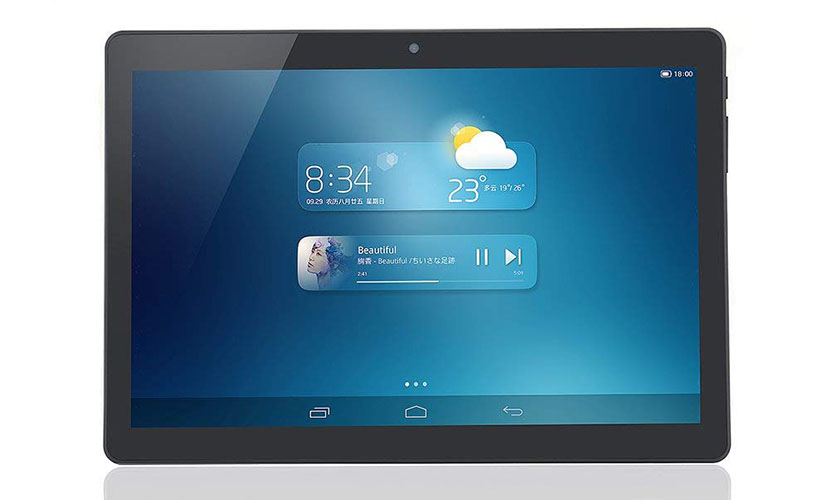 Lectrus was a world leader in developing electrical power and mechanical control system. From last few years, they are focusing on computer peripherals sector. Smartphones and Tabs are trending hot these days because of the dual functioning of calling and computing plus highly portable due to its size. Tabs can perform each and every task of the computer in a very efficient way. Lectrus LECT-TAB1011 is one of the Tablets which receives elegant design, durable components, superior display, and good battery backup at an unbelievable jaw-dropping price.
Design
Simple design as you normally find in any tablet features in this tablet as well. Narrow bezels can make screen looks a little bit different from usual tabs but company misses that trick. The Screen size of 10.1-inch IPS touchscreen is good enough to handle your basic tasks with ease. On the top bezel, a web camera is placed for making any video call or taking photos. The dimensions of 9.48 x 6.59 x 0.34-inches and weight of 1.63 pounds allows you to carry this tablet anywhere with you.
A whole back panel is covered with durable black plastic finish material. Rear end got big LECTRUS branding in the center and model number right below that. Small bars on the upper and lower end holds many things and looks attractive as well. The upper bar consists of camera, flash, sim and SD card setup. Speakers are placed at the lower bar. Both bars hold smooth paint finish whereas the middle section receives texture finish for strong grip and hold. Overall, you can't complain about the design as it is superb to hold and looks stylish on appearance.
Performance
Performance is essential for any device to stay in the competition and this tablet doesn't discourage on its performance. This is a 3G tablet so any network up to 3G, there is no issue while connecting. Android 6.0 Marshmallow operating system supports the platform architecture and enables you to work with any android app easily. Lectrus LECT-TAB1011 is equipped with AMD Athlon 1.5 GHz Quad Core processor combined with 1 GB DDR3 SDRAM. Dual camera setup consists of a 2.0 MP on the front and a 5.0 MP camera on the back. You can't expect exceptional quality images from the camera but still receives a decent one.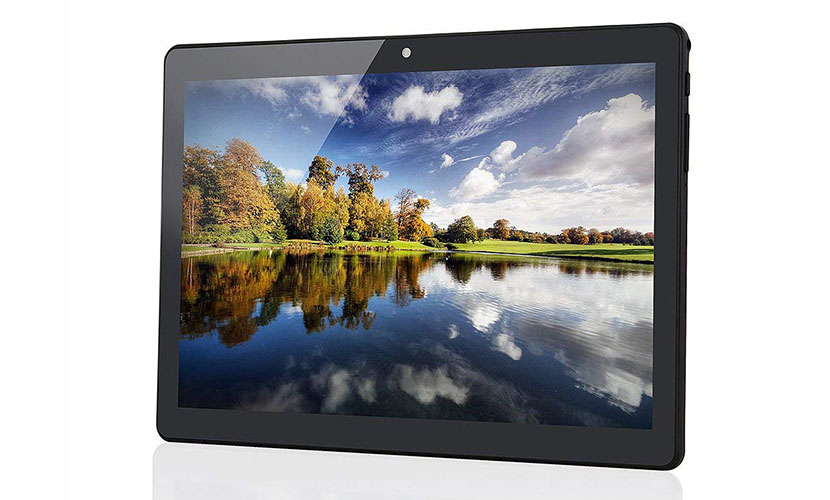 The display of 10.1-inch High Definition IPS display is quite large to see every detail in a crisp way. The resolution of 1280 x 800 pixel provides enriched detailing to the users. Graphics fueled by Mali-400 MP2 graphics coprocessor is fluent and lag free. Data can be stored at 16 GB Nand Flash Hard Disk Drive and expandable SD card up to 64 GB. Ample space to store your college tasks, everyday tasks, or normal gaming with ease.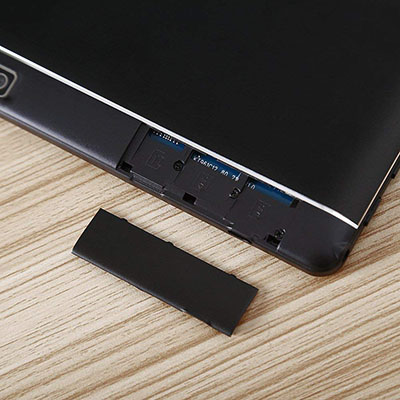 Connectivity
As a port option, you will get USB 2.0. There is no wired connectivity option attached due to the space crunch on the adjacent hence you can only find wireless connectivity option provided in this device. Wireless connectivity can be managed using blazing 802.11 b/g/n WiFi router or Bluetooth 4.0 option.
On calling front, you will get the dual sim card options which can support 2G GSM for 850/ 900/ 1800/ 1900 MHz and 3G WCDMA for 2100/ 850/ 1900 MHz. Make a call or use the internet you will enjoy the clarity and speed on both respectively. OTG cable can be used to connect various devices like mouse, speakers, and keyboard to this device.
Battery Life
Tablet value automatically increases in case it offers a good amount of battery backup to the system. This tablet is indulged with 5000 mAh battery which gives approx. 4-5 hours of working hours. This amount of runtime enables you to enjoy videos, perform tasks, or studying even more fun-filled and enjoyable.
Multiple language option is another big benefit of this tablet. You can choose from a wide range of choices from 40 languages including English, Spanish, German, Italian, Russian, French, and Chinese to name just a few.
Verdict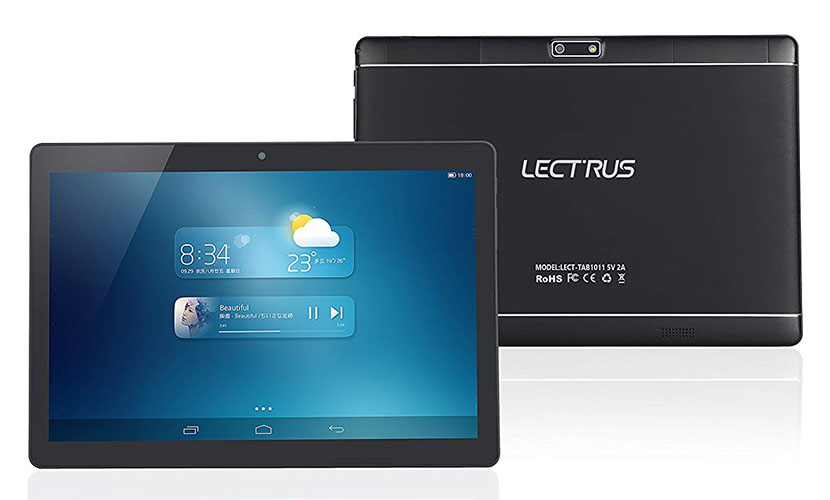 Lectrus may not be a very familiar entity for normal computer user but it is a renowned name in the electronic segment. LECT-TAB1011 seems to be a very genuine effort from Lectrus to explore new market and opportunity. With this tab, Lectrus have visualized the concept of computing in a more modern way. As smartphones and tabs are a very big market and approachable you can launch your products effortlessly and Lectrus does the same thing by launching its Tablet.