iskn introduced a new drawing tool, Repaper to reproduce the experience of drawing with paper and pencil. This smart technology can be used as both digital board with stylus and also the traditional paper and pen drawing tool.
The Repaper rings fits into the drawing material like pen or pencil and recreate the digital version of the drawing. It is a creative tool that assists the artists to work at ease. Technically, it is a pressure-sensitive tablet that records the pressure applied at ash points and convert them into digital art. It also has options to edit and recreate the picture in digital art.
It is an advanced version of the Slate 2+ with newly added features like stylus, pressure sensitivity with augmented reality. This limited edition product from Faber Castell is created to recreate the pleasure and inspiration artists have anywhere they go.
It is simple portable and lightweight essential can be carried anywhere and almost everywhere. The manufactures say it is created for three purposes as:
Dedicated application
Portability
It is compatible with recent technologies like android 7 and above, iPhone 6 and above, iPad 4th gen and above, Mac 10.11 and Windows 10. It gives the ability to create art without limits. The artist has freedom in the choice of paper and pen. The only thing is the Repaper ring should be attached to the pencil or pen used to draw.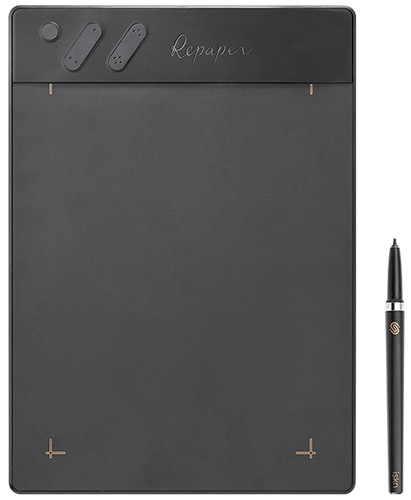 It is paired with Faber Castell 9000(2B) graphite pencil. iskn collaborated with Faber Castell in launching this new device. It is added in the digital essentials for drawing. It has a list of accessories supplied with it like the Repaper ring, clips, pencil case and the tablet cover. The Repaper tablet can be used with a stylus too.
The idea is to create digital art as we draw on the paper. The art drawn on Repaper is directly converted into digital art and saved in Adobe Photoshop using the stylus. This technology simply turns a sheet paper and the art in it into a digital image.
There are wide opportunities to color and edit the picture drawn through Repaper. It instantly converts manual art into digital art by using the stylus. The process of conversion is explained in the below steps.
Fix a normal sheet of paper on the Repaper tablet
Use the Repaper ring on the pencil used to draw
Create your art
A connected device like laptop, mobile or tablet converts your manual art into digital art.
Edit or color your digital art.
Some other benefits of the devices stated by the manufacturer are:
It applies our favorite tools to draw.
Paints accurately with measurements.
Capable of creating a time-lapse video.
Compatible with mobile phone.
Can be used as graphics tablet.
Wired and wireless connectivity.
Compatible with recent desktop and mobile versions.
It comes with a stylus and can be drawn with a pencil too.