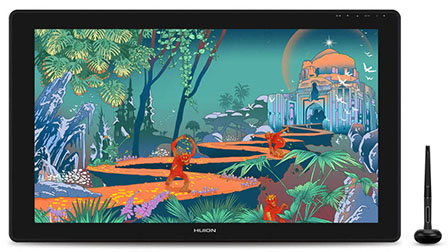 Huion, the company known for its remarkable digital graphic devices, is launching new 'Pen Displays'. Kamvas 24 and Kamvas 24 Plus are added to the Kamvas 24 series of Pen Displays whereas the new Kamvas Pro 24 (4K) is added to its Kamvas Pro series.
These pen displays are basically tablets but with large screens. The large displays have their own benefits. For example, you can work on multiple windows at the same time without zooming in to work on the finest details of an image.
Huion's Kamvas pen displays are a great addition to a professional graphic design working space or your own personal studio. They also offer discounts for bulk orders and to students. Check out the 'Offers' section on Huion's official website.
The pre-sale event will start from 30th July and will end on 30th August PDT. Now let's see what you can expect from these new Pen Displays and a little bit about pricing.
As with Kamvas series displays, the new kamvas 24 devices, Kamvas 24, Kamvas 24 Plus, and Kamvas Pro 24 (4K) will have a bigger screen of 24". Its non-shortcut key design makes the working experience quite convenient and allows more workspace. Its larger screen eliminates the need of zooming in and out, and switching between the windows, making shortcut keys a futile addition.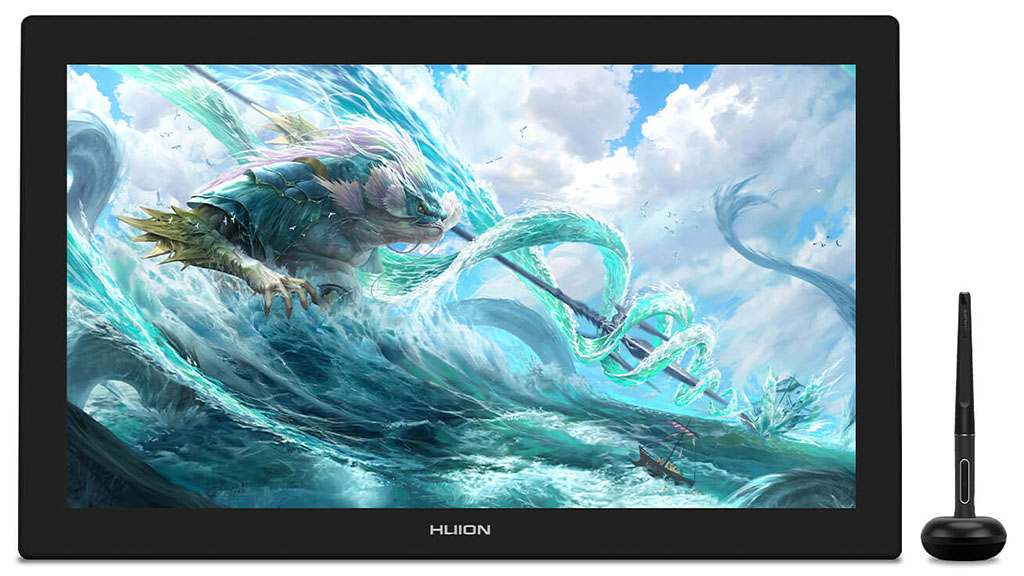 Unlike many other graphic devices, these new devices will have QHD and UHD. Kamvas 24 and Kamvas 24 Plus has QHD whereas Kamvas Pro 24 (4K) has UHD display. QHD stands for Quad High Definition display with 2560 x 1440 resolution. QHD is four times better than the standard 720 high-definition display.
Kamvas Pro 24 (4K) is available online at Official Huion Store
On the other hand, the UHD display of Kamvas Pro 24 (4K) features 3840 x 2160 resolution. Clearly, it is a better resolution than FHD and QHD and has more pixels per inch (ppi) for better visuals and creating the finest details.
These new Huion devices will have industry-leading Quantum Dots Technology for professional graphic designing. The Kamvas 24 offers 120% sRGB / 85%NTSC color gamut whereas Kamvas 24 Plus and Kamvas Pro 24 (4K) come with 140% sRGB / 97%NTSC display.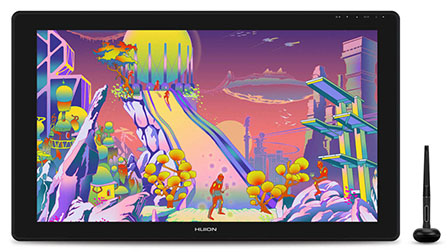 All in all, this excellent combination of color gamut is the industry's best standard. Huion is also going to launch new monitor arms for better positioning of multiple displays.
However, Kamvas 24 and Kamvas 24 Plus will come with an adjustable stand and Kamvas Pro 24 (4K) will have an integrated stand.
The contrast ratio in Kamvas 24 is 1000:1 and the other two devices launching with it have 1200:1.
Talking about the screen-finish, Kamvas 24 has non-laminated anti-glare matte film, whereas Kamvas Plus and Kamvas Pro 24 have fully laminated etched anti-glare glass.
The HDR support is exclusive to Kamvas Pro 24 pen display. HDR refers to High Dynamic Range that allows a user to see fine details in very bright and very dark regions in a picture.
All three devices support PenTech 3.0 technology by Huion. Its pen doesn't have to be charged to use. Its anti-slip grip with two buttons allows you to work seamlessly on the graphic. Kamvas devices also come with different felt pen nibs for more functionality.
If you're looking for new professional-grade tablets or rather big displays for your institution or personal use, you may definitely want to consider upcoming Huion Kamvas 24, Kamvas 24 Plus, and Kamvas Pro 24 (4K) Pen displays. These pen displays are listed with $799, $899, and $1299 respectively on its official website for presale.