China's leading graphic designing products manufacturer Huion launched two 21.5-inch pen displays – Kamvas 22 and Kamvas 22 Plus on 10 July 2020. According to the official website, the Kamvas 22 Plus features higher configuration compared to the Kamvas 22 presenting the consumers with options to select the right product based on their budget and requirements.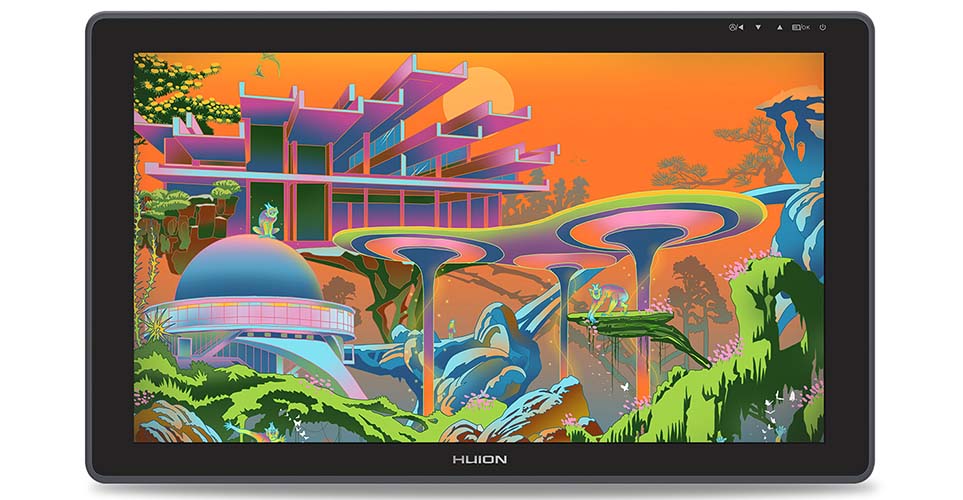 With regard to design, both pen displays have a simple look and a sleek body without any physical buttons on the display giving more room to the active drawing area. The thickness of Kamvas 22 and Kamvas 22 Plus ranges from 19mm to 26.7mm and the net weight of the device is 3.9 kilograms including the stand.
A hallmark feature of both Kamvas 22 and Kamvas 22 Plus is the anti-glare matte film and etched glass technology of their screens. The anti-glare finish surface provides enhanced clarity and a vibrant display effect. The new series also offers a wide viewing angle of 178 degrees and 1920 x 1080 display resolution which is useful for detailing and working with different angles.
Additionally, the Kamvas 22 Plus comprises of full-laminated technique for amalgamation between glass and screen to minimize parallax and distractions. With a color gamut of 140% sRGB and contrast ratio of 1200:1 the QD LCD of the Kamvas 22 also blocks blue light using advanced quantum-dot technology. These premium features make this device a perfect fit for professional use.
Developed using the Pen Tech 3.0 technology the PW517 digital stylus of the new Kamvas 22 and Kamvas 22 Plus has a low magnetic core making the nib of stylus more stable. This digital stylus is battery-free and offers a pressure sensitivity level of 8192. Along with 60-degree tilt support and 5080 LPI pen resolution, this digital stylus enables designers to pursue different drawing effects.
With its minimalist design, the Kamvas 22 and 22 Plus comes with two USB-3 ports which can be used to connect the pen display with a computer, android phones, or other tablet using a 3-in1 cable or a USB-C to USB-C cable. One USB-A port is also available to connect with external devices like a keyboard or USB disk.
Adding to the aesthetics, the new Kamvas series is accompanied by ergonomically designed grey metallic sand complimenting the black color of the pen display. The stand can be adjusted to angles of 20 to 80 degrees for comfortable work experience.
Both Kamvas 22 and Kamvas 22 Plus are compatible with Windows 7 or later versions and MacOS X 10.12 or later versions. They are also compatible with Android and connect easily with the majority of Samsung Galaxy tablets, HONOR, and Huawei devices.
Its compatibility with multiple operating systems adds to the convenience to pair it with other types of equipment one may already own. Moreover, the device supports numerous popular designing software like Adobe Photoshop, Adobe Illustrator, Clip Studio, SAI, GIMP, and more.
In terms of the price range, the official website has listed the Kamvas 22 for US$399, and Kamvas 22 Plus is listed for US$499. Therefore, both are affordable options for beginners and professional designers based on their requirements.
The package of the Kamvas series also contains a power adapter, AC cable, pen holder PH05A, 10 extra pen nibs, pen nib clip, drawing glove, cleaning cloth, and a quick start guide.