One of the most popular brands in drawing tablets, Huion has officially launched its flagship product HS610 and HS64 on 22nd March 2019. These smart tablets captured the market in no time as both the tablets are highly compatible with Android OS, which has never been seen before in the entire tablet industry.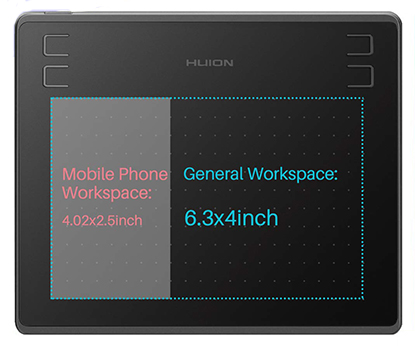 Breaking all the traditions of pen tablets, in Huion HS610 and HS64, you don't have to sit in front of your desktop to draw on a tablet now. Featuring extreme flexibility and portability this brand is about to make a change in the market with these two flagship products.
The interesting part is that both the tablets run into two different modes, first mode is all about connecting your tablet with PC or desktop and the second one is phone mode. That's the reason you cannot define the screen size as it changes according to the mode of the tablet. When you are using in PC mode, the working mode of HS610 is 254 x 158.8mm and the work area of HS64 is 164 x 102mm. In the phone mode, the working area of HS64 is 102 x 63.8mm and the work area of HS610 is 158 x 99.2mm.
HUION HS610
HUION HS64
Working Area
Computer Mode: 10" x 6.25"
Mobile Mode: 6.25" x 3.91"
Computer Mode: 6.3" x 4"
Mobile Mode: 4.02" x 2.5"
Pen
PW100 Battery Free (8192 levels)
PW100 Battery Free (8192 levels)
Keys
12 Hard + 16 Soft + Touch Ring
4 Programmable Express Keys
Weight
600g
232g
OS Compatibility
(Windows 7, macOS 10.12, Android 6.0) or later
(Windows 7, macOS 10.12, Android 6.0) or later
Availability
Available on Amazon
Available on Amazon
The design of the tablet is very eye-catching, with dots covering at the back of the both the tablets. However, if we talk about handy express keys, HS610 has 12 express keys that boost your productivity, whereas HS64 offers only 4 express keys. HS610 is quite different from HS64 as it offers one ring touch that allows you to zoom in and out, use brushers, and scroll up and down. Whether you use right-hand or left-hand, you'll indeed enjoy on HS610 and HS64 as it offers such an amazing express keys to make the user-experience mesmerizing.

Huion has introduced exceptional battery-free pen equipped with PW100 in the both the tablets. With 8192 pressure levels you can seamlessly sketch, draw and write on the smooth surface of HS610 and HS64. And 226 report rates provide you accuracy to give you natural user-experience. More so, HS610 also offers 60 degree tilt recognition that give paper-like feeling as if you are drawing on a piece of paper.  You will pleasure while using these tablets for sure as Huion primarily focuses on delivering better customer-experience.
The compatibility with Android OS can be tricky as it wants you to fulfill some conditions that include the Android version should be 6.0 or above and your Android device should have OTG function. While connecting OTG, it is recommended to use Huion adapter, which you can find in the accessories box to make the process more seamless.
Soon after the launch, these most-awaited tablets hit the market like a brick on the sack. The reviews about HS610 and HS64 are quite positive and it is expected that the sales will continue to grow. Are you still in turmoil? Purchase HS610 or HS64, whichever is suitable according to your needs!