To unleash the artist within you and explore the new age digital drawing, Huion H610PRO V2 has to be your best choice. Not just because it helps you practice with some exceptional pen procession but also it perfectly fits your budget and you don't have to spend hundreds of dollars for the same.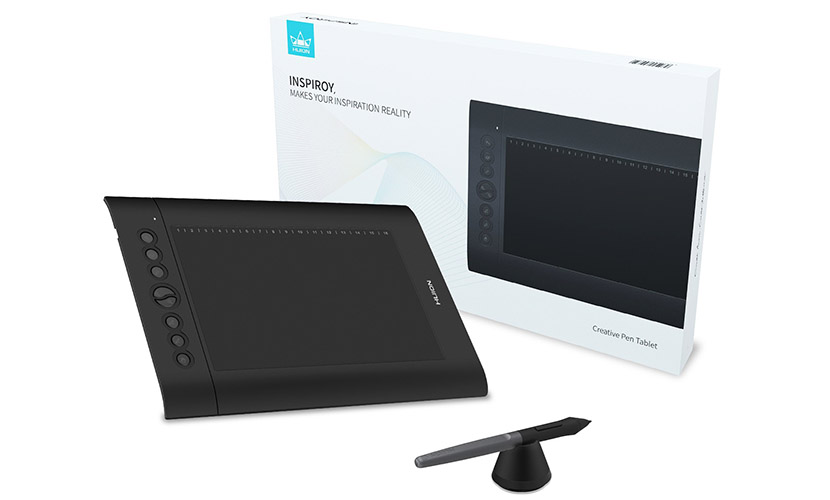 The market is filled with drawing tablets by some renowned names such as Wacom and many others. Hence, it gets a wee tough job to settle in a competitive market but Huion has played it well by keeping the process low without any compromises with the features.
| | Huion H610PRO V2 Specs |
| --- | --- |
| Dimensions | 353 x 245 x 10mm |
| Working Area | 254 x 158.8mm (10 x 6.25") |
| Express Keys | (8 Hard + 16 Soft) Customizable Keys |
| Pen | PW100 Battery Free |
| Tilt Function | Yes |
| Pen Pressure & Resolution | 8192 Levels & 5080LPI |
| Report Rate | 233PPS |
| Sensing Height | 10mm |
| Price | Check it on Amazon |
The Huion Pen Tablet is firmly built and yet it is easy to carry. It has one of the most vivid display, sufficiently large drawing area and function keys that are placed appropriately for the ease of the user. All this packed in one drawing tablet and sold at reasonable cost, isn't it what dream come true sounds like?
The reviewers have been all praises for Huion H610PRO V2 Drawing Pen tablet and we bet you just can't wait to know what it has in store. Listing some of the features that would woo you to try this all new Huion Drawing Tab.
Impressive Drawing Pen Tablet
With the complimentary drawing pen that comes along with Huion H610PRO V2, you can design, draw or edit anything you like. It surely plays a key role to make this tab one of the best drawing pen tablets by Huion. The pen has 8192 levels of pressure sensitivity that efficiently enables it to extend some advance strokes and classic editing or drawing. You will also find multi-angle tilting feature which further helps your artwork to look more natural and as they say, sophisticated.
The pen is so light weight that it helps you use it with ease and gives you the comfort of showcasing your artistic skills. The pen tags along 8 extra nibs and also the pen holder that keeps it firm and safe.
Battery Free Stylus
Another best thing about the pen or stylus is that you do not need to charge it unlike most of the previous Huion products. You get to explore the artistic side of you without having any struggles of charging it, just charge your tablet and you are good to go.

The Drawing Pen is embedded with latest passive EMR technology that enables PW100 Pen to run for long hours and help you create your magnum opus. The pen has speed of 233 PPS which helps in impressive precision and smooth functioning without any delays. Hence, you get long hours of creation with smooth functioning and user-friendly experience.
Firm Built and Display
One of the most crucial aspect of the Pen Tab is that it needs to be firm for better drawing experience. The frame is made of special material that secures it from the scratch and bruises. Since, it has a firm back, you can be efficient in creating your art work.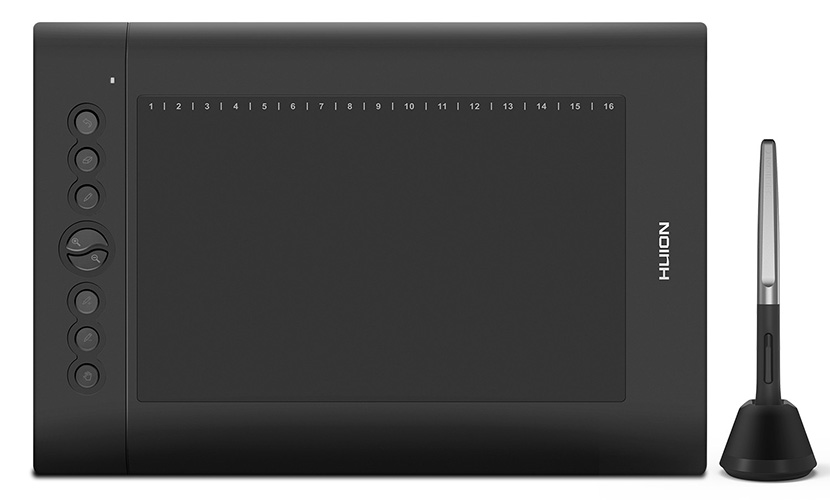 The Huion H610PRO V2 is designed firmly and has a back support that gives you an ease to work and draw or design your art pieces. Hence, making it one more reason to have an extremely user friendly experience.
Easy to Carry
If you are an artist, one thing that you'll relate to is the art block that strikes due to boundary constraints. Also, it is often tough to carry our drawing tablets and move out for inspiration. With Huion H610PRO V2, your troubles seem to be eliminated. The size of the all new drawing pen tablet is 353 x 245 x 10mm, which further makes it light weight, easy to carry and a perfect fit for your backpack.
Since it is movable and easy to carry, you can now take your tablet anywhere you want and have an amazing artistic experience. Be it a coffee shop or some tourist place, quit confining yourself to limited boundaries, so grab your tab and you are good to go.
Large Drawing Area
Another plus point that would trigger the artist within you is the drawing area that H610PRO V2 has to offer. Unlike many of the Wacom tablets, this one will extend the exact drawing area as it shows. The tab is of about 9.5" x 14", out of which the drawing surface is 6.5" x 10".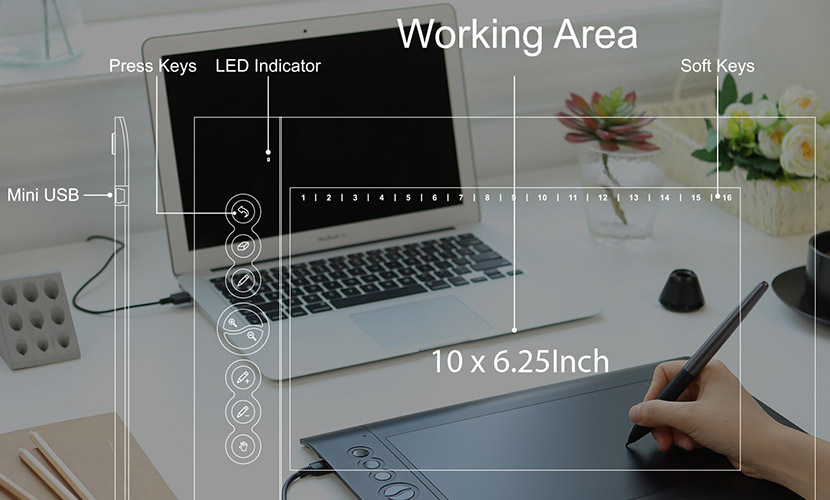 Hence, you get to splash your artistic skills on most of the drawing surface from edge to edge. It allows you to have an immersive drawing experience, also, if you can adjust the drawing area in the software if you do not want to use such large area.
Function Keys
With function keys, it gets easier for you to customize your settings and draw as per your convenience and requirement. You get 8 hard express keys and 16 soft express customized keys to give you exact type of pen requirement you want.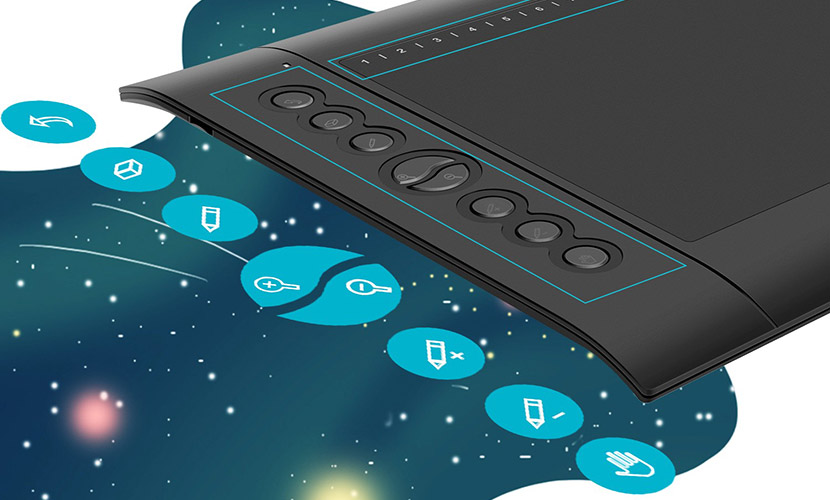 The keys help you to have proper strokes and easy usage of PW100 Pen. Having the ease of customized setting enables you to have perfect drawing experience.
Reasonable
One thing that makes all the above features worth it is the price that it is set for. Huion has played smart with its new drawing tablet by keeping it affordable for all the budding artists and yet providing maximum features with no compromises. You can get your hands on H610PRO V2 for around $70 and it is what the world is getting crazy for. Where the market is swiftly drifting towards making their products a bit expensive than the last one, Huion settled for keeping its drawing tab to a minimal range that is reasonable and affordable.
Conclusion
Hence, calling out to all professionals and budding artists to explore their artistic skills and move on from the traditional art mediums to digital ones. While digital is trending in almost all spheres, art is surely not lacking behind. Digital tablets and Drawing tabs are one of the innovations that have helped artists to look beyond traditional pen and paint to more expressive way for expressing art.
Also, the industry is filled with drawing tabs and yet Huion has managed to gets its place in the market with some impressive features to offer at a reasonable price. So, shout out to all the artists out there, grab your chance at trying out this exclusive Huion H610PRO V2 and let your art explore.