If you are a beginner in the world of art or entering the digital world for the first, the very first thing that would have strike your mind is "Which tablet is the best?" Well, you would probably choose the cheap one as drawing on the digital surface is your first attempt and don't you want to spend much on expensive tablets. That's the reason we are introducing Huion H420 Drawing tablet! An ultimate platform with maximum benefits that will help you showcase your talent to the world.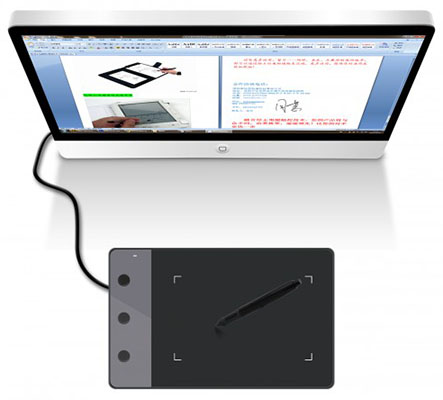 According to researchers, designer or artists usually avoid spending on expensive tablets initially as operating them is quite challenging. Whereas, cheap tablets like Huion H420 are more likely to be purchased as it saves money and has a user-friendly interface. Once the artists become used to the digital surface, they more likely spend expensive tablet to gain access to maximum software's.
But the surprising fact about HUION H420 is, you will never this tablet and move on to the next one because it provides maximum features at a minimal rate of $29.99. I know you might be receiving this much pocket money in your school days, but yes, HUION H420 is that cheap.
Now let's take a look at its alluring features:
Handy drawing book in the pocket
HUION H420 like a small drawing tablet in your bag with a dimension of 11.81 x 2.36 x 9.84 inches, weighing just 4.64 ounces. The active area of the screen is 4 x 2.23 inches that make your drawing experience seamless. And if you are a beginner, this much screen size is beneficial to come up with unique designs and add colors to it. More so, the tablet is very handy; you can easily take to your classes and explore the artistic world. The tablet is available in two primary colors- black and white.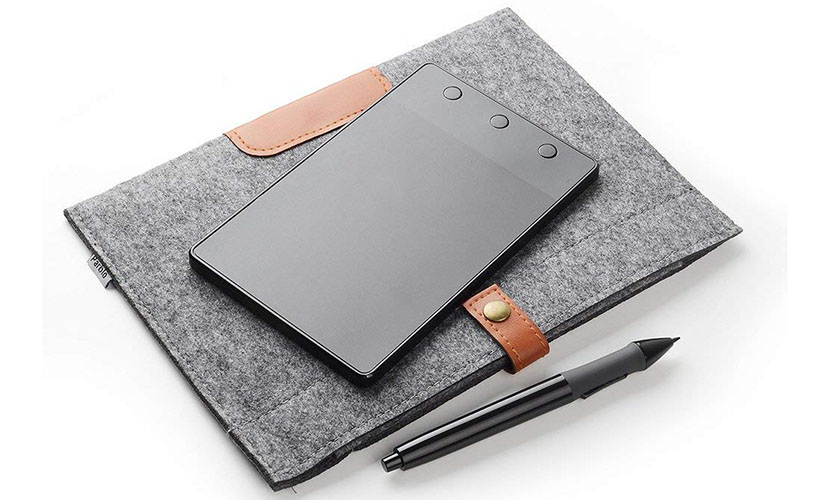 But how you will draw smoothly? If you are thinking from your hands, then you are absolutely wrong. HUION H420 offers a magical pen that will eradicate all the difficulties while drawing on the display. The pen is equipped with an electromagnetic digitizer that enhances the capability of the pen, giving you seamless experience. The pen provides a resolution of 4000 LPI and 2048 pressure levels that allows you to draw better on the tablet surface. Besides, the report rate of the pen is 200 RPS and is exceptionally lightweight to give you pleasure in whatever task you perform.
With this magical pen, you easily sign any documents, sketch like you sketching on a piece of paper, draw, write and a lot more. And if you browse over the internet by using the digital pen, you can do so by just pressing the middle button of the pen.
Best compatibility with the easy-to-use interface
HUION H420 drawing tablet best compatibility options within the budget. You will be surprised to know its compatibility options. The device can be connected to any of the Mac versions or Windows or Vista, Win7/8/10, etc. Furthermore, it is also compatible with all the designing software like CorelDraw, Corel Painter, Adobe Illustrator, Adobe Photoshop, Adobe Fireworks, Comic Studio, Macromedia Flash, SAI, Paint tool, Infinite Stratos, 3D Max, and a lot more. This cheap tablet ultimately helps you achieve your set goals and take the next move in the art world. It also has USB interface making your sharing process hassle-free, so that you can conveniently attach and send the files without the need of any external driver.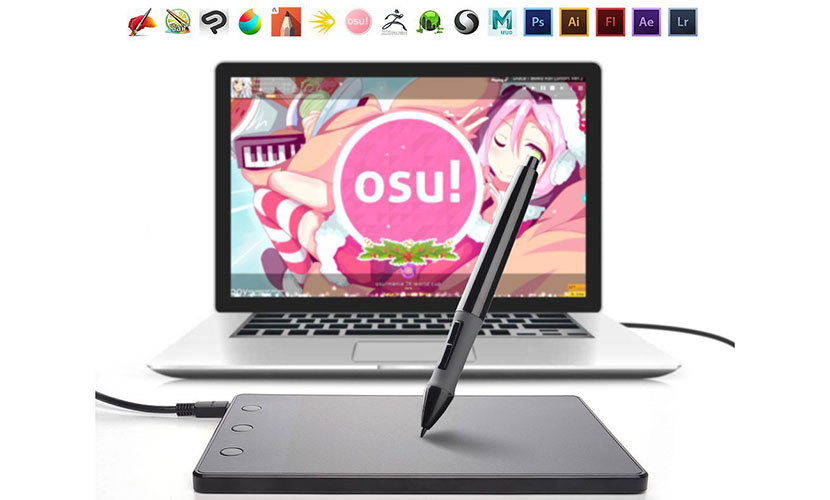 If you will look at the device there's three help you zoom in any image and save current file on which you are working. The magical pen is magnetic to the screen because it works as a cursor as well. You can easily rotate this pen as a cursor for opening any image or a new tab, etc. Thus, the pen entirely replaces the mouse by adequately fitting to the left and right-hand click.
For using the pen, first, you need to put in AAA battery and then click on the power button of the pen. HUION H420 has a very user-friendly interface allowing a beginner to explore their work to the fullest and enjoy their work.
Do you know inside the box accessories offered by HUION H420?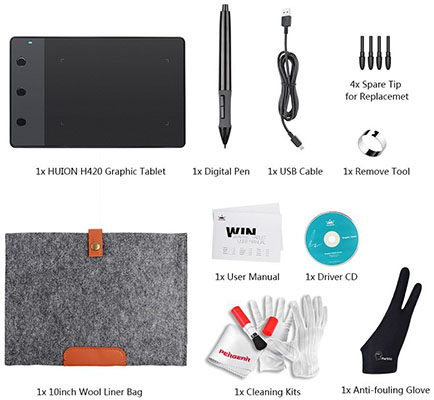 Well, HUION H420 is a complete package that involves following accessories:
USB Cable
Battery pen
Four nibs of the pen to enhance drawing skills
User manual for guidance and 4x spare tip for replacement
10 inches wool linear bag made up of soft cloth to secure the tablet
Remove tool
Driver CD
Anti-fouling glove to carefully use the tablet
Cleaning kits for your tablet
And if we talk about the battery, the tablet has an excellent durable battery backup that can stay with you for 2-3 days, depending upon your usage. Thus, if you are using the device only for learning in your classes, then it may last 2-3 days and if your use is so more, it will surely 24 hours. More so, with fast charging, you charge the tablet once you reach home for lunch and then you can use HUION H420 tablet for another 4 hours efficiently.
Bottom line
Beginners usually fear to be more confident with their designs, thinking it will be rejected. However, HUION H420 eradicates that fear of rejection by giving you a better platform to enhance your skills and showcase your talent to the world. On the smooth surface of HUION H420 drawing tablet, you can seamlessly draw and sketch and paint it accordingly with the help of top designing applications.
A tablet that gives you so much within this budget is just beyond words. That's the reason I mentioned that you'd never leave your tablet. So what are you waiting for? Grab this tablet today because, nothing better than this device that too at such a low price. Order your piece now and reap all the benefits offered by HUION with its innovative tablet H420 drawing tablet.