What do you do when you are in need of a tablet which is as productive as iPad but doesn't want it to empty your pockets? You go for Huawei MediaPad M5 Pro. The launch of Huawei MediaPad M5 Pro completely shattered the belief that the tablet market is really a just iPad market. It has all the design elements and specifications of a mobile phone as well as a tablet. This tablet is launched with a focus on improving productivity and functionality by adding features such as landscape orientation along with a stylus.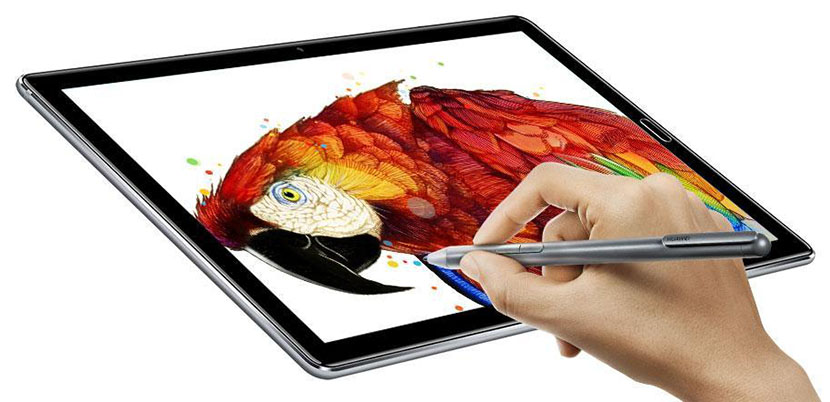 Let's have a detailed look at Huawei MediaPad M5 Pro without any further delay!
Features and Specifications
It is obvious that Huawei builds hardware that is not just a treat to the eyes but also proves to be productive and useful for all kind of needs. Just like the other devices, Huawei MediaPad M5 Pro continues to maintain the company's tradition of designing excellence in terms of style, build, productivity and great performance.
RAM and Storage
The major concern while looking for any device is its RAM and storage capacity which has been quite clearly catered by Huawei MediaPad M5 Pro. Talking about the RAM, this tablet is powered by 4GB RAM which is enough for you to multitask smoothly around editing, gaming or casual browsing. In terms of storage, this tablet has an internal storage of 64GB  / 128GB with a microSD expansion card slot. With such a large capacity offered by internal storage, it is easier not to worry about the space and let you store and transfer tons of movies, music, photo albums, documents, and media files efficiently. Although the actual storage may differ because of the pre-installed apps and system files, this can surely be resolved by the microSD expansion card slot provided. Looking at the RAM and storage provided by this tablet, it can drastically improve your overall performance, efficiency, and productivity.
Processing and OS
Who doesn't want to complete their task in a blink of an eye and without having to wait? Well, Huawei took this factor into a significant consideration and launched Huawei MediaPad M5 Pro which is powered by Huawei Kirin 960 octa-core chipset which is believed to be an ultimate duo of power and performance as the producer of Kirin chips, i.e., HiSilicon has increased the Kirin 960's peak GPU performance. This means you can efficiently multitask around several chrome tabs, watching videos and listening to music without even a single flinch. Talking about the operation system, it runs on Android 8.0 Oreo with EMUI 8.0 which is believed as smarter, quicker, powerful and more efficient than any other android versions available in the market. There are a large number of custom settings options in EMUI 8.0, one of which includes enabling HiVoice voice control on the tablet. Looking at the specifications, you should be able to run heavy applications without any issues as well.
Design and Display
Just like its previous devices, Huawei MediaPad M5 Pro also hit the sweet spot in both – design and display. With dimension ranging 258.7 x 171.8 x 7.3 mm, it weighs as light as 498 grams. This results in a sleek and gorgeous looking tablet with a premium look and feel. There is no denying to the fact that Huawei builds beautiful hardware with brushed aluminum shells, excellent fingerprint scanners, 2.5D front glass and transparent displays.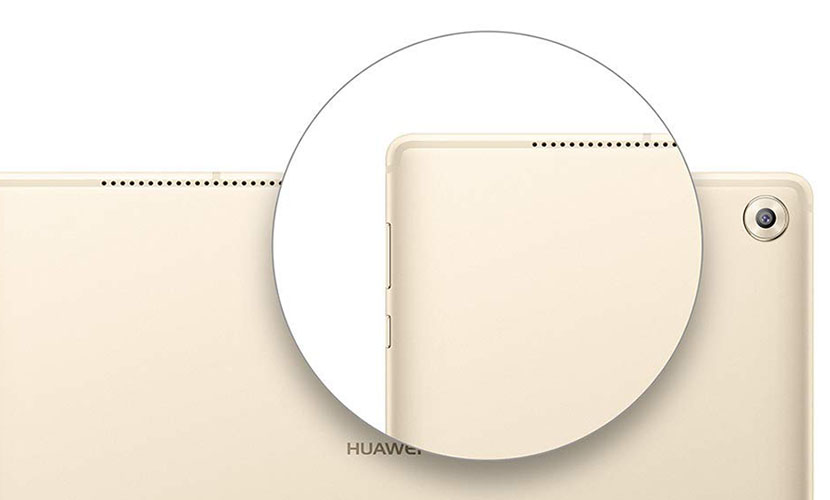 Although these features are popular on phones, this is the first time that such design elements have been used on a tablet device. The front is dominated by the high-resolution display with minimum bezels that transforms entertainment experience on another level. Huawei MediaPad M5 Pro's 280 PPI 2K display pushes the 10.8-inch screen to its limits. Huawei's proprietary algorithmic ClariVu 5.0 display technology enhances the images and videos for a greater viewing experience by automatically adjusting unclear frames or dropping in contrast ration which makes the image look more sharper and pleasing. The best feature on the tablet is its Eye Comfort Mode which is developed after Huawei's massive amount of research data to build a display that is safe and comfortable to your eyes.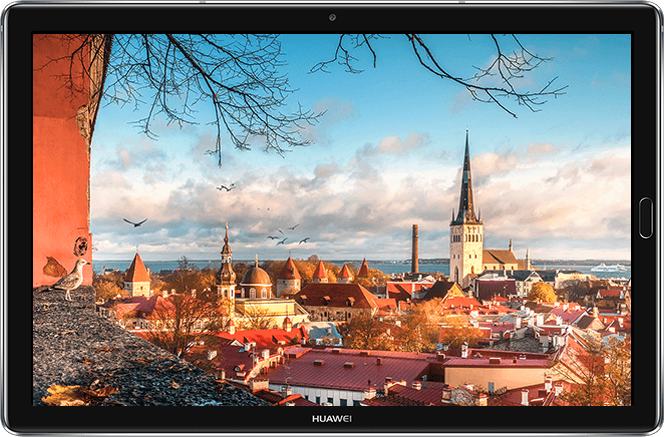 Eye Comfort Mode reduces harmful blue light which makes it easier and safer to read, causing less strain to your eyes whereas, the display automatically adjusts to the color temperature of the light in the surrounding environment. To make your job, even more, easier, Huawei MediaPad M5 Pro comes with an exclusive HUAWEI M-Pen (a stylus) equipped with advanced 4096-layer pressure sensitivity which captures every detail users write and draw. The HUAWEI M-Pen have buttons on the body that provide shortcuts to various important tasks such as taking a screenshot. If you are someone who is into drawing, reading and watching a lot of movies and videos, the display shall prove to be a boon for you.
Battery and Audio
As we all know, most of the Huawei Mate phones have larger that goes well for a day or two and the same technique is used in Huawei MediaPad M5 Pro with the massive 7,500 mAh (TYP) battery. This tablet is rated to deliver up to 12 hours of 1080p video playback. With Huawei QuickCharge Technology, it takes only 2.9 hours to get Huawei MediaPad M5 Pro fully charged which ensures higher productivity. On the other hand, the MPen takes 100 minutes to charge up and last up to 50 days with 2 hours of usage a day. Not only that, Huawei's Smart Power-Saving technology allows you to enjoy entertainment and gaming for hours.

Coming to the audio, Huawei MediaPad M5 Pro supports high-resolution audio which is considered as an industry standard for sound quality. It is further tuned by renowned acoustic legend Harman Kardon Audio, that delivers quality sounds with more bass and less distortion. Huawei MediaPad M5 Pro is powered by a quad-speaker system paired with high-tech amplifiers for an incredible audio experience.

Camera and other supports
Talking of connectivity, it has a USB-C port and SIM card / microSD card slot on the right side. The volume and power buttons are also situated on the right side which leaves the left side of the tablet blank and plain. The tablet has 802.11 a/b/g/n/ac WiFi and Bluetooth 4.2. Coming to the camera, it consists of a nice rear camera of 13 megapixel and a decent front camera of 8 megapixels where the rear camera is positioned on the upper right corner.
Final verdict
Huawei MediaPad M5 Pro clearly steals the show when it comes to Android tablet, which manages to complete almost all of the tasks that an iPad does. It is a useful tablet for someone who wishes to use a tablet as computing devices away from the office table or around the house. With its great storage capacity and some awesome display features, it might prove to be on of the best tablets available in the market. This tablet is a decent combination of style, design, performance, and comfort. The battery capacity acts as an icing on the cake, which is an essential feature of any device. And guess what? It's not even heavy on the pockets! Hence, Huawei MediaPad M5 Pro is a great option if you want your tasks to get done but not if you are just looking for the best tablet overall.