HUAWEI has finally introduced us to it's high end Mate X that supports 5G network and the most amusing part is that it unfolds into an 8 inch tablet. Hence, you now get a smartphone and tablet packed in one device.
The latest HUAWEI Mate X Foldable 5G Phone was announced at pre-MWC conference in Barcelona. It is nothing better than innovative technology at its best. Also, it is truly an impressive innovation due to the flexible fold and extraordinary art that it is.
The Smartphone is engineered in a way that you can have a fine finish at both the sides of the device. You get equal experience to use it as a phone and then as a tablet. Hence, your trouble of carrying a smartphone and a tab seems to end now.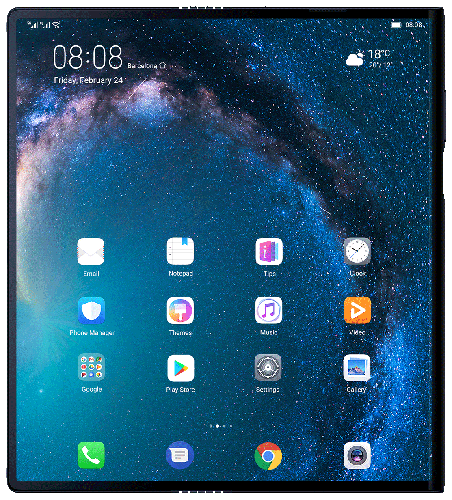 Wondering if the tab has some glitches due to the fold and unfold? Well, HUAWEI ensures that Mate X has been specifically designed in a manner that the screen will not over stretch while you fold or bulge when you unfold. Isn't it convenience right at your doorstep? You get to use the small screen when you have a phone work and a large OLED display when you plan to watch a movie, play some game or even give a presentation.
Also, introduction of 5G network in a device so innovative surely sounds like a dream come true for all the tech freaks out there. Now let's quickly hop on to some amazing features that HUAWEI Mate X 5G has to offer to trigger our tech nerves.
OLED Display
You get an 8 inch OLED Full View Display when you unfold a device and a 6.6 inch display when you fold it. Talking about the resolution, you get a good 1140 x 2480 pixels with aspect ration of 19:5:9. Since you get 6.6 inch front display, the back display is 6.38 inch in size.
Storage
You get 512GB internal storage that is expandable via a microSD card to additional 256 GB. Apart from the amazing storage capacity, you get 8GB RAM that enables you to work more efficiently and multi-task freely.
5G Network
Having a 5G network is indeed a smart move played by HUAWEI. Mate X is embedded with HUAWEI Balong 5000, the first 7nm multi-mode 5G chipset that helps you have an impressive downloading speed. You get a 4.6 Gbps downlink and 3.5Gbps uplink speed. HUAWEI claims to provide outstanding user experience for user to explore the all new 5G era.
Battery Life
The most crucial aspect is the battery life that hits final chords for the user. And, HUWEI has ensured to have a fast charging battery that also gives an enduring battery life. The firm claims to provide world's fastest 55W HUAWEI SuperCharge, that can charge your phone up to 85% in just 30 mins. Hence, you do not have to wait for an hour to charge your phone anymore, charge it fast and have a day without any battery interruptions.
HUAWEI has surely given a neck-to-neck competition to its rivalt Samsung Fold that was unveiled earlier this week and has gained praises for its design and innovation. Not only Samsung, we are sure other tech firms might be gearing up to roll out their versions of foldable smartphones. Well, HUAWEI surely has some innovative features that can urge you to get your hands on one. You can get to hold this masterpiece somewhere in mid-2019 when it finally hits the market for sale.