In the era full of technologically advanced products, let's now welcome a laptop-tablet from Google. You might have spotted Google rammus in Geekbench's online benchmark result database. You will get the all new Google Tablet in two models with slight difference in the specifications. The major difference is of the processor in both the tablets. While one is running Core i7 processor, the other is running Core m3 and both of the tab has Android 9. While, Google might not be the best runner in the race of tablet-laptops, but with the new google launches and Chromebooks, it might just catch the pace with it's tech rivals.
Let's have a quick glance at some details and specifications that both the Google rammus models has to offer.
Google rammus Core i7 processor
The i7 model of Google rammus is said to be much more advanced than the other one. It has a single-core score of 4054 and a multi-core score of 8247. The tablet is more than a smartphone and would sufficiently fulfill your purpose of a laptop. It is said to have a stronger processor and specifications that would without doubt provoke you to give it a try.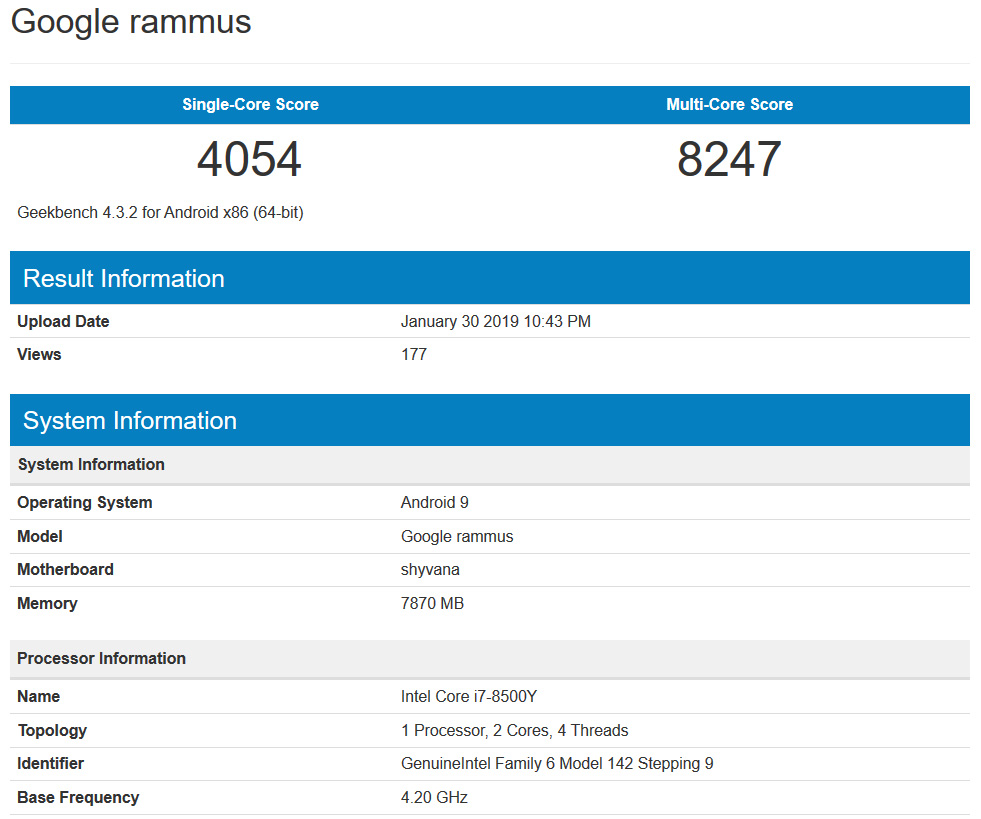 Google rammus i7 has 8GB RAM, shyvana Motherboard and 7870 MB memory. It is clocked at frequency of 4.20 GHz. Hence, if Google is really working on this one, it surely has much to offer. Also, you can get it at a bit low price with 4GB RAM.
Google rammus Core m3 processor
Even though rammus i7 has much more to offer, rammus m3 does not fall much behind. It is inbuilt with Intel Core m3-8100Y. Not that it is much behind, the tablet has single-core score of 3715 and multi-core score of 6993. Although, you get a better option but we are speculating that Google will price it low in comparison to the rammus i7. Similar to the former one, it runs on Android 9 Pie and has shyvana Motherboard.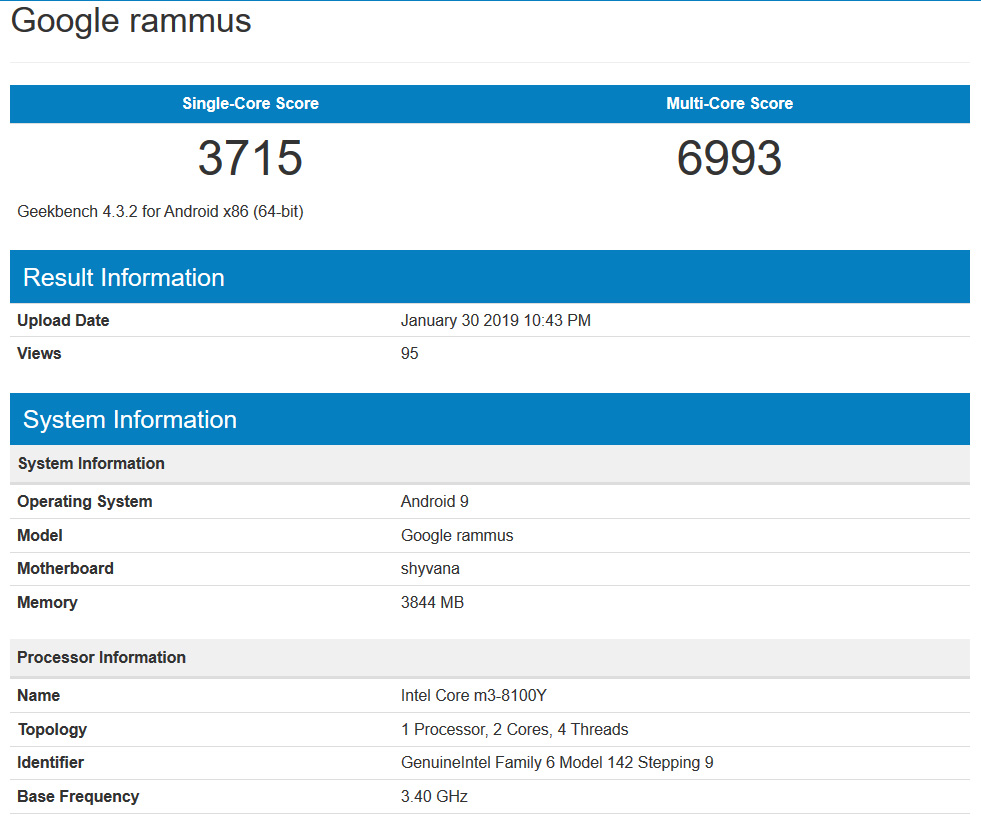 Google rammus Core m3 processor is clocked at 3.40 GHz and has a memory of 3944 MB. So, evidently the rammus m3 slightly lags behind from rammus i7, it still depends on the buyer's preference of what suits him best.
Though we do not have in-depth insights of both the models, all we can do is assume them to be the game changers. This isn't the first time that the Google rammus models have been spotted on Geekbench's benchmark result. Earlier they appeared in October and now again with much more advanced Intel processor.
This makes us wonder what is Google up to with the new models and will these new entries make their mark in the market. The tablet industry is already flourishing with tons of tablets being released by some top notch tech firms such as Apple, Microsoft, Samsung and alike. Among the crowd so refined, Google needs to set its foot with some unique technology.
For now, all we await is for all new Google rammus and how big of a threat it pose to other tablets.