With the core intention of making living spaces smartly manageable and improving personal connection, Google is about to launch Google Nest Hub Max on the 9th of September 2019 in Australia, United States and United Kingdom. As was earlier declared by Google at Google I/O that it was about to bring all its home products under the banner of Google Nest instead of Home Hub. So this way, the release of Google Nest Hub Max will be a landmark in itself as it will be the first smart home display with camera that will be launched under Google Nest. Google Nest Hub Max is understood to be the next level home product to Google Nest Hub.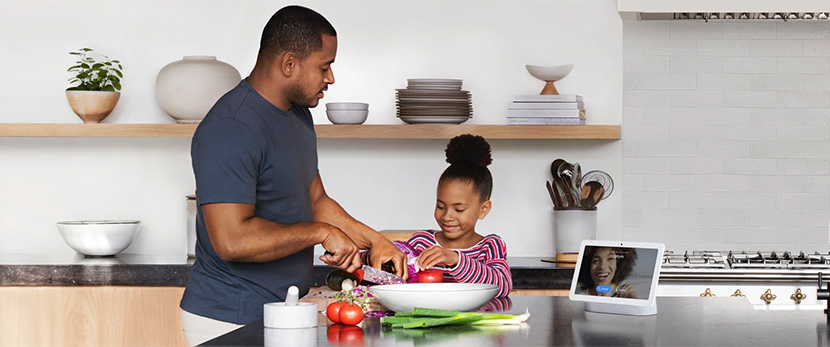 Looking Attractively Polished and Ultra Sophisticated
This device from Google has been designed with great artistic detailing. It has a large and satisfying floating 10-inch display, which is significantly larger and efficient than Nest Hub. The 2:1 speakers are positioned behind the display in a cloth-covered stand. On the rear side of the display is a small switch that is used for switching off the camera and the microphone, thus giving smart control over the camera. With the help of Google Assistant and its In-built microphone, Nest Hub Max can follow voice instructions and act accordingly.
Important Features of Google Nest Hub Max Camera
It is equipped with a front-facing built-in camera that facilitates distinct, flawless video calls with dear ones. So, with Hub Max at home, it is easier to keep a security check on your home while you are away for some important tasks. Some of the other incredibly smart features of the 6.5MP camera of this Hub Max are;
Auto Framing allows the camera to digitally pan in on and track individual movements, and thus helps in multi-tasking.
It is engineered for facial recognition and thus can provide personalized service right from prompting important reminders to music suggestion on recognizing your face. Up to six profiles can be stores at a time for facial recognition.
It also recognizes gestures and performs accordingly. Hence, enjoy playing and pausing music and videos by just raising your hand.
About the Display
It is capable of automatically adjusting screen's white balance thereby producing soothing display base. It is equipped with Ambient EQ light sensor. It is thus capable of adjusting light and color of the display as per the surrounding ambience of the room and thus makes viewing photos a beautiful experience.
Managing Smart Homes Better
With Google Nest Hub Max nearing its release date, it is time to turn our homes into smartly controlled nests. Managing everything at home will be made smarter. It is designed to be compatible with smart lights, smart plugs, thermostat, smart locks, cameras and all other smart appliance so that all could be controlled through voice request, even when you are on the go. In-built Chrome-cast also allows having voice control over smart television and speakers.
The Google Nest Hub Max is known to be priced at $229/£219 on hitting the market. Going by the celebrated features that it is to be unveiled with, it can be said that it is fairly priced as compared to the other similar smart home base products that are already there.