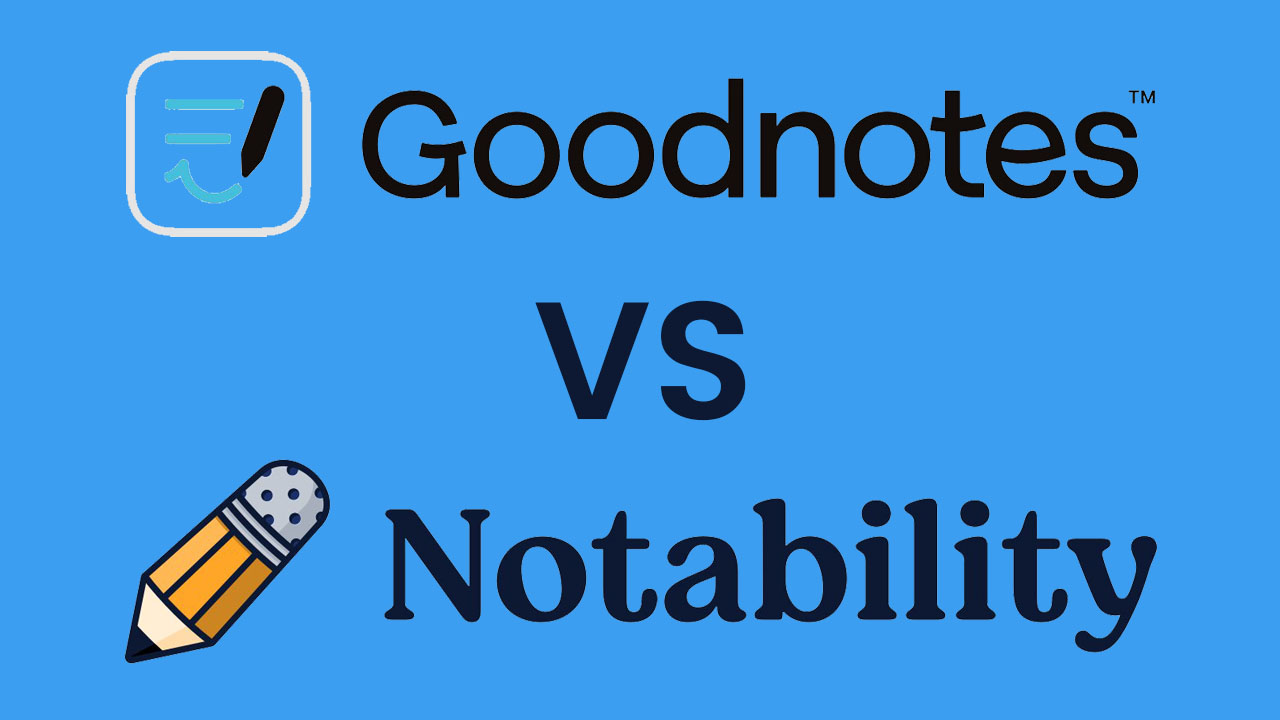 There have been years of battle gone into determining which one is superior – GoodNotes or Notability. And, to be fair, the question still leaves a room for a lot of opinions. While some prefer the convenience of GoodNotes, some prefer the customization features that Notability offers.
Either way, both of these note-taking apps have simplified the lives of students and business professionals who rely on their digital devices to take notes for future reference.
Not only do these app serve as digital whiteboards, they also help you keep a record of all your important data in one place to ensure easy access without any compromise.
But, which one is the best of the two? And, which one should you opt for?
We will discuss and compare every last feature and come to a conclusion in this article.
What are the Features of GoodNotes and Notability?
Before we delve into the comparison and determining which one is the best, let us give you a quick rundown of the features that set apart each of these note-taking apps.
Key features of GoodNotes
Search your handwriting
Annotate PDFs and PPTs
Organize all your notes with bookmarks and messages
Personalize your notebooks for an aesthetic look
Save and reuse elements in the app
Open two documents simultaneously
Easy access of the notes on Mac
Easily share the taken notes and documents
Make education easier with flash cards
Comes with drag and drop support
Flexible scrolling direction
Easy hyperlinking inside the PDFs
Comes with different document tabs for organization
Key features of Notability
Easy handwriting recognition
Present and share your notes
Smooth ink for easy note taking experience
Record and display the notes
Math conversion features
Diverse library of planners and stickers
Easy data import and export feature
Drag and drop editor
Easy annotation and file sharing
Multiple collaboration tools
Now that you have a clear understanding of some of the key features you can expect out of both, let us move on to the comparison to decide which one is a better option.
Goodnotes vs. Notability – The Comparison
This is what you are here for. In order to make the comparison fair and better to understand, we have explored almost all the features that these note-taking apps share to find out which one stands out as a better choice.
Display and UI
When you are downloading any note-taking app, the usability and appearance make a lot of difference. You want to ensure that you don't have to struggle to figure out how you can take the notes.
GoodNotes and Notability have a very simple navigation mode through the app. But, a first look into each will affirm your view that their functionalities are pretty difference.
GoodNotes
GoodNotes has a grid or list layout that keeps track of all the notes and the documents that you have recorded till date. Also, this makes it a lot easier for the users to read through the individual notes without needing to scroll down.
Even the menu option is nestled right in the home page, which provides access to the search button to find an individual note you have saved. You can also bookmark certain pages for easy access and future reference, which is saved under the Menu option.
Notability
Notability, on the other hand, has all the features lined up on the left of the app. The left sidebar keeps the screen looking very clean and minimal, allowing you to have a better sense of organization.
Users can put their notes into list or grid by adding dividers and collapsible toggles, which is always a benefit. If you want a "no-frills" approach for your note taking app, Notability stands out in that regard.
Which one is better?
GoodNotes is a better option, both in terms of the design, layout and the aesthetics. You do get an extra feature with the bookmarked pages inside the notes, which Notability lacks.
Document Creation, Management and Organization
Next on the list is possibly the most important feature of any note-taking app – the document creation process. You can't fault this anywhere. Let us explore those features in detail.
GoodNotes
With GoodNotes, the document creation process is divided into two steps. Your first step is to select the kind of document you wish to create. Upon doing that, the app will redirect you to the correct and aligned workflow.
Sometimes, initiating the document creation, especially with a copied image can be a struggle since GoodNotes treats the image as a standalone object.
Every single notebook you create on GoodNotes is treated as an individual entity, which means that you'd need to apply the customization individually. This can be a headache in several accounts.
Notability
Notability, once again, takes the cake with this. The document creation and management process is fairly simple. Once you are on the main screen, all you need to do is create an individual subject from the options in the side bar.
The availability of subjects and dividers also make the document organization process a lot simpler. Once you have selected your subject, navigate to the blue button on the bottom right on the screen and Notability will create a new document where you can comfortably take all your notes.
Which one is better?
This is a subjective decision. If you are quick on your feet and need access to a note-taking app that is hassle-free and allows easy access and organization, Notability is the one for you. But, if you want to create aesthetic and well-maintained documents that can serve its purpose as a reference for you in the future, then GoodNotes could be a better choice.
Jotting down the Notes
Now comes the most important part of either of these note-taking apps – How well do they take and manage your notes? Will you be able to take the notes without any challenges and limitations?
Before we pit them against each other, we can't deny the fact that both GoodNotes and Notability come with a robust tool kit for recording and taking all the notes. They are here to transform your digital workspace and make it a lot more YOU.
The note-taking toolkit available on both these apps are pretty similar. You get access to the basic tools like:
Pen
Highlighter
Lasso tool
Eraser
Text box
But, despite the similarities, these two apps do stand out and compare in some individual features that differentiate one from the other.
GoodNotes
With GoodNotes, one of the biggest highlighted features is the availability of the Elements Tool. Also, when it comes to comparing the individual elements in the toolkit, let us start with the pen types and sizes.
GoodNotes doesn't fall short on the former. There are multiple different types of pen types and sizes that you can easily explore from. From the difference in the stroke width to how large and big the individual lines will be, you have access to a lot.
For the eraser, the options are limited but not worse. The only big downside is with the limited availability of highlighter. If you want a more refined and larger coverage, you might have to go over the text over and over again, which can be very frustrating.
The best part about the note-taking experience on GoodNotes is the availability of custom colors. There are multiple available, making it a lot easier for you to keep a check on all without any compromise. The multimedia support is unanimously good in both the apps.
GoodNotes also offers an unique Shape tool that allows you to create different shapes, fill in them with colors and notes as you go.
Also, if you are worried about the handwriting to text conversion, both GoodNotes and Notability come with that feature, which makes it easier for the users to keep track of all their handwritten notes and keep them organized and neat.
Notability
Coming to Notability, the pen tool is pretty much similar to GoodNotes but you also get the unique dashes and dotted lines access with the tool. This is an exclusive feature, something that GoodNotes doesn't offer.
As for the eraser, Notability also comes with its fair share of eraser and highlighter, which is a benefit too. You also get access to the Favorites bar in Notability, enabling you to select features quickly for a better personalization.
If you are a fan of adding multimedia like Stickers to your notes on Notability, there is an in-built feature available. You do need a subscription of Notability Plus to be able to access that. But the good news is that if you have custom made stickers, there is an easy import option you can use.
Also, ideal for students, Notability comes with an audio recording feature that allows you to take transform your audio transcript into notes. This ensures that you don't have to manually rush through taking the notes.
Notability also offers shape detection. So, all you have to do is draw a random shape on the screen and once Notability recognizes the shape, it will refine it with sharp and clear lines for a more sophisticated and aesthetic appearance.
The handwriting to text conversion is available on Notability, enabling you to comfortably take notes and turn it into a text. But you'd need a subscription for that.
Another feature you'd get with the premium subscription is accessibility to math conversions, which is exclusive to this app only. It comes a lot in handy for students who work on math problems on a day-to-day basis.
Furthermore, Notability also allows the users to open and work on two documents side by side, much like in a split-screen view. This comes in handy, especially when you are comparing your notes while studying or preparing for a business meeting.
Which one is better?
If you are more about the flexibility of note-taking and want access to advanced features without needing to pay an extra fee, GoodNotes takes the win in this round. Don't get us wrong, Notability's exclusive features like math conversion, audio recording to text features and amazing. But, most of these additional features come with a price, which not every user can pay for.
Storage and Document Sharing
Until recently, GoodNotes and Notability used Apple's staple iCloud Storage and Backup to store the taken notes and even to share them to other users. While things are static for GoodNotes, Notability comes with a price now. If you want to sync your notes or backup your documents, you'd need a subscription.
However, not everyone wants to pay that extra price and that's completely fine. You can use third-party storage and backup apps like Google Drive, Dropbox, OneDrive as well.
Notability also comes with their link-sharing feature, wherein you can create an unique link and share it with others to provide them with direct access to the notes or documents you have sorted. This feature is view-only. So, if you want others to collaborate and edit on the document, that isn't possible.
GoodNotes, on the other hand, is quite strict with who views the notes and documents. So, as a non-user, you won't be able to view the notes on a browser. Instead, you'd need to have an account on the platform to be able to view or edit the document that's shared with you.
The export and import options of the files on both GoodNotes and Notability are quite impressive. There's nothing too over the top but you do get easy export options, which is great.
Which one is better?
Again, if you have access to the Notability Plus, which is the premium version, we'd recommend sticking to it. But, if you don't want to pay that extra recurring subscription, you can switch to GoodNotes.
Pricing Plans and Regular Updates
Before you get confused thinking that both of these note-taking apps are paid, let us stop you right there. You have free versions for both of these apps. But, there are some twists to the plot.
GoodNotes
With GoodNotes free version, its there for life. You do get limited features with the free version but its not like a free trial. Instead, you have access to this free version for life. You can only create up to three notebooks with the free version and don't have access to a lot of the customization tools.
As for the pricing plan, you have the lifetime free trial, which can be upgraded to the paid version with a one-time fee of $7.99.
Notability
Notability's free version is there to help you take notes on the go. If you don't want a fancy layout, aesthetic customization tools and a barrage of other advanced features, the free version should suffice. Remember that the free version is just there for casual note-taking.
Besides the free version, Notability Plus charged $14.99 per year, which is quite a comparable price for the kind of features you get access to.
Which one is better?
Although our minds are inclining towards GoodNotes with their never-ending free trial and easy one-time price upgrade, we can't forego Notability with their $1.25 per month plan. It's a very small price but provides access to some of the best features available on any note-taking app till date.
Which One is the best for you – GoodNotes or Notability?
Now that we have discussed all possible elements comparing GoodNotes and Notability, it is time to finalize the verdict. Which one should you go for?
If you are looking for a note-taking app that feels easier to use, has access to aesthetic features and makes notetaking fun, we'd recommend GoodNotes for you.
However, if you want a simple, straightforward and more practical approach to your note-taking experience, Notability wins in that department.
Choosing one out of the two is quite challenging because every user has subjective needs when it comes to a notes app. So, look through the individual features and see which one fits the bill the best for you.