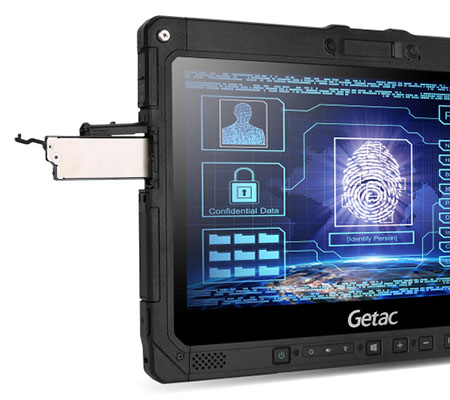 Over a decade ago, tablets became way too prevalent in the market. You might have seen so many new established firms selling tablets. Today people are investing more in tablets rather than laptops as it is quite handy and comfortable. Despite innovative features in Smartphones, tablets are actually winning the heart of the people.
In the same way, the GETAC K120 Rugged Tablet has been introduced to the competitive business era with very much exciting features allowing consumers to try this tablet once! This tablet is designed from the concept of "versatility." Today everyone wants versatility in every aspect whether they are purchasing food or clothes or home décor, etc. In the same way, versatility seems quite interesting in the tablet world!
Let's gain insight into the GETAC K120 tablet:
Strong display capabilities and versatile design
The screen of the tablet is 12.5 inches Full HD with a high brightness as it efficiently delivers 1200 nits of light that even allows you to watch or read anything on display in severe sunlight conditions. Why? GETAC K120 has transfigured the LumiBond 2.0 technology that sets this tablet apart. The screen is very capable of providing you so many options like the touch modes are diverse- the basic is touching the fingertips, then gloves and pen as well. Isn't it interesting? Interest doesn't end here- it also offers Digitizer mode that enables you to access more information with ease.
And the design of the tablet is like a military man in the army as K120 is MIL-STD 810 and IP65 certified that enables this tablet to work under worst conditions that mean under highest temperature right from 29 to 63 degree Celsius. More so, while operating if the tablet falls in 6 feet water, it will still work like a pro. The dimension of the product is 329.5 x 238 x 24mm, weighing just 3.96lbs making it handy for indoor or outdoor events. The tablet has a small keyboard that entails Windows, Power, Function Key, Camera/Capture, and Volume buttons, which makes this tablet, look more like a laptop.
Powerful like no other
This tablet is genuinely secured that every business or person is concerned of. It has a variety of hardware security levels that keep your data safe at any cost. It has been equipped with technology like TPM 2.0 relic storage with Windows hello face recognition. Not only this, but it also includes RFID card reader, smart card reader along with fingerprint scanner, keeping your data all the time safe and sound. The tablet is also compacted with replaceable SSD to maintain the data management flexibly. However, the tablet is installed with Windows Pro giving you the basic RAM of 4GB with optional storage of 128GB/ 256GB/ 512GB. And the interesting fact about this tablet is- it has an image barcode reader as well so that you can stay secure.
The front camera is 2MP and front is 8MP that makes your video calls with family and friend more alive. If we talk about the connectivity abilities of the tablet, the list is quite lengthy which is mentioned below:
Headphone Jack
DC in Jack
USB 3.0 (9-pin)
HDMI
USB Type C
Docking connector with 16 pins
MicroSD card reader
GPS
Wi-Fi and Bluetooth
This is what everyone wants! I mean it will be like a shield for you defending day-to-day battles. And the surprising fact about K120 is – if you purchase it with a keyboard you'll be getting more connectivity features beyond imagination. K120 has been powered by 8th Generation Intel core processor that makes the most of your productivity supporting graphic of 620 HD enabling you to become super fast or a champion at every aspect.
Unexpected battery life and the rugged cover
The battery of the tablet is transformed into the world, where you can shift your battery with ease. What does that mean? Well, in the settings of the tablet, you can customize your tablet the way you want! There are features like High Capacity Battery that will eventually twofold the runtime of the system and perk up your overall productivity.

Furthermore, you can also replace your battery with another one without any hassle as the built shield is very flexible and can enroll any battery comfortably. It has a double locking instrument allowing you to put in the battery seamlessly and enjoy the game.
It also includes Hot-swapping technology to reduce the power down so that you survive a whole day without worrying about your battery. The battery adaptor has different power capabilities that allow you to charge your battery in no time. That means you can keep the fun on forever and capture all the moments to stay connected with your memories!
More so, the tablet has full-size backlit keyboard options that make you feel home. It will perform like you are on your desktop or laptop. K120 provides a wide range of accessories and extensions to make the tablet more flexible for users and easy to carry. And if you purchase the tablet with a dock keyboard, its dimension is 340.5 x 307.5 x 47mm, weighing around 7.16lbs, which makes it quite hefty.
Conclusion
GETAC K120 is one of the excellent products in the highly competitive market as it is rough and tough with power booster and extended lasting battery. It has become the primary choice among businesses that are more into the computer world and always have to stay online to stay connected with the higher authority of the company as well as customers.
The budget of the tablet is pretty impressive and is highly versatile and rugged- this allows people to love this tablet! Don't just read this review; it will be worth if you purchase the tablet today! Hurry up now and grab this tablet to enjoy its ultimate features and stay consistent always at every work you will merge in.