It is not the first time that this Twitter account, WalkingCat (aka h0x0d), has leaked information on an important presentation. The leaked video suggested that Lenovo may unveil two Yoga devices with dual-screen later this year. Though Lenovo released its first tablet hybrid with a flexible OLED display, ThinkPad X1 Fold, earlier this year, the new tablet is supposedly more affordable.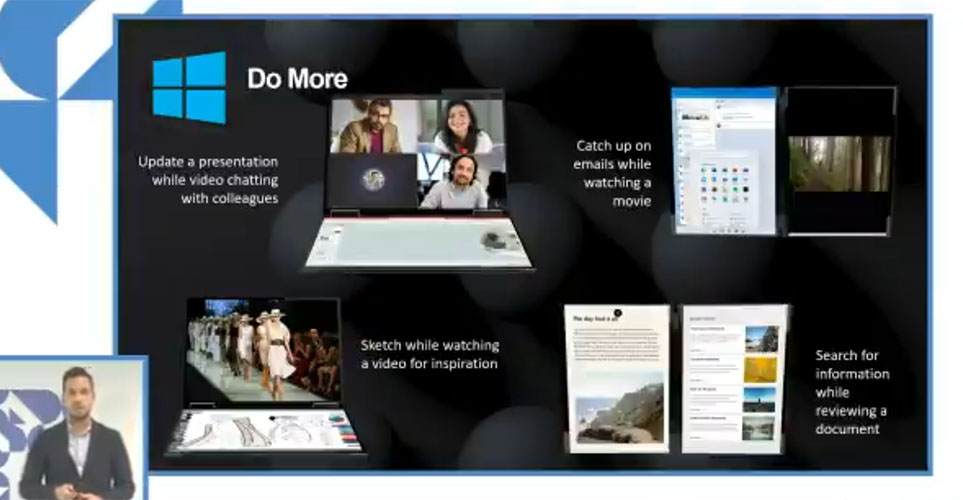 Lenovo's new dual-screen Yoga tablet appears to have two distinct touchscreen displays which are connected by a hinge at the center. The advantage of having two screens is that you can use it as a tablet because it comes with a line down the center. You can also use it as a laptop with a display at the top, and the bottom can be used for writing or sketching.
Based on the leaked video, Lenovo has majorly focused on improved performance and ease of multitasking. The features like opening multiple apps, automatic adjustments of the screen to suit new postures, and the ease to swipe content between screens have been added for seamless multitasking.
The features of this Yoga tablet make it possible for the users to make instant changes in the presentation while video chatting with colleagues. The students can now take notes during video lectures or while video chatting.
The dual-screen tablet allows the users to view emails while watching movies or review a document all while searching for new or related information. This tablet would prove to be a blessing for artists around the world as this device would allow them to sketch their ideas while looking for inspiration on websites or through videos.
For all the avid readers, the tablet makes it easy to make notes while reading or watching lectures online. The dual-screen makes it possible to view more contents while scrolling through search results on the websites.
The leaked presentation also suggested that the tablet will be running on Windows 10 X. For the users who find physical keyboards comfortable, the device will work with an additional keyboard which will have to be placed on top of the lower screen for tactile feedback.
Apart from its thin body, a larger display with small bezels on both the screens and exquisite dual-screen functionalities not much has been revealed about the Yoga tablet.
The dual-screen systems seem to be the need of the hour with companies like Dell, Microsoft and even Lenovo making their OS and functionalities that would suit both single as well as dual-screen systems.
We will surely keep you updated with the exact specifications of this tablet when the model surfaces. Since the leaked video was presented in Portuguese, it is wise to assume that Lenovo dual-screen Yoga tablet will be announced in Europe first.