Are you in hunt of a superb tablet and a mini laptop? Chuwi SurBook is a perfect combination of thoughtful craftsmanship, ultimate user experience, and technological excellence. Priced at the mid-range section, you can get the luxury of a tablet and a mini laptop at the same time. Standing true to its reputation for durable and affordable products, Chuwi SurBook 2-in-1 convertible tablet offers good value in its price.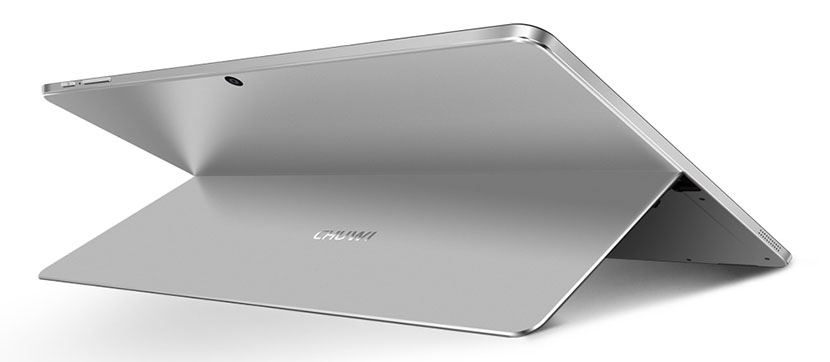 With the features of the exceptional 2-in-1 design, durable components, decent hardware unit, vivid display, backlit keyboard, network connectivity options, and massive battery life Chuwi SurBook can give tough competition to some of the reputed brands like Microsoft Surface, Lenovo, Acer, and Dell.
Dual-Mode Design
Convertible devices always attract customers through its unique design ability and Chuwi SurBook 2-in-1 convertible is no different in this regard. With the dimensions of 11.7 x 8 x 0.3-inches and holding just 2.07 pounds of weight, this device is quite easy to hold or carry anywhere with you. The all-metal aluminum frame is lightweight and highly durable. Chuwi engineers did a fantastic job by putting very thoughtful design to this tablet. Beautiful unibody design with gorgeous curves and shiny lines looks stylish and give this device a premium look and feel.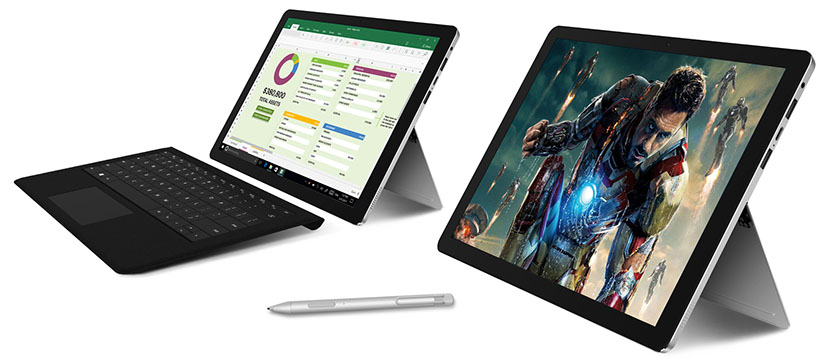 While you want to use a standalone tablet or mini laptop, both modes are convenient and easy to handle. Up to 125-degree adjustable kickstand and magnetic keyboard transforms this standalone tablet to mini laptop in no time. Different viewing angles give you the expediency of using this device at your comfort. On the back, you can find a rear camera which can be very useful in performing camera-related functions.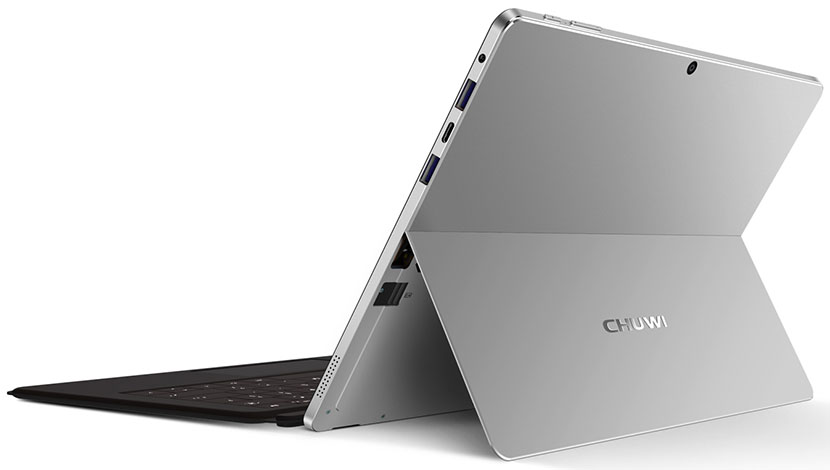 The front area is covered by 12.3-inch multi-functional display surrounded by quite thick bezels. Front facing camera lies at the center of the top bar and various connectivity ports on the right-hand side for your convenience. The magnetic keyboard is easy to attach and detach. This keyboard is backlit so typing in the dark or low light conditions is not a problem at all. Chuwi SurBook comes with 1024 pressure level stylus bringing a smile to digital artists. Overall, an exciting and impressive design looks stylish on the hands and 2-in-1 feature adds more versatility while usage.
Vivid Images
Exceptional images and crisp text are forte of Chuwi SurBook. The 12.3-inch IGZO HD screen fills more life to the images and brings true to life pictures. This display screen comes with IPS technology, 2736 x 1824 pixels resolution, and anti-glare panel assure that you can't miss out on any action. The display receives 3:2 aspect ratio making browsing and productivity tasks more focused and appealing.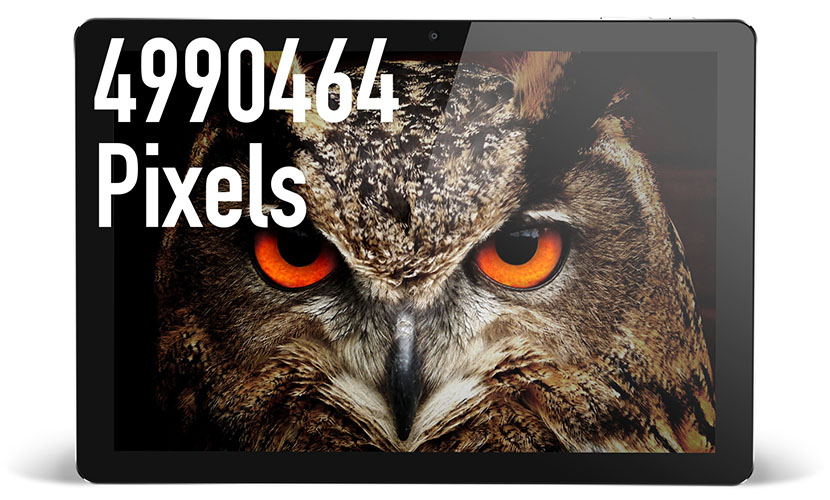 You can also adjust the display up to 125-degrees with the help of attached kickstand. The 10-point capacitive touchscreen panel is equally backed up by Intel HD 500 graphics chipset. Bright images, lag-free graphics, and clearer text ensure that you enjoy every moment to the fullest.
Specifications
Supportive hardware extracts the best performance out of any system. Chuwi SurBook comes equipped with a processor from Intel Core family. The Intel Apollo Lake N3450 Quad-Core up to 2.2 GHz processor paired up with 6 GB LPDDR3 RAM derive power and performance for the users. With this hardware unit, you can enjoy superb videos, perform routine tasks, reading ebooks, web-surfing, and gaming without any issues. The magnetic backlit detachable keyboard can be connected through docking slots and very comfortable for longer typing sessions and transform a tablet to mini laptop.
Specifications

Processor

1.1GHz Quad-core Apollo lake N3450

RAM

6GB

Storage

64GB/128GB

Display

12.3-inch (2736 x 1824)

Battery

5000mAh
You can store unlimited data, a number of files, favorite apps, videos, and ebooks on 128 GB eMMC 5 storage option. The storage is good enough to store your data, but in case you still fall short on free space, utilize up to 128 GB expandable Micro SD Card. Now you have not to uninstall or delete various things to install any new apps or store any videos. Advanced thermal solution shields the device from any extra heating and leads to cool processing for a longer duration of time.
Dual camera option let you explore your creativity and capture your favorite moments. The front camera comes with 2 MP resolution and can be very useful making video calls or conferencing with your family members or near and dear ones. The rear camera of 5 MP resolution can be used for clicking memorable moments and scanning documents. This device is boasted with 37Wh 5000 mAh battery which claims to keep alive the device up to 8-9 hours long without any interruptions. In addition to this, PDP 2.0 fast charge module, you can charge this device much faster than ever. So, accomplishing your productivity tasks and enjoying videos on the road becomes easy with the huge battery life of this device.
Connectivity and Stylus
Chuwi SurBook 2-in-1 device gets a good number of both wired and wireless connectivity options to connect this device to any external devices. The USB 3.0 and USB 3 Type C slots manage wired network connectivity and 802.11 ac b/g/n and Bluetooth 4 can be used for making wireless connections to the device.

Both wired and wireless connectivity options ensure that you always stay connected with the network and enjoy web-surfing or internet usage with full pleasure and enjoyment.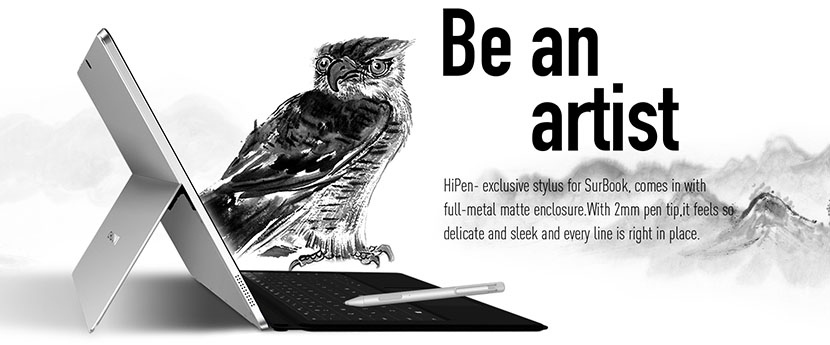 The stylus enables you to explore hidden digital artist in you. With 2 mm pen tip, you can draw accurate images. The stylus comes with 1024 pressure levels and supports Windows Ink, Manga Studio, and OneNote Fresh paint apps help you to visualize your imaginations with ease.
Conclusion
The 2-in-1 device makes your work easy due to its different type of usage. Either you can use it as a standalone tablet or mini laptop attaching a magnetic keyboard to it. Highly advanced hardware, vibrant display, dual cameras, backlit keyboard, wired and wireless network options, massive battery life, and a huge amount of storage are some of the prime features of this device. So, if you want the decent 2-in-1 device at a reasonable price, then Chuwi SurBook is definitely for you.