Costing around $63, Aoson S7+ is a decent phablet with reasonable capabilities. Right out of the box, device has Android 7.0 Nougat as its operating system. Aoson hasn't promised any Oreo update in the future so don't keep your fingers crossed.  It houses a seven inch screen in an all plastic body. Everything including the back panel, volume rockers and power button is made of plastic which gives it the added benefit of being light weight. 7 inch IPS display provides very good viewing angles for comfortable viewing.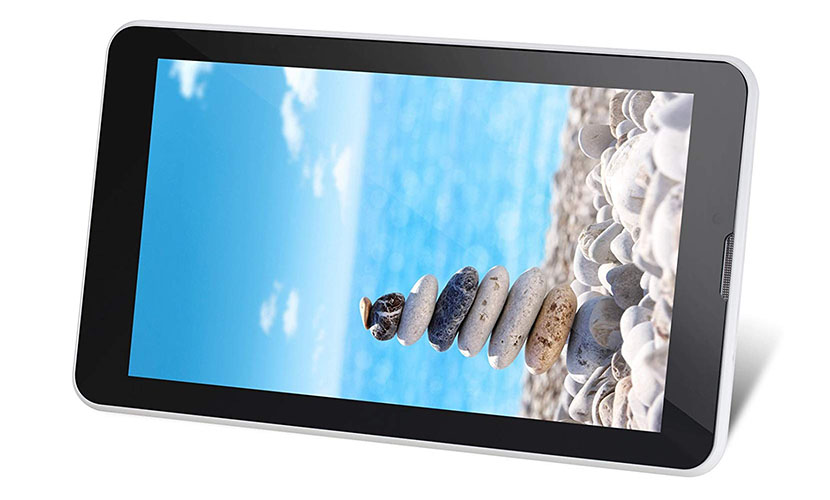 Playing HD videos on this device wouldn't be possible because the resolution maxes out at 1024x 600. So 1080p videos are a strict no go in this device. Ideal video resolution would be 480p in this device. The device, even though is larger than other smart phones, is ergonomic and easy to grip. The manufacturers did find space for a 3.5mm headphone jack, so extra points for that. Coming to the speakers, it is pretty decent as far as phablet speakers go. It is placed at bottom right of back panel so your finger may cover it while you are using the device. Furthermore the phablet also has dual sim and SD card slots. It is not a hybrid slot like most phones nowadays. We get two different slots which is good. Furthermore the phone uses micro USB slot for charging which also supports OTG function.
Storage, RAM and Battery
16 GB inbuilt storage out of which 11 GB is available to us. We can further expand the storage up to 32 GB using an SD card. So there is plenty of space available. The device does come in with some bloatware but it can be deleted. A huge plus point about the storage system in this device is that we can transfer app data to SD card, if needed. This can be done without rooting and hence its pretty useful and is a feature absent in many high-end smart phones.
AOSON S7+ comes with 1 GB inbuilt RAM out of which more than 50% would be used by the operating system itself. This is kind of a downside because multitasking would be close to impossible with such meager RAM availability. Switching between apps would mean trouble because if you open lot of apps chances are the device wont function properly.
It houses a 2800 mah battery. The battery of this device is not very powerful. Depending on usage you could get around 4-6 hours of run time. Which is really not up to par. The device also doesn't support quick charging and takes about 2 hours for a full charge.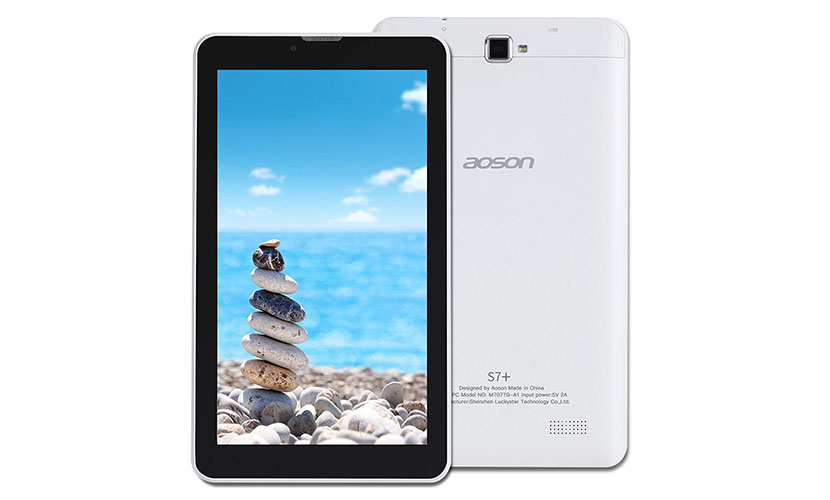 Processing Power
AOSON S7+ comes with a quad core processor and Mali-400MP GPU chip. This chip was used in high end phones back in 2012-2013. That does not make it bad in any way. It is just a bit outdated. The transitions and animations are snappy and quick thanks to the quad core processor but nowadays it isn't really about slick animations, is it? Gaming on smartphones are on rise and games such as Subway Surfers or Jetpack Joyride are quite playable in this device. There are a few frame drops occasionally but in the end it is quite playable. This device is not compatible with any heavy, high end games due to its low RAM power and not-so-powerful GPU.
Connectivity
It works on GSM and WCDMA bandwidths. It's not compatible with LTE, HSPA or CDMA. So the device is limited to 3G connectivity. 4G connectivity is not possible. So browsing internet is totally possible in this device but lack of 4G connectivity is a major setback. Another thing to note is that the device only supports carriers such as AT&T and T Mobile and doesn't support Sprint or US Cellular because they use CDMA bandwidth for 3G connectivity.
This device also provides dual sim capabilities which is not very popular in US but its there nevertheless. The device also has Bluetooth and Wi-Fi connectivity.
Camera
AOSON S7+ has two cameras, front facing and rear. Rear camera is 5 mega pixel and pretty much gets job done. Don't expect any Instagram worthy pictures. It works well in natural light but it fails in low light. It has a flash which is impressive given fact that most phablets of this price range often choose to omit it. Front facing camera is 2 mega pixels and its nothing to write home about. Picture quality is really bad. Selfies are washed out and full of grains. This is clearly not a selfie centric device.
Verdict
Aoson S7+ is a decent device which provides basic Android smartphone experience. This need not be your primary device. You could download Kindle and maybe use it as an E- reader or just buy it for your kid so that he could play games and use it for educational purposes .Is it as good as an Ipad or a Galaxy Tab? No its not, and it needn't be because of its price. It only costs $63 and for that price, this device does its money's worth. So the verdict is, buy this device because at this price it's a pretty good deal and probably the best deal you could find among phablets.