The retail giant Amazon has taken a step forward in making Amazon Fire HD 8 better by introducing next-generation Fire HD 8 along with the other two tablets. New Fire HD 8 seems to be pretty much better than its older version launched in 2018. The other new tablets are Amazon Fire HD 8 Plus and Amazon Fire HD 8 Kids Edition.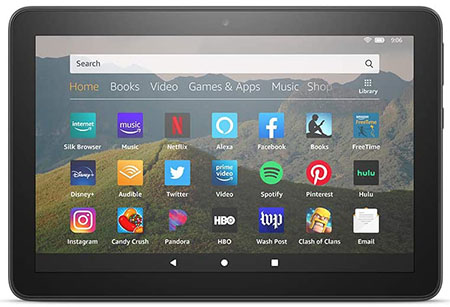 Amazon Fire HD 8 has an 8" screen with 1280 x 800 pixel resolution. It has 32GB and 64GB internal storage options expandable up to 1TB, whereas the previous generation had 16GB, 32GB. The front cam is 2MP and supports 720 pixel HD video shooting.
The battery power of the new Amazon Fire HD 8 will let you enjoy 12 hours of ideal usage on a single charge. It has now USB C for better connectivity than its old micro USB in the previous version of this tab. Fire HD 8 has 2GB RAM.
It will be available in new colors now. You'll have black, white, plum, slate, and twilight blue colors to choose from. The new version is said to be 30% faster than its previous version with a better 2.0 GHz quad-core processor.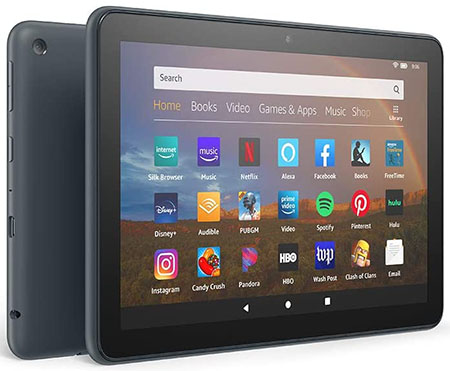 Amazon Fire HD 8 Plus is quite similar to Amazon Fire HD 8 except for a few things. Fire HD 8 Plus tablet will have 3GB RAM which will make it faster than Fire HD 8. In addition, it will take 4 hours to fully charge whereas Fire HD 8 will take up to 5 hours.
Moreover, Fire HD 8 Plus will support wireless charging. But for that, you will have to go with a wireless charging dock variant. In a nutshell, wireless charging is optional.
The Fire HD 8 Kids Edition is specially designed for kids' needs. It comes in three different colors and will also be available in bundles of two at a reduced price. Fire HD 8 Kids Edition comes with a hard case to protect the tab from the hit after being dropped.
Both new Amazon Fire HD 8 and Fire HD 8 Plus comes with a 90-day replacement guarantee. But, in case of Kids Edition, you get 2-year worry-free guarantee which will let you replace the device for free if it breaks. You can pre-order new Amazon tablets right now and will get your orders shipped from 3rd June 2020 and onwards.