On 7th of October 2019, Amazon has unveiled a series of impressive products and one of them is the New Fire HD 10 tablet with improved battery and performance. It is Amazon's approach to updating the already existing Fire HD 10 tablet.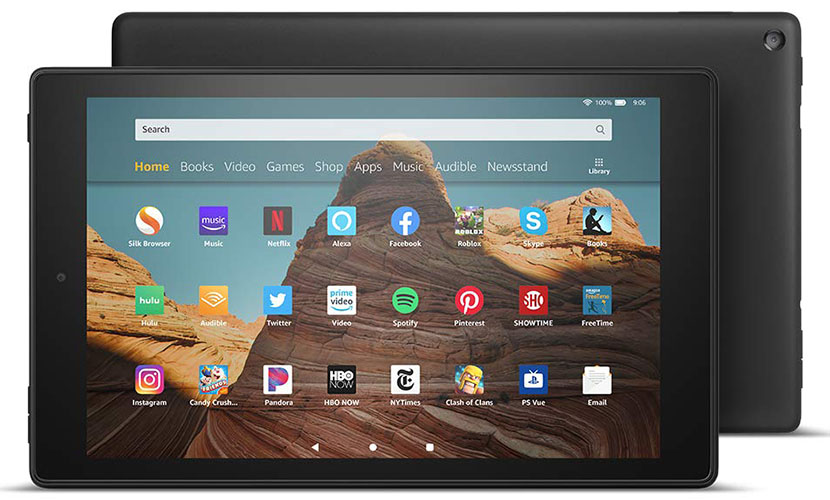 Improved battery and performance
Being an up-gradation to its predecessor, the New Fire HD 10 tablet is powered by an advanced new 2GHz octa-core processor that provides it with the needed strength for flawless faster performance. The biggest improvement that has been brought by the company to the product is the battery life extension. The battery is likely to provide service for 12 long hours of mixed-use that is longer than the 2017 predecessor model. Also, the new USB-Type-C Port is provided for easy and fast charging. It is built to provide seamless dual-band 802.11 ac Wi-Fi connectivity to help in better browsing experience.
Basic features kept unchanged
However, concerning the other basic features, it retains the same specifications as its predecessor. Like, it's fully HD display has been kept same at 10.1-inch size with 1920×1200 resolutions. The storage capacity has also been kept the same with RAM being 2GB. The internal storage capacity is standard 32 GB that can be further expanded to 512 GB through microSD card. Also, no change has been made to the software and it works on the same earlier version of Amazon Fire Tablet Android operating system.
Added attractions for better entertainment
An interesting new feature is the picture-in-picture that allows continuing watching videos while using other apps on the tablet. The tablet is meant to provide enriched browsing content for the users by supporting important apps like Twitch, Netflix and Prime Video. In addition to these exclusive apps, it also supports all Amazon-specific apps like X-Ray, Second Screen, ASAP, Blue Shade, Family Library and more. Built-in support for hands-free Alexa is an added attraction.
New Fire HD 10 is right now available for pre-order on Amazon. Shipping is likely to start from the 30th of October 2019. New Fire HD 10 will be available in four color options – Twilight Blue, Plum, Black, and White.