Hello everybody! There's an exciting announcement; Amazon has introduced All-New 2018 Fire HD 8 that will be releasing on October 4th of 2018. Now all gadget lovers your wait is over, this fantastic product will surely win your heart. This one is going to be a masterstroke as the tablet has been loaded with smart features comparatively to 2017 tablet model. The price is way too reasonable because the features you'll be getting are beyond expectations. Interesting fact about this tablet is, you can gift this tablet to your kiddos as it offers ultimate gaming experience and educational aspects too.
I am sure for the whole year your kids will listen to you like anything if you gift this piece to them. Even parents can explore so many things for housewives YouTube is the only moving platform wherein they learn innumerable recipes to serve their kids better while working men can use the tablet for official purpose.
Let's take a look at its features so that you will get a broader view of the tablet:
Dynamic HD display and design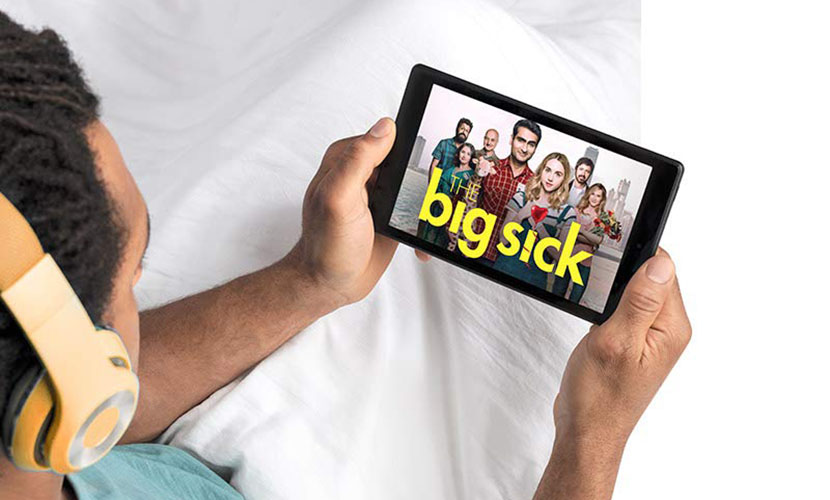 The 8inch IPS HD display gives you vibrant colors with a resolution of 1280 x 800 (189ppi) that provides you a brighter picture. Moreover, the design of the tablet offers a very chic look and is handy. The overall dimension of the tablet is 8.4 x 5.0 x 0.4 and weighs 363 grams.  You can enjoy the display features with the ultimate camera of 2MP front-facing and 2MP rear that allows you to capture every moment with ease. With a 720p HD video recording capabilities, you will never miss out on anything. The audio is also enriched with Dolby Audio .2x that gives ultimate sound quality. However, the display and design of this tablet are quite similar to its previously launched model.
Enhanced performance with transformed Alexa
With 50% more RAM, i.e., 1.5 and twice the storage from the Fire 7 that comes at standard storage of 16GB, which is expandable up to 400GB by using a microSD card, now work seamlessly on your tablet. More so, 1.3 GHz quad-core processor efficiently boosts your overall performance and makes your tablet highly responsive at a pace. And the transformed Alexa as compared to the previous model is quite faster. Now you don't have to touch your tablet as Alexa will do everything on herself on your command, without even unlocking your tablet. You can ask here anything to do and she will, right from unlocking your phone to singing, calling, etc.
Durable battery
The tablet is Wi-Fi enables and gives access to millions of TV shows, videos, and calling feature as well. The tablet is available in a wide range of colors like Marina Blue, Punch Read, Black, and Canary Yellow. And with so much, you'll be surprised with its battery backup. The All-New 2018 Fire HD 8 has long lasting battery up to 10 hours that too with unlimited surfing, browsing, surfing, etc. Stay stress-free about your battery backup and enjoy everything on this tablet to the fullest.
Wrap up
Eventually, this tablet is going to bombard the marketplace with its innovative features. Pre-order this tablet now and be the first one to have All-new Fire HD 8!