Smartphones and Tablet are selling like hot cake in the market today. Everyone wants latest device with topmost features and budget friendly. Smartphones market is mushrooming from the last decade and very easily going to be most competitive one in today's era. There are lots of reputed brands available in the market today competing with some of the startups with brilliant ideas and concepts.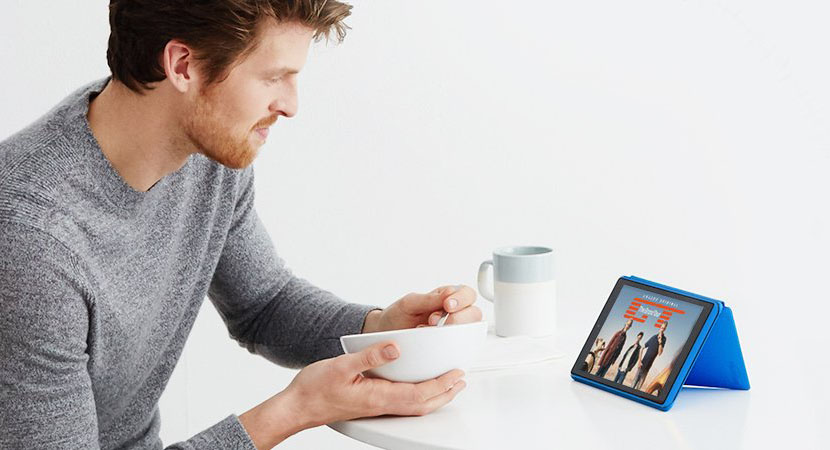 Amazon has been recognized as online shopping leader. You just think of anything you want to buy you will get it from Amazon. From books to tablets, daily wear to fancy dresses you can get it from Amazon. This online shopping leader comes up with new Fire HD Tablet 2017 edition recently with beautiful and stunning design and superb configuration. This tablet is named as "all new Amazon Fire HD 8".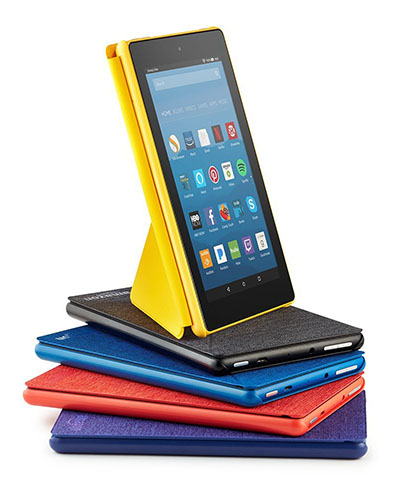 Amazon wants to capture large section of online or offline buyers whom are medium income generated persons. They didn't want to target high end market hence launched very affordable device which seems to be good strategy from Amazon. Fire HD 8 Tablet seems to be perfect combination of design, function and value.
Design
Amazon Fire HD 8 is more or less like its 2016 predecessors. There are not many changes done design wise. Fire HD 8 boosts with an 8" HD screen, black surrounding bezels and matte rear plastic body. It comes with some of the vibrant colors like yellow, blue, red and some of the common one like Black. Specially red and yellow colors are really appealing and tablet looks beautiful in those colors. 8" size seems to be an ideal size as it is little big from smartphones and smaller than your laptops. Metal and volume buttons are positioned very nicely and very easy to use.
Display
As name suggests Fire 8 HD, it consists with 8" HD IPS touchscreen which provides you the resolution of 189 ppi and 1200 x 800 pixels. HD screen quality is excellent and images were stunning. You have to take special care for screen as there is no oleophobic coating to protect this. Videos also look little bit grainy as compared to high end tablets but this remain to be expected looking at its target customers.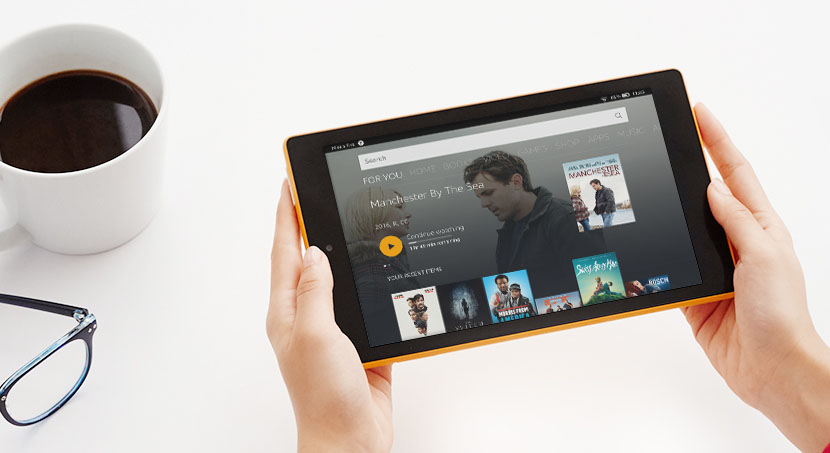 Processor
Fire 8 HD is empowered with 1.3GHz quad-core Mediatek processor and boost up with 1.5 GB RAM which is enough to perform your Tablet tasks.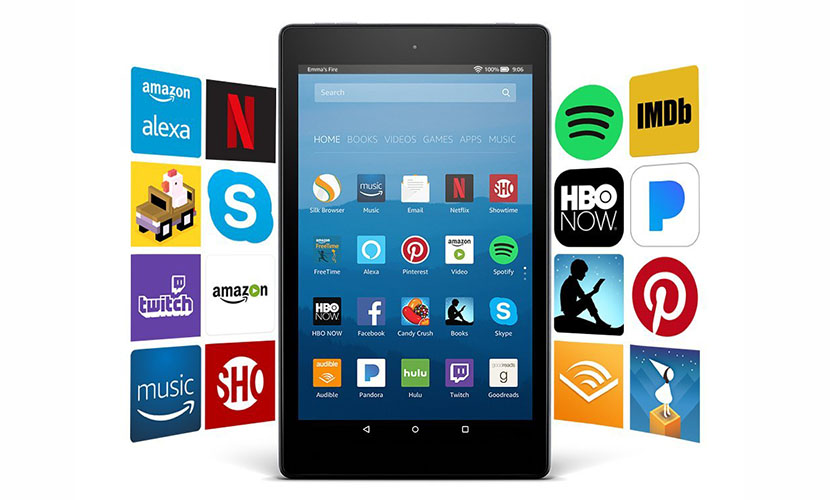 This configuration makes tab not just responsive but lightening quick when you are using Amazon's own apps. Processor & RAM works in tandem greatly.
Battery and Storage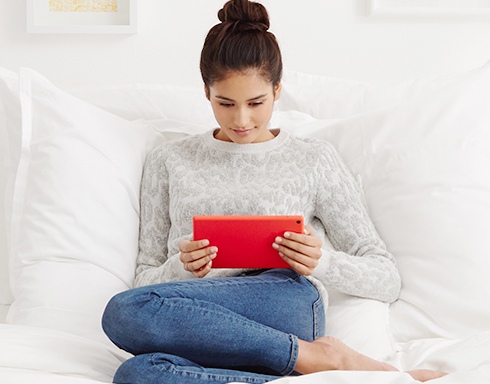 This device is powered with 4750 mAh battery and can provide you the option of store up to 16 or 32 GB of data in it. Battery life claimed to be of 12 hours on full charge but we received mixed reviews about it. Brightest setting can give you approx. 4 hours of usage only. Playing some of the games for nearly 30 minutes at max brightness can drain out your 15-20 % of battery. So, power back is very handy if are travelling over the weekend or on business trip. There is Micro SD memory card slot available which can store max up to 256 GB of data. 16 GB device will give you approx. 12 GB of free space after installing all required apps and content.
Camera
If you are photo magnet and photography enthusiast this device is not for you. It consists only 2 megapixels of rear camera. We guess Amazon want their users to focus more on tablet usage like a tablet rather than photography. Camera lacks lot of details and captured images colors were washed out too. HDR makes phone bit slow and it make things worse while switching on this mode. There is no flash as well which makes indoor and night shots nearly impossible. Front facing camera is just of VGA quality which is currently obsolete in the market.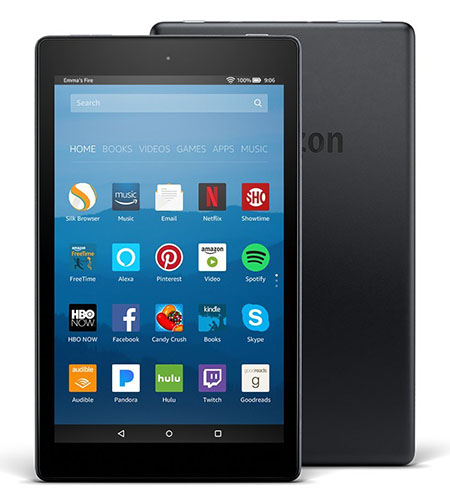 OS
Amazon Fire 8 Tablet runs on Amazon's Fire OS which is primarily based on Android. So, you can take it as Android phone with lot of flexibility and customization. Fire 8 consists of Fire OS 5.4.0.0 which is much easier to use and handle unlike its previous versions. You can get music, movies, books, games and songs from Amazon. You might not find some of the standard apps or services installed but you can get most from its play store.
Connectivity
The Fire 8 HD comes with dual band 802.11abgn Wi-Fi 2.4GHz and 5GHz bands. 5GHz band is really surprised element in this device as this mostly find with high end tablets. You can use Bluetooth 4.1 LE as well to connect with any of your latest Bluetooth products.
Misc. Features
There are some cool additions to this tab like Alexa app which is voice integration app. You can just call Alexa and find whatever you want. Alexa is very natural and clear in comparison to Apple's Siri or Google assistant. Another good feature is Kids app which allows you to create a separate profile for your kids.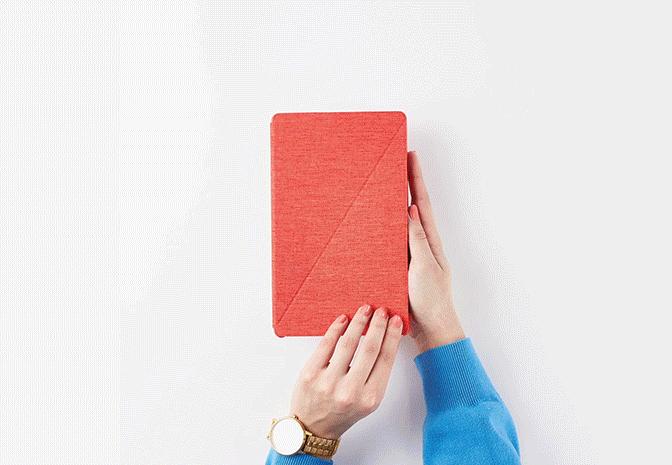 Cons
In all those advantages there were few disadvantages as well. Camera quality is not of just bad quality but it is below par. Screen lacks bit of crispness and Audio doesn't have good speakers.
Verdict
Our verdict regarding this device is that there are lots of freshness with design and specifications. Build quality is excellent; it is incredibly fast, good storage options, superb battery and easy to use OS. With Amazon prime membership you can get some of the best apps and services from amazon and all these services ran swiftly and smoothly on this tablet.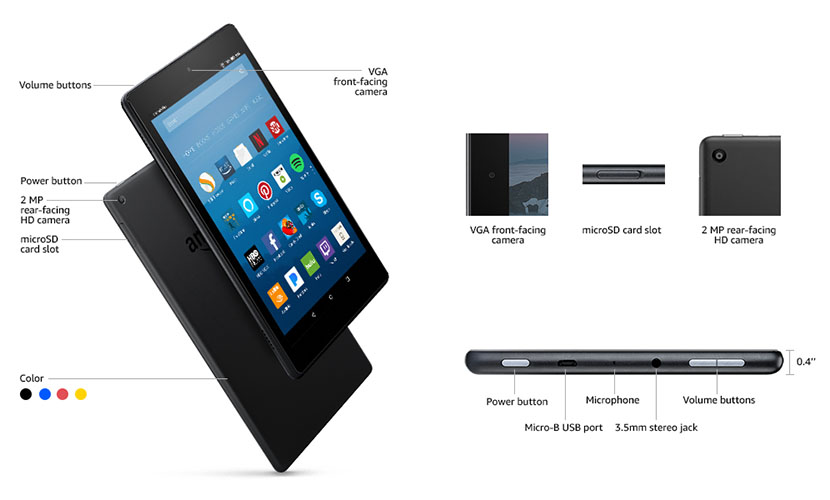 Surely some things can be added like good camera & better audio. But if you are looking for budget tablet and from reputed brand then this is specifically for you.