A tipster on Twitter has leaked some upcoming launches of Mac products this year way before other famous tech experts made their predictions. Well, if you see the track record of this guy, he's quite accurate on the information he has revealed so far. If rumors to be believed, the new iPad Air and iPad 2020 will be upcoming tablets. In fact, the tipster predicted the launch of iPad Pro 11" and 12.9" this March and he was absolutely right about this.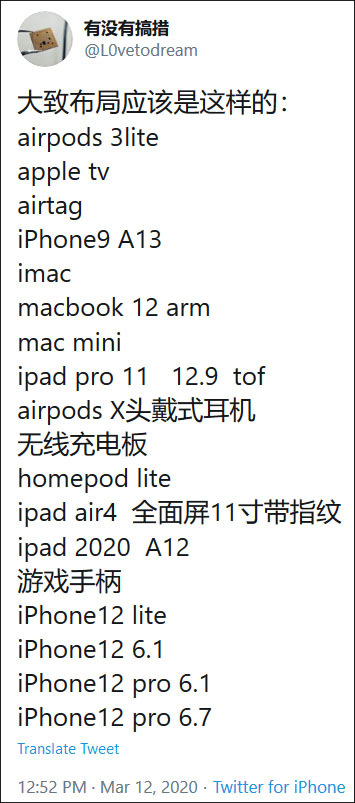 With the username @L0vetodream, he has announced some devices and technology Apple is currently working upon, which will release this year or in 2021. Some of the surprising future devices are iPad Air, to be launched in 2021, iPad 2020, an ARM-based MacBook, a new video game controller, next-generation iPods, and HomePods.
According to the leaker, iPad Air will have mini LED Technology with on-screen Touch-ID. And it won't have the standard face ID which is common in new iPhones and iPad Pro. This deliberate decision seems to be made for keeping the face ID unique to some Mac devices, especially, the upcoming ones.
With an improved display quality, mini-LED technology will do better than the IPS technology available in iPads. The features like local dimming, HDR performance, and 10,000 mini LEDs per display will make an astounding difference in the display technology.
However, the tipster hasn't made any predictions on the launch of iPad 2020. But other sources suggest that it will make an appearance in the latter half of the year 2020.
The important thing to notice here is Apple has not provided mini LED technology in its new iPad Pro devices. And that being said, Apple must be thinking to keep this technology unique to its upcoming premium devices. Nevertheless, new iPad Air seems to rule out iPad Pro but let's wait for further updates on this.
@L0vetodream has a small fandom and actually made this tweet on the 12th of the previous month. Despite not being so popular, his prediction on iPhone SE was accurate making his information can be significantly accurate. We are anticipating more details on iPad Air and iPad 2020 and will keep you updated with the confirmed news.