The past several months have compelled employees to work remotely. While working from, employees do need some home-office set-up. This has provoked a new idea to Eric S Yuan, CEO, Zoom. Zoom Video Communications announces Zoom for Home to help the users who are devoted to remote working. Zoom for Home is a new category of software and hardware that enables swift working.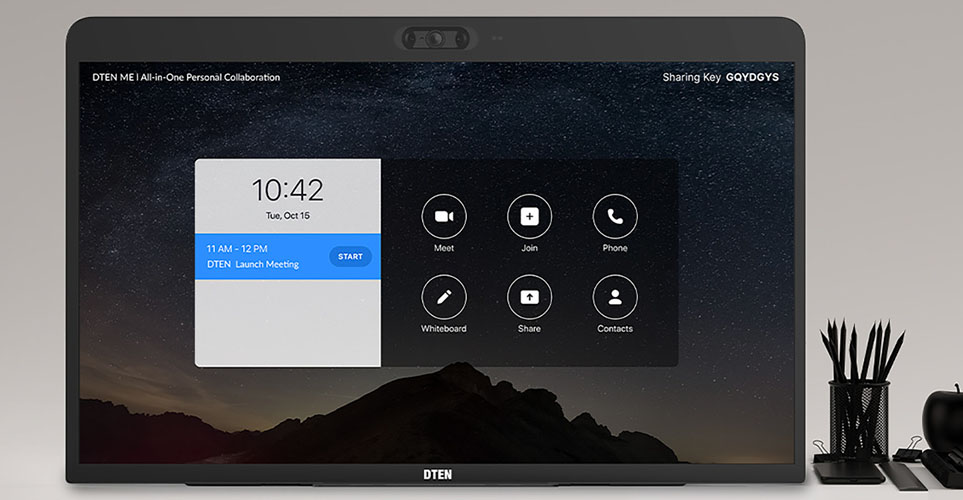 The device is DTEN ME. This is a 27-inch long touchscreen device. Zoom has marked its convenience that it can be easily set up through Admin Portal. Additionally, it can be self-managed by the end-user itself, although IT managers do help them in the entire procedure.
DTEN ME is a complete personal collaboration device for bringing the office at home. The professional experience will be missed now. This device is built for the desktop and it is perfectly designed for the home office.
Zoom for Home – DTEN ME is lightweight, streamlined, and portable, and easy to use the device. With its sleek design and ideal size of 27'', it can be easily fit on a desk. The display size is enough large as one can see the contents and meetings, neatly. The multi-touch hyper-responsive display enables multiple participants to interpret at the same time.
The device will cost $599 with below-mentioned six key features,
Multi-touch Display
8-microphone Array
Whiteboarding and Annotation
Sleek and Portable
3 Intelligent Wide Angle Cameras
Integrated Speakers
Face-to-face collaboration, hands-on problem solving, and in-person interactions have become a dream. Work from home has provided a working solution but that professional experience is still missing. And thus to fulfill that gap, Zoom for Home – DTEN ME is all here,
Weight: 14.33lb (6.5kg)
Dimensions: 24.25 x 15.4 x 4.1 Inch
Power: 100 to 240 VAC, and 50 to 60 Hz
The device appears pretty simple. Apart from the quick access to its features, you can also connect it with your calendar to display the upcoming meetings. TechCrunch has revealed that the device can be linked to mobile phones and laptops as well.
Pre-orders for Zoom for Home – DTEN ME office set-up are available. Since the shipping will start in August, you can expect it soon. It includes plug and plays set up and therefore, one can start using it quickly after receiving the device. Your in-house office set-up will give you the comfort of working along with little banters of official surroundings!