Well, the popular Xiaomi has recently launched Mi Pad 4 tablet which is targeted for 'heavy usage and office-goers' featuring not only elegant design and sober colors but also cutting-edge specifications and premium build quality that makes it a perfect combination of performance, style, and comfort to help you make your job quicker and easier. This tablet is sleek, light and a great performer when it comes to buying it as a substitute for heavy and bulky laptops. So, without further delay, let's talk about the features and specifications that make it different from those in the market.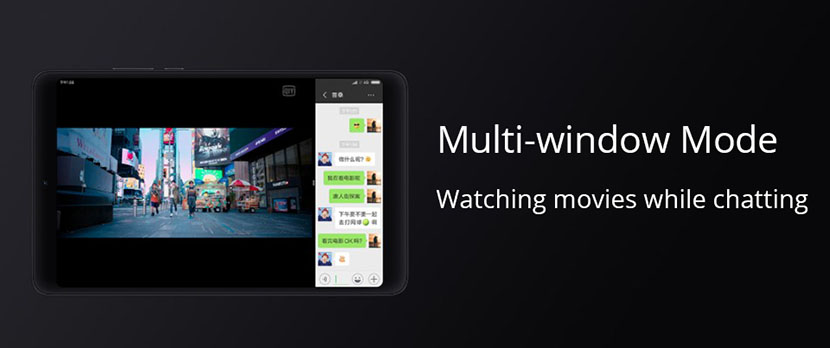 RAM and Storage
The primary concern while looking for any device is its RAM and storage capacity which has been quite clearly catered by Xiaomi Mi Pad 4 Tablet PC. Talking about the RAM, this tablet is powered by 4GB RAM which is enough for you to multitask smoothly around editing, gaming or casual browsing. In terms of storage, this tablet has an internal storage of 64GB. The only issue of the device is that it does not support an expandable/external memory which means you are confined to using only the available memory of 64 GB. But this issue can be resolved because the device already has such a large capacity offered by internal storage, that it is easier not to worry about the space and let you store and transfer tons of movies, music, photo albums, documents, and media files efficiently. Looking at the combination of RAM and storage provided by this tablet, it seems that you would be able to complete your tasks without any issue.
Processing and OS
When it comes to core performance, Xiaomi Mi Pad 4 Tablet PC has one of the best-in-class specifications including MIUI 9 and the Qualcomm Snapdragon 660 AIE Octa-core Processor which ensure high-performance with its 14nm process technology. These processing chips are believed as the ultimate duo of power and performance which can efficiently deal with several chrome tabs, watching videos and listening to music and playing large-scale 3D games without giving lags or glitches. Looking at the specifications, you should be able to run heavy applications without any issues as well.
Design and display
Xiaomi Mi Pad 4 Tablet PC hits a pretty decent spot when it comes to its design and display. It weighs as light as 0.3425 kg with its dimension ranging from 7.88 x 4.74 x 0.31 inches and is available in two premium and classy colors – black and gold. The body is made of metal and is finished so precisely that it gives the device a premium feel and look. It provides an immersive viewing experience with its 8 inches screen and a 16:10 display ratio supporting the resolution of 1920 x 1200 FHD. Addition to this, it features 283 ppi and 1200:1 contrast ratio that creates perfectly balances image and quality for the users.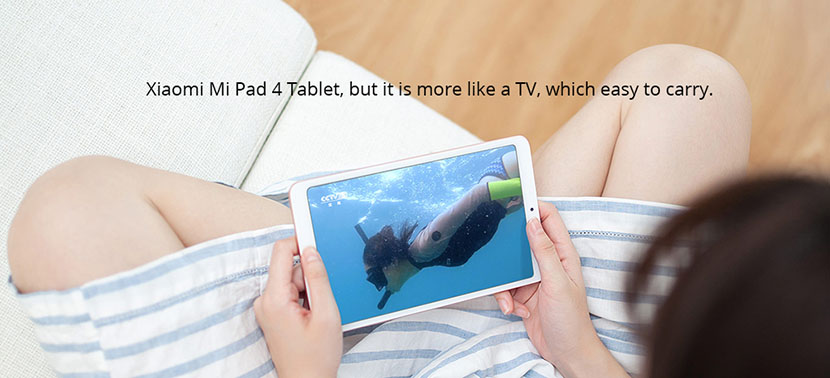 With such a great screen size, it's like a portable television wherein you can enjoy your favorite movies, daily soaps or reality shows wherever and whenever you want to. Also, it's easier to use it as your own private library and can read various books and magazines on a vast screen without straining your eyes. Xiaomi Mi Pad 4 Tablet PC also features several modes – eye-protection mode, standard mode, enhanced mode, smart adaptive mode – which can be used according to your requirements and convenience. Also, this design ensures a comfortable 'One-handed operation' with its light and sleek design.
Battery and audio
Xiaomi Mi Pad 4 Tablet PC features a massive 6000 mAh battery which has a battery life of an entire day. A fully-charged battery after 3-4 hours of charging is believed to deliver up to 12 hours of video surfing, 15 hours of continuous reading, 10 hours of editing photos and approximately 8 hours of gaming. Coming to the audio, it has a built-in dual-channel speaker which delivers decent sound quality.
Camera and other supports
Considering the factor of its camera quality, Xiaomi Mi Pad 4 Tablet PC is equipped with a dual-camera technology. The 13 MegaPixel High Definition rear camera enables you to capture beautiful moments whereas the 5 MegaPixel front camera supports AI face recognition and a Beauty mode which allows you to take flawless selfies. Coming to the connectivity and other ports, it has one Type-C USB port and a 3.5mm headphone jack.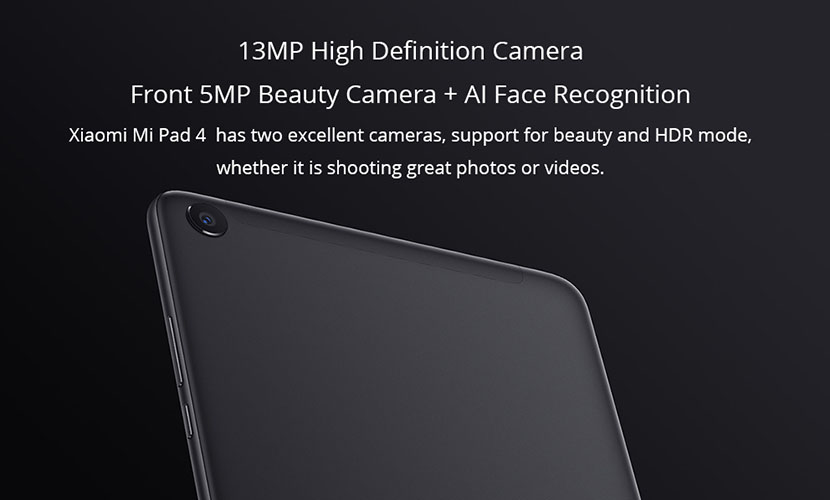 Verdict
As mentioned earlier, Xiaomi Mi Pad 4 Tablet PC offers everything that one can expect from a Tablet PC– bold and colorful designs, premium build quality, brilliant performance and comfort to your shoulders as well as your pockets. In short, it has everything a 'substitute to laptop' must have. It is believed to be a perfect alternative to available boring traditional laptop designs and those heavyweight champions that weigh you down as it is ultrathin and light that easily slips into your backpack. The tablet most likely won't disappoint even if you throw some heavy applications at it. Top all of it with a good battery and a great storage capacity, both of which are essential features of the laptop. I think for someone who's looking for the perfect package of style, design, build quality, performance, and comfort, Xiaomi Mi Pad 4 Tablet PC has to be a decent pick. And guess what, it's even pocket-friendly!