If you ever have been interested in drawing in your childhood or you are already an artist, then here's a fantastic product launched in the market specifically for artists namely Wacom Cintiq Pro 24 DTH2420K0! Or else if you are planning to purchase a tablet for your kid, then I would suggest Wacom Cintiq Pro 24. With regards to enhancing knowledge of your kids, it will enhance their creativity because you might have heard this line that "Every person has his/her strength and weak point that they need to recognize." And I am damn sure that this device will help you to do your SWOT analysis very-well.
Once you understand what you are best, you can explore your profession and the world of art is something that everyone praises of, but only a few are blessed with that creativity and skills. If you also want to be a part of this world, or want to understand whether this profession is your cup of tea or not, so check out its features to make a viable decision.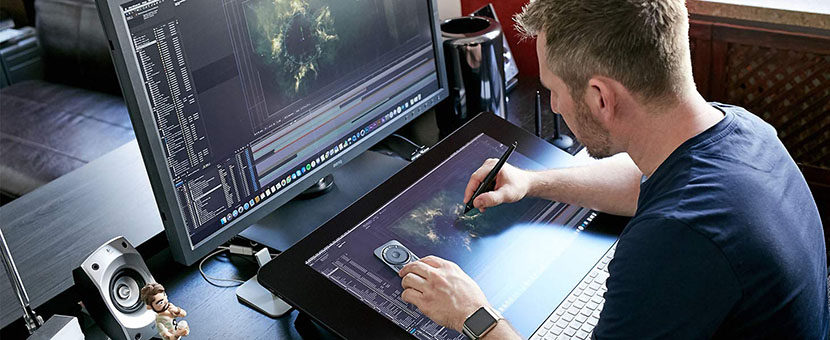 In case, if you already love drawing and painting, but never got a chance to start your career in it, then let me tell you, it's never too late. Allowing Wacom Cintiq Pro 24 to enter your life will do wonders that you never thought of and I can assure you on this factor.
Let's take a quick look in the features of Wacom Cintiq Pro 24:
The stunning look featured with an ultimate display
Wacom Cintiq will actually win your heart with its sleek and stunning design. The tablet is black in color with a screen of 23.6 inches, which is completely screen touch. The overall dimension of the product is 26.65 x 15.5 x 1.9 inches, weighing 15.87 pounds that makes this device a drawing sheet giving you better artistic experience. Furthermore, the display quality is ultimate- the resolution offered is 4k (3840 x 2160 pixels) that allows you to see every detail of any image. The color gamut of the display is 99% Adobe RGB that gives a dramatic color performance with true-to-life experience so that you can enjoy your drawing or painting with great spirit and enthusiasm. You will feel that you are in reality drawing on a sheet of paper; Wacom has compacted this kind of display.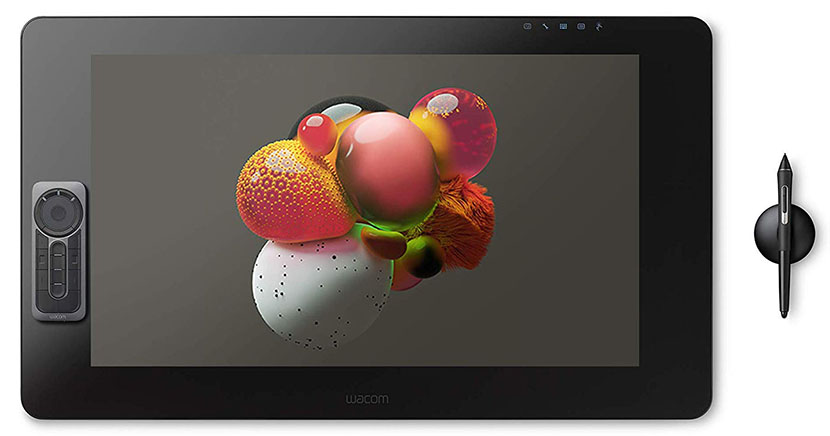 To the left side of the tablet, you can see on-screen keypad and radial menus making your user experience more friendly with multi-touch gestures. So designers and artist or who are initiating their career in this profession, Wacom Cintiq Pro is all that you need!
Wacom has also introduced pro pen 2, which is accurate and smooth like anything. The pen of this tablet performs 4 xs better than a pen and gives you perfect feel of on-paper.  As compared to the previous pen launched by Wacom, this one has been recognized for its high accuracy and 8,8192 pressure sensitivity with zero parallaxes. Your ideas and your creativity will get the perfect platform if Wacom Cintiq is your ideal sheet for painting.
A powerful beast equipped with better hardware
Wacom main goal behind launching this product is enhancing the skills of designers and artist across the globe. Therefore, it is has been equipped with suitable hardware systems, not a pro. It includes Intel Xeon and depending upon your model the RAM and ROM are offered. However, in Cintiq Pro, you will be getting 32GB of storage. This tablet alleviates you from tangles of the cable by giving seamless connectivity options, which are as follows:

4x USB3 ports
1 x USB C port
1 x HDMI2.0 port
1 x DP port
Besides this, you will be getting Audio jack and microphone option as well. And while connecting to your desktop or any other device including MAC, you have 2 USB-A ports. More so, to secure and keep your creativity unique you can purchase Kensington lock separately for your device. The tablet runs on Windows 7 with the latest version, which can be upgraded with further with the latest versions of the operating system.
Fascinating accessories

Wacom offers exciting accessories with this device to make your experience more seamless. It provides Ergo Wacom Stand for your Cintiq Pro 24, so whenever you are drawing or painting it will support you to accomplish the process efficiently without any hassle. The stand is solid that makes this tablet more like a laptop within a few minutes. This allows you to raise, tilt and rotate your tablet, which gives you flexibility and easiness. With this stability of the display, you can show your creativity flawlessly.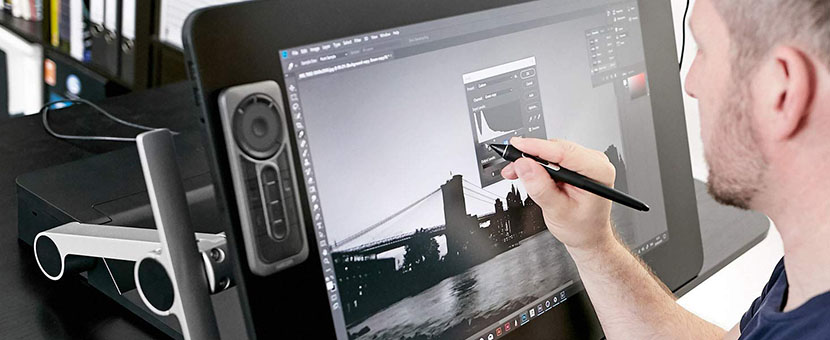 Not only this, you can customize your tablet with a great offering by Wacom. In case, if you want CPU, you can replace it quickly, or purchase stand for smoother and stable surface, or you can go for the color manager that gives precise color calibration, best image quality and improved consistency in one-stop solution device that seamlessly integrates with your workflow.
Conclusion
Designers who want to excel in their profession with the latest technology, Wacom Cintiq Pro 24 is an optimal choice. This tablet is launched to give you digital canvas experience and making your job more of fun. Wacom is a trusted brand when it comes to pen-based tablets to support all the artist and designers who are feared of embracing the latest technologies. But, Wacom has a straightforward user interface that eliminates the fear of designers and artist and allows them to enter the digital world.
In a nutshell, Wacom Cintiq Pro 24 is a one-stop solution for all your drawing needs. Don't just go on my words, go and grab it today!