Today everyone is talking about digital technologies and why not these technologies are revolving around us. Every day at every moment we use technologies and one of the great examples is the Smartphone. We cannot spend even a single minute without the smartphone. Smartphone has actually replaced calendars, watches, landlines, etc. Moreover, with the advancement in technology, even book lovers have been blessed with Kindle tablet and now people who are more into paperwork or love to write or sketch, Sony has introduced new Sony Digital Paper DPT-CP1/B.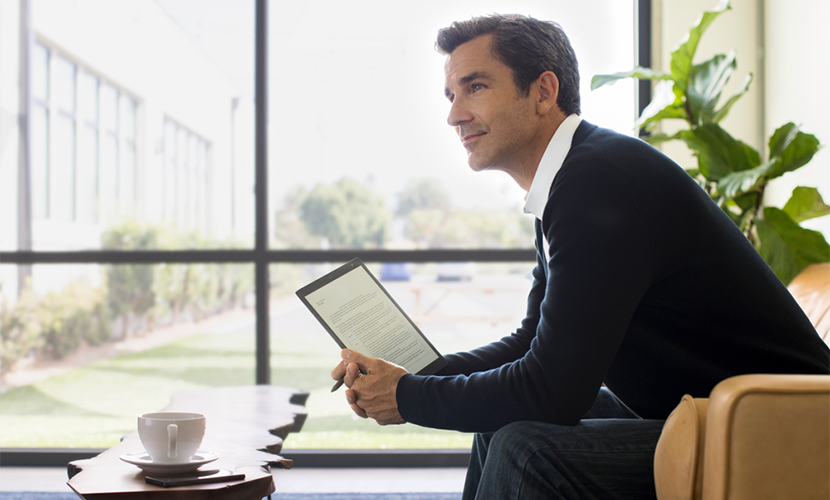 It is the perfect digital whiteboard for all the writers, sketchers and readers. They have come up with this unique device for businesses, government agencies and students to go paperless and live a stress-free life. Let's understand its features in detail to get a complete overview:
Ultra-thin, lightweight and super display
Sony has always been a king when it comes to the sleekness of devices be it smartphones, laptops or tablets and Sony Digital Paper is not excluded from this phenomenon. Measuring 7.4 x 1.1 x 10.4 with 10.3 inches display, Sony Digital Paper is an ultimate tablet giving you the genuine paper texture.  Moreover, the display has been compacted with high contrast 1401 x 1872 dots, so even if you are in sunlight, the digital paper will give you perfect picture quality. In short, this tablet has just executed the paper display so well that in any lighting condition, readability on display remains perfect.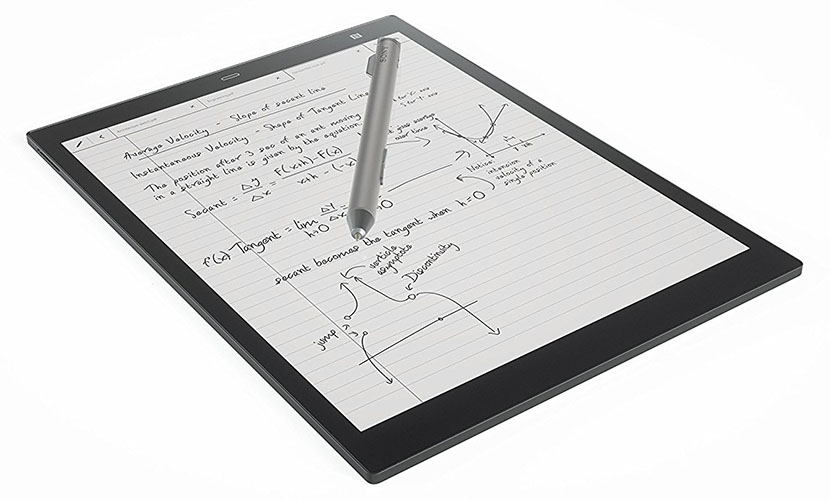 The next thing about this Digital Paper tablet is its weight, which is only 14.4 ounces! Isn't it great? It is convenient and easy to carry. We can say the weight is less than heavy guides and books. If we talk about its look, well, it is very sleek; moreover, you will find a home screen button at the top, which is the only button next to the touchscreen display. This digital paper tablet has a power/sleep button along with micro-USB charging port so that you can quickly shut down when you are about to sleep. And as you'll know, it is having a digital pen as well that has buttons to erase certain content or drawings and a lot more.
User-friendly interface with great performance
Sony Digital Paper DPT-CP1/B has a user-friendly interface, but it only works with PDFs. However, there is nothing you need to worry about as PDFs are considered one of the versatile tools and many documents can be converted into this with ease. Thus, Sony also offers a PDF reader/editor and notebook features, not letting you down at any moment.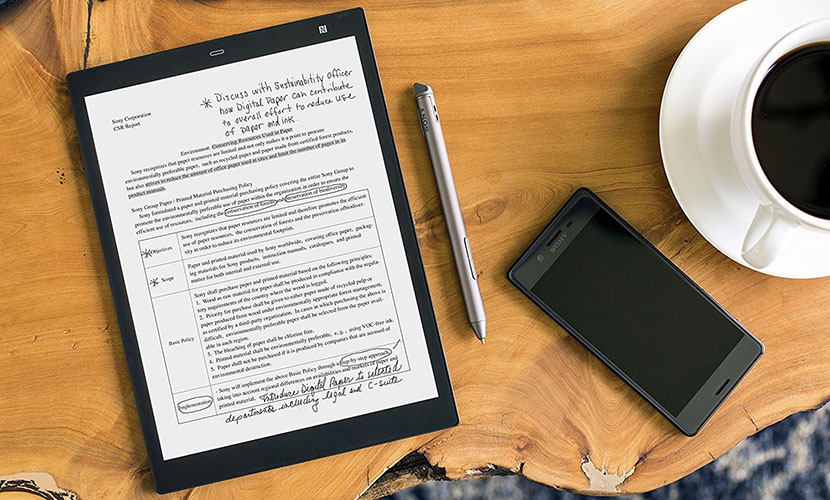 Let's come to functionality. There's nothing much to explore about functionality as it is very simple and basic. Whenever you turn on your tablet, it will keep you there where you left everything- no confusion, nothing. Moreover, it will offer you a list of functions when you are on the home screen.
These functions include:
Return to Document
All Documents
Folders
Create New Note
All Notes
Settings
One thing is a bit difficult to accept that there is no back button only home button and home button will take you nowhere. But as you know, this tablet is designed for reading, drawing, and sketching you can overcome this challenge.
If we talk about the performance of the tablet, it is just mind-blowing. It is highly responsive. When you are reading any document or PDF, you can open the word doc and take down all the notes that too at the same moment. Isn't it amazing? In short, it has that multi-tasking feature. You can draw any image seamlessly as the pen functionalities made everything superb. With the pen, you can quickly erase anything, highlight the critical lines you want and write notes as well. It gives you the feel like you are using a magical pen that performs all the functions by just pressing a button. The pen is highly responsive, accurate and can be standardized as per your writing style. With the perfect display of Digital paper tablet, writing is seamless. Unsurprisingly, this tablet can be what you always admired of.
However, if you cannot write with the touch, but, I must say using all these functions is quite easy and simple. You can quickly understand everything about this tablet.
Let's see how flexible this tablet is. If you want to transfer a file, it's quite, and the tablet is featured with 16GB storage as well. The first way is, connect it to your computer and drag the file and drop it, secondly, you can pair it with any device for sharing or transferring. You just have to visit the Sony Digital App, which offers iOS and Android applications for making the sharing process more straightforward.
Long-lasting battery
The battery of Sony Digital Paper is super powerful. It provides one week battery back-up that too with Wi-Fi and without Wi-Fi it can last up to three weeks without any glitch. Surprised? Yes, but it is actually true! Furthermore, even the pen, it can last a month without any hassle. So you can explore so much with this tablet without even worrying about battery life.
Wrap up
In the history of Sony, launching Digital Paper tablet is one of the brave moves, in the world where every device is made to perform every task seamlessly. However, the tasks performed by this tablet are pretty good. Reading, interpreting, and searching PDFs is pretty beneficial and straightforward, and we talk about writing- it is as simple as writing on a paper with a pen. These are proper perquisites of the tablet for those who are still trapped in the paper world.
Moreover, you can take this tablet loading all the documents or books and make your travel experience more interesting. You can take quick notes of anything you saw if you are writers and want to explore the writing sector more. Don't go on its features just buy it and feel the change!