Android platform, excellent display, and an affordable price range make Smartab 7-inch Android tablet a perfect device to have it for studying, reading ebooks, enjoying movies, and playing normal games. Powerful hardware unit move things secure and fast, HD display presents crisp and clearer pictures, Android OS enables the functioning of Google apps, and adequate storage stores your valuable data with ease. Compatibility with other devices can be managed through wired and wireless network. Speed and performance are delivered by a Quad-Core processor in combination with 1 GB RAM.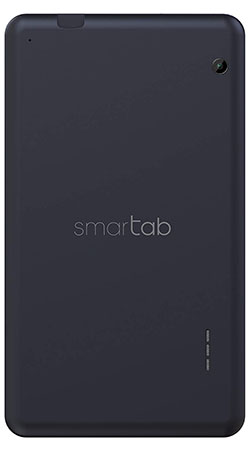 The display of 7-inch HD touchscreen is ideal, superb, and colorful in terms of portability and viewing. Internal 16 GB memory helps you to store your documents, files, apps, and games and another 16 GB of storage option is provided in the form of Micro SD card option. The dual cameras one in the front and other on the back allows you to perform basic camera functions on the move. The battery is not that much supportive but a decent one to perform your daily routines or small business activities without any issues or fuss. Above all, this device is available just under $50 means a highly affordable unit to own it.
Design
SmarTab is relatively an unknown entity for most of the tech professionals and normal users. There is not much information present on the internet either so it can be a gamble whosoever owns it. It may work exceedingly well or may get flopped but at this price range it seems to be worth risk taking.
Nothing extravagant features on the design front. Smartab 7-inch holds very simple and usual design as we normally seen on a lot of the budget tablets. Opening up the box, you will notice 7-inch screen with normal bezels on the sideways and quite thick ones on the top and bottom. The web camera placement is odd, rather than center as we usually see in most of the tablets it is placed on the left corner of the screen. The power button, volume rockers, and SD card option is present on the top bar.
The rear camera placement is also very strange not in the center, neither on any corner it is placed a few inches below the left corner. Smartab logo is also can be seen on the back with the speaker bars on the corner. Slanting edges and rounded corners give the overall design a wonderful presence. The whole plastic material is bulky, heavy and dull, but it's obvious on any budget device. The dimension of 9.5 x 4.9 x 1.3-inches and 15.8 ounces of weight completes the overall profile of this tablet. Not much to choose from on the design perspective, an average design on the whole.
Display
The 7-inch screen floats every visual, images, or graphics to the screen. The screen size is perfect to handle and store as it fits in your palm very easily and doesn't take a lot of space in your bag or purse. The display comes with high definition picture quality and 1024 x 600-pixel resolution. The text is crisp, pictures are balanced and the overall image quality is brilliant. The distortion is quite less and indoor image quality is acceptable, but outdoor pictures are not that much effective.
Hardware Performance
Smartab 7-inch android tablet loads with durable and performance oriented hardware. To start with, there is a Quad Core processor and 1 GB RAM delivering adequate speed and performance for the system. Enjoy productivity tasks, routine tasks, reading, studying, and gaming with fun and lag-free processing using Smartab. The CR2 battery also seems to be quite moderate and not offer much backup on the go or road.

Storage and OS
Good amount of storage is one of the prime necessity of any device. This device lies in budget-centric range but still receive a decent amount of storage to store your favorite apps, documents, files, and games on the system. Integrated 16 GB of internal storage works as a primary storage for storing your data whereas up to 16 GB of Micro SD Card option provides you an additional space in case you get cramped up for free space.
Smartab 7-inch gets Android 7.1 Nougat edition as its operating system and is very fluent and comfortable to work with. Freebies like Gmail, YouTube, and Play Store let you explore the world of opportunities and possibilities.
Camera
Dual camera options allow you to perform camera-related functions efficiently. Video calls or video conferencing with your family members, friends, and near and dear ones using the front-facing web camera. The rear camera can be used for 720p video recording, clicking photos, and scanning documents. Camera shuttering and clicks are slow due to the low level of resolutions and captured images are also not that much brilliant.
Verdict
Smartab 7-inch Android tablet comes with a lot of benefits and few disadvantages as well. On the positive note, normal design, ideal 7-inch perfect screen size, sharp HD quality images, decent performance derived from Quad-Core processor and 1 GB RAM, dual camera option to capture your memorable moments, internal storage of 16 GB plus Micro SD card preference, Android 7.1 Nougat edition operating system, and reasonable pricing are some of the high points associated with this device.
On the other end, boring and dull plastic wrap up, low camera resolution, less amount of RAM, and not so good battery make your life miserable. Normal day-to-day tasks, Netflix, social-networking, YouTube, reading and sending emails, and watching videos are smooth, but if you want to use it for multitasking or high-end games then this device may not be your cup of tea. So, choose wisely looking at all aspects.