After having launched its flagship Galaxy Tab S6 a couple of months ago, Samsung is reportedly set to launch a mid-range tablet in its Galaxy Tab A series, namely the Galaxy Tab A4 S. While the Korean manufacturer's latest innovation will apparently be revealed in the upcoming CES 2020, here are a few things we've speculated so far about the gadget's key features, owing to its WiFi, Bluetooth and FCC certification.
Speculations based on FCC Certification

According to the recently acquired FCC certification, the tablet will include a 4,800mAh battery, supporting a 15W fast charging solution from the company. It will be launched with a model number SM-T307U and its connectivity options will go beyond WiFi to include an LTE variant, apart from Bluetooth, GPS and WCDMA.
The FCC certification also reveals that the tablet will come with the screen dimensions measuring 201.9 mm in length and 124.4 mm in breadth. It will measure 237.1 mm diagonally. Furthermore, the listing shows that the device will have an 8.39-inch display. However, details regarding its display type and resolution still remain unknown.
Speculations based on the WiFi Alliance and Bluetooth SIG database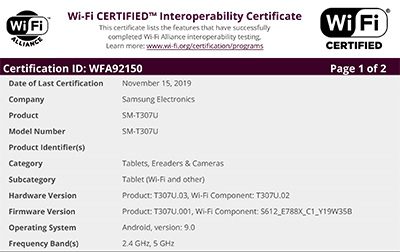 Much before it received FCC certification, the device was also listed on the Bluetooth SIG and WiFi Alliance database. Both of these platforms reveal the same model number of the device – SM-T307U – which will soon be launched. While the websites doesn't reveal much about the tablet's specifications, it is speculated to support Bluetooth 5.0 connectivity.
The tab is set to include 32GB of internal storage and will be launched with the Android 9 Pie operating system. Although, key details such as which processor will be used to power the tablet and in how many configurations it will be revealed, are currently unknown.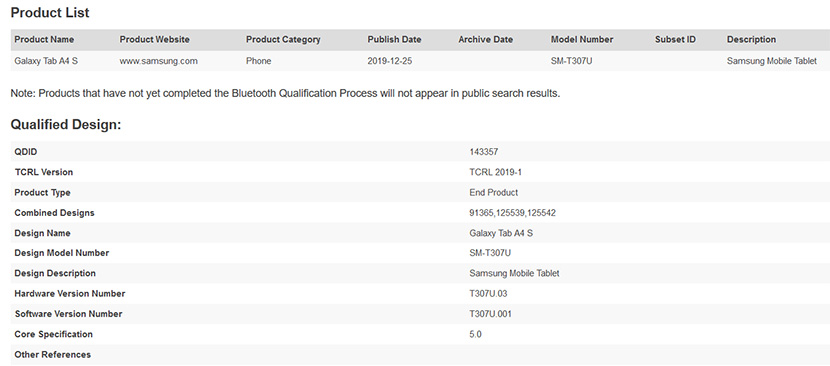 While there are still a lot of unfilled blanks and there's no official statement from the company regarding the launch date, price etc. one can expect the product to hit the market soon since it has already cleared major certifications.