Samsung has recently revealed the specifications of all new Samsung Galaxy Tab A SM-P205 with S-pen on official Samsung Thailand website. You might be surprised with this news as there were no rumors across the globe about this product of Samsung. But it seems that the advanced Tab A will do wonders in the market once it is available.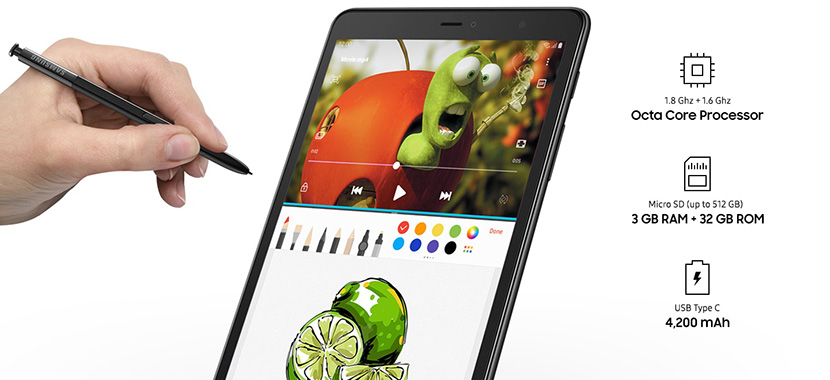 The design of the tablet seems a bit off as Samsung has introduced various tablet with great innovation in the market earlier. But Samsung Galaxy Tab A is an old-school type tablet with S-Pen. This Galaxy Tab A has 8" widescreen and a unique feature of blue light that helps you to protect your eyes from harmful rays. Now you can enjoy games and movies on this tablet in daytime and night time without any hassle.
The All new S-Pen is battery-free, water and dust resistant that adds more to your productivity. This pen is extremely lightweight just 2.8gms and have a flexible 0.7mm pen tip that makes it quite portable. If you are person who is always on the go, then S-Pen can be your perfect partner. Just pull it out from the stand start writing anything you want.
The tablet is very powerful as it is equipped with Octa-Core processor along with 3GB RAM and 32GB storage, which is extendable up to 512GB. So you'll be never out of storage and capture every moment in your smart tab.
The battery life of the Samsung Galaxy A SM-P205 is of 4,200 mAh that is absolutely long-lasting, making your experience more impeccable and one-of-a-kind.
We are waiting for the price and release date of the tablet on other Samsung official websites as well. Stay tuned for more updates!