Artistically designed performance oriented Windows 10 powered Samsung Galaxy Book SM-W723NZKAXAR 2-in-1 tablet is an incredible taskmaster. Elegant style is mastered by the futuristic vision of engineering and technology. Portability remains a major concern when you have to perform tasks on the move but 2-in-1 tablet brings a lot of relief for the users. Use it like a desktop in offices, laptop on the move and just display screen for digital drawing everything is so much easy and fun that you must want this device with you.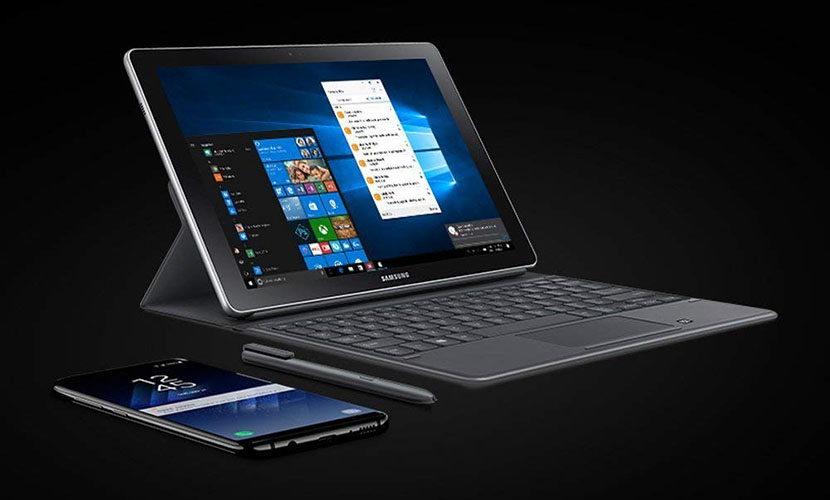 Performance extracted by 7th Gen Intel Dual-Core i5 processor coupled with 8 GB LPDDR3 SDRAM is brilliant. Intel HD 620 graphics chipset fueled stunning and vibrant visuals t0 12-inch full HD touchscreen display. Windows 10 professional edition backed up a laptop with additional features like slim, sleek design, backlit keyboard, seamless connectivity, Galaxy S Pen, SSD as a storage option, and reliable whole day battery life emerges as a tough competitor in its league.
Overview
Desktops replaced workstations, Laptops replaced Desktops, and now 2-in-1 tablets are replacing laptops quite dramatically. Everybody wants its device to be multi-dimensional and 2-in-1 tablet is one of the options for them. Open it, use it as a laptop and detach it from the keyboard it functions like a tablet. Galaxy Book SM-W723NZKAXAR 2-in-1 tablet is one of the options launched by non-other than a world leader in electronic market Samsung. This is well-thought and well-implemented machine intact with plenty of advanced features and technologies. The stylishly designed device gives you premium look and feel and functions efficiently as well.
Design
Detachable laptops are always difficult in terms of designing. It goes horribly wrong if not designed smartly. Samsung Galaxy Book comes in with very slim, sleek, and lightweight profile which makes you a proud owner of this device. The dimensions of 11.47 x 7.87 x 0.29-inches and weight of just 1.66 lbs completes the whole profile of this tablet. The backlit keyboard is very sleek and comes with a stylus attachment on the left side of the keyboard. With the tip size of 0.7 mm and 4000 pressure point, Galaxy S Pen gives your creativity a wing to fly.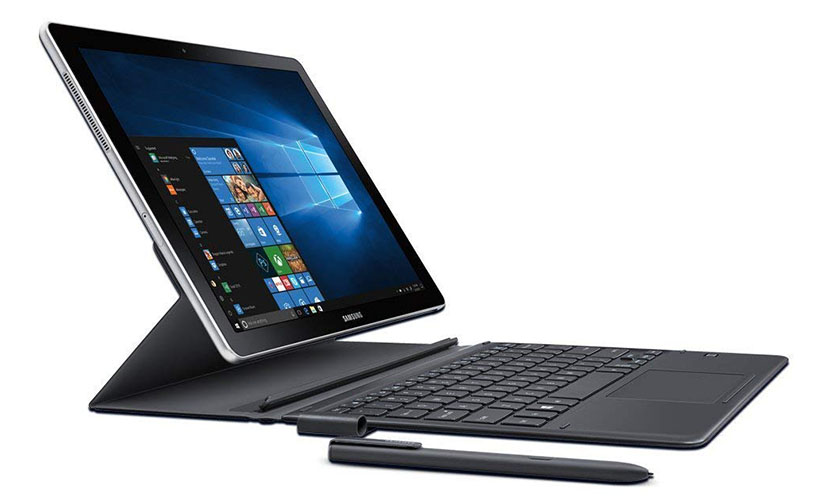 Upper design starts with 12-inch full HD touchscreen display which works with a stylus as well. Available in two color options Black and Silver are a good one to choose from. 5-megapixel Web camera is placed on the front whereas on the rear you will get a 13-megapixel camera with Auto Focus technology. This device is so sleek that even with keyboard cover it fits in the small luggage or large handbags quite easily. All metal chassis ensures durability and smooth finish to the tablet. On the left-hand side, you will get speakers and sim card options and on the right few port options, speakers and audio jack ports are attached.

Display
The display of Samsung Galaxy Book is one of the fascinating features associated with this tablet. Compact display of 12-inch full HD touchscreen is vivid and very bright. HDR-Ready super AMOLED screen with the resolution of 2160 x 1440 pixels spreads the full spectrum of colors. Intel HD 620 graphics chipset provides adequate support to deliver enriched details and exceptional picture quality for the users.
Hardware and Performance
Productivity, performance, and multi-tasking is assured by 7th Gen Intel Dual-Core i5-7200U 2.5 GHz processor (can be a turbo boost up to 3.1 GHz). Support of 8 GB LPDDR3 SDRAM is adequate. Fascinating display of 12-inch full HD touchscreen panel with super AMOLED display brings out some of the stunning visuals for the users. In combination, there is lag-free processing and superb image quality with you always whether you perform daily tasks or watching videos. As a storage option, you will get 256 GB solid state drive which can be paired up with MicroSD card up to 256 GB for massive storage.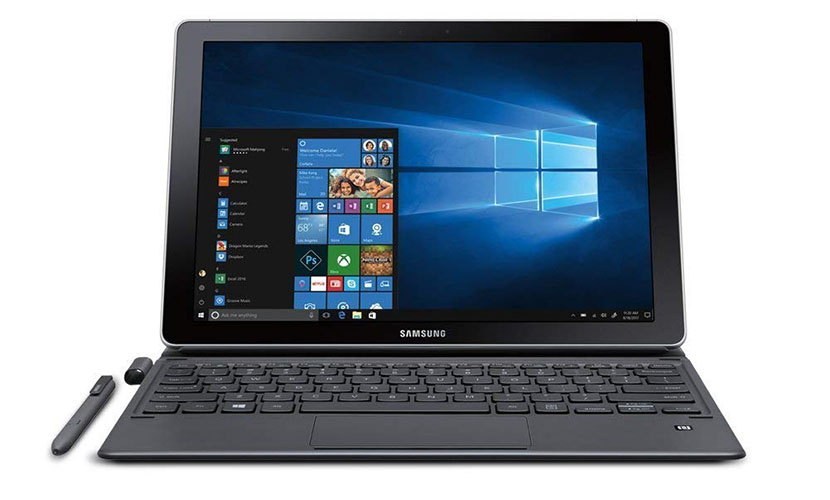 Convertible feature allows you to tilt your screen with the help of keyboard cover or kickstand up to your comfort zone easily. Galaxy S Pen Stylus helps you take the full leverage of the Windows 10 operating system. Digital artist and architects use this device for wonderful representation of images and CAD drawings. The keyboard is very sleek and more looks like a card sheet mentioning letters on the top. The full-sized magnetic with backlight option looks attractive to the eyes and comfortable to work with. The trackpad is quite large to perform various mouse functions with ease.
Effortless Connectivity
Interaction with other devices can be performed by both wired and wireless option. Wired connectivity can be performed through two USB Type-C ports and one via USB Type-C video port whereas wirelessly you can use 802.11 a/b/g/n/ac 2.4 GHz and Bluetooth 4.1. So, enjoy gaming, multi-tasking and data transfer with not plenty but still lot of connectivity options attached in this Samsung Galaxy Convertible Book.
Battery Life
Due to the compact design of 2-in-1 convertible laptops often perform incredibly well and this tablet is also no different in this regard.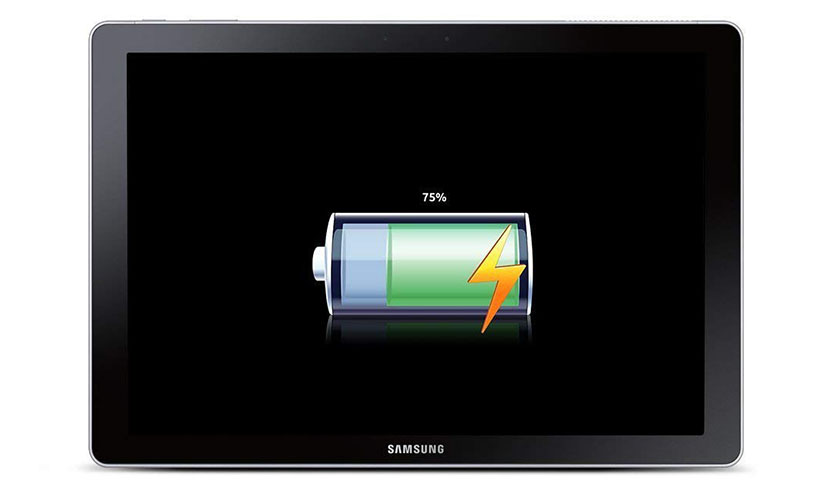 The battery of 5070 mAh claims to keep your system alive up to 11 hours which is massive. You can easily complete your daily tasks of office tasks without much issues or fuss. In addition to this, adaptive fast charging helps you to regain power very quickly in case you drain out on the move.
Verdict
Convertible tablets are still a rarity and not many companies put their hands in this segment. Samsung used wonderful metal finish to wrap up the Intel-powered hardware unit in a slim and sleek profile. SSD as a storage option added with expandable MicroSD card gives ample space to store your data or videos. Backlit keyboard, Stylus Pen, and massive battery life are other amazing features associated with Galaxy Book.