Said to be the 'world's first' foldable smart phone, Royole FlexPai has successfully gained the attention it desired. While the world is amazed at every first technology introduced, the product might hold minor loopholes that will be eventually upgraded and update. A five year old tech firm, Royole, just played a smart move by rolling out FlexPai before any other tech firm.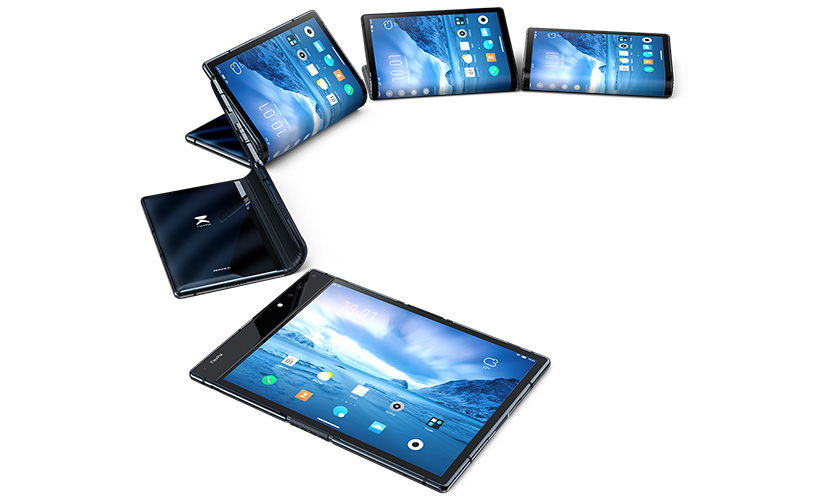 The first of its kind, FlexPai is embedded with some astounding features and design to admire. It certainly is sufficient to attract customers at least once. You can fold your tablet as per your requirement, use it as a smartphone while folder or as a tablet when you open it up. Sounds interesting, isn't it?
Royole FlexPai RY1201D Specs
| | |
| --- | --- |
| Processor | 2.84GHz Octa-Core Qualcomm Snapdragon 855 |
| Display | 7.8-inch 1920 x 1440 308PPI Flexible AMOLED |
| RAM | 6GB/8GB |
| Storage | 128GB/256GB |
| Camera | 16MP + 20MP |
| Weight & Dimensions | 320 gm | 190.3*134*7.6 mm (WxHxD) |
| Battery | 3970 mAh |
| Operating System | Water OS |
Now let's have a look at some of the top features of Royole FlexPai that might just urge you to try it now without much ado.
Smartphone + Tablet
You get the fun of two things in one and surely it has to be the first experience for you. The foldable FlexPai extends to you the leverage of using is as per your needs. If you require to use it as a smartphone, you are supposed to keep it folded and if you wish to use it as a tablet, unfold it, and there you go. It is the world's first foldable tablet and apparently Royole has done a pretty fair job at it. Giving the portability to use it either ways makes it unique and much demanded in the market.
Unbreakable
If that's not what makes it stand out, we doesn't know what will. The tablet plus smartphone is one of its kind that has been rolled out in market by Royole on October 31, 2018. According to Royole, the tablet has gone through many tests including it being bent over 2,00,000 times. Amusing!
The screen is extremely unbreakable and that makes it what it is. If you happen to wonder that the display quality might get affected, you are certainly mistaken. The screen provides excellent color range, perfect picture quality and a wide angle view. The tablet by far is inclusive of all that we need in a tab.
Powerful Performance
Another one of most desired feature is the fast processing system that helps you to work without delays and also multi task. Royole FlexPai tab is inclusive of 4th Gen on-device AI engine that makes it smarter and faster than before. Royole has upgraded FlexPai in all aspects. It has 45% faster CPU and 20% faster GPU which enables the user to have extra ordinary experience in terms of working. The device also supports 5G network which gives you amazing networks anywhere. Royole FlexPai has certainly faster performance as compared to previous Royole tabs and many other tabs in the market.
Drag and Share
With faster processing system than ever, you get to multi task on your device. So you thought foldable thing is the only amazing feature? Well not! Royole FlexPai has a drag and drop share which indeed makes it easy to work and provide an explicitly amazing user experience. The touchscreen performance is said to be intuitive, hence, extending a more personal experience with drag and share feature and PC functionality. you get to have ease of work, can multitask and avoid the hassle of copy and paste from one place to other.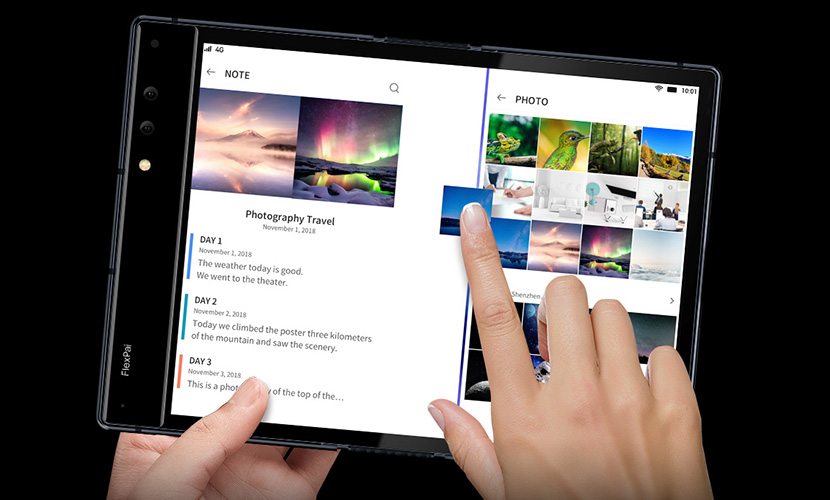 Fast Charging
Now frequent charging of the tabs or smartphones often disturb us out and we certainly aren't much fan of it. With Royole FlexPai embedded with Ro-Charge Fast Charging Technology, our such troubles comes to an end. You can now go on for hours without charging your tab and also get quick charging as and when you want. Hence, this is one more obstacle ruled out, get your tab fast charged now and get going.
Excellent Design
This is without doubt the best thing about FlexPai, one that has amazed the world. Every tech critic has praised Royole for such an innovation and strong bend that is undoubtedly unbreakable. The tab offers an unparalleled flexible view due to its unique Water Operating System. The screen is measured at 7.8 inches with full flexible display. The screen can be used either ways, folded or expanded. Hence, giving a unique design, one of its kind.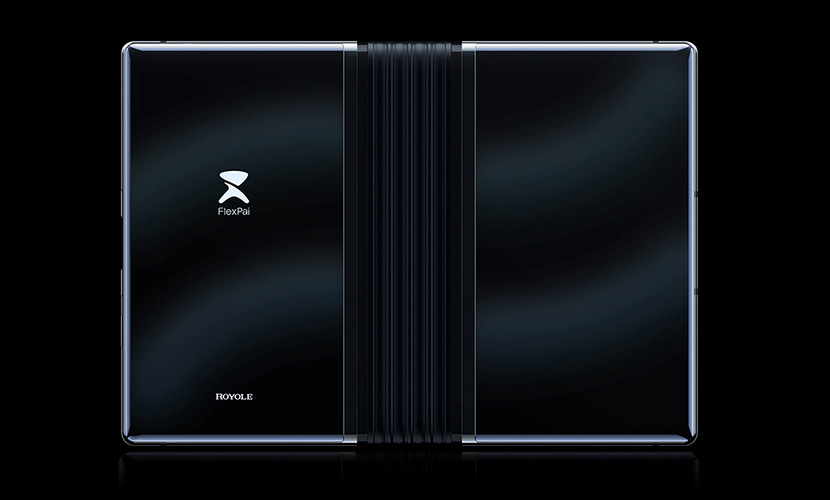 According to some tech critics, the foldable feature is indeed commendable but the software aren't very adaptive of the same. You might just notice a bit of confusion while you fold the tab or expand it. Otherwise, the aspect ratio of Royole FlexPai are 4:3, 16:9 and 18:9.
Edge Screen Notification
This isn't a unique or new feature yet having it in a tab or smartphone makes it easier and a wee user friendly. With edge screen notifications, you are not disturbed midst your movie or any important work. If there is a notification, you get to see on the side edge and its up to you to decide how important the notification is. The edge screen of Royole FlexPai is of 390 x 1440 resolution with aspect ratio of 21:6. Hence, with such feature, you get to have an uninterrupted movie watching or an important work done. Notifications of any call or message will be displayed on the side edge screen that you'll be able to notice.

Royole FlexPai is indeed an unique product launched in market and certainly stands out due to its one of a kind bendable feature. The price might seem a bit high in terms of other aspects other than the foldable feature. The smartphone + tablet is priced at $1,320. All in all, the tab has fine design, strong build and a full display with 1920 x 1440 resolution. Royole could have spent more time in working on the software of the product rather than rolling out in haste. As amazing is the design of the product, the configuration lack to attract users. So, if you are amused by the Royole FlexPai and certainly willing to pay the amount, the tab is decent and works moderately fine.