Earlier, Kindle tablet was the only option for book lovers as they can directly download books, magazines and newspaper or read favorite blogs. With the advancement in technology, a unique tablet was launched in the market namely reMarkable paper tablet. This groundbreaking device was launched to relegate the notebooks, printouts, and documents- it is actually reshaping the way how people used to work on papers. Overall, reMarkable is an exceptional tablet that gives you so close experience to papers.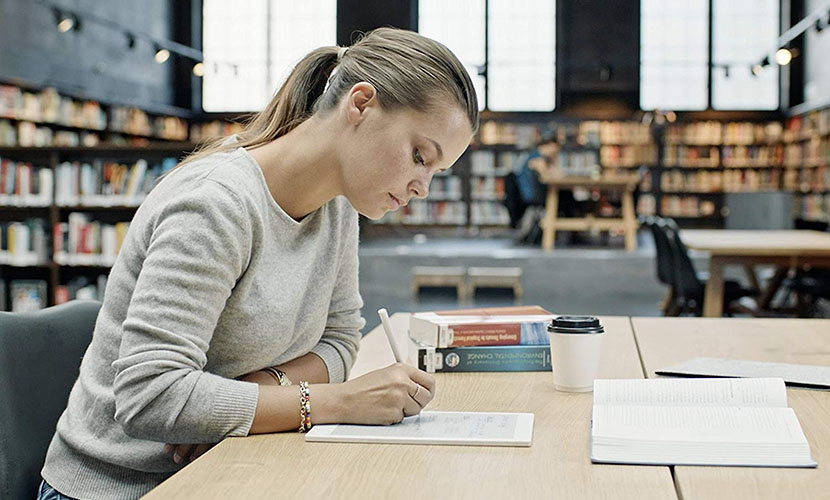 It seems like you are actually writing, sketching and drawing on a piece of paper. Sounds interesting, isn't it? Let's dive into its features to make your decision stronger towards this unique tablet:
Matchless design and magical screen
As I have mentioned above, its hybrid is of iPad and Kindle e-reader, hence, measuring the screen of 10.3 inches with package dimension 12.8 x 9.7 x 2.5 and is more rectangular in shape than an iPad and more prominent than a Kindle device. It weighs just 12.3 ounces (350 grams)!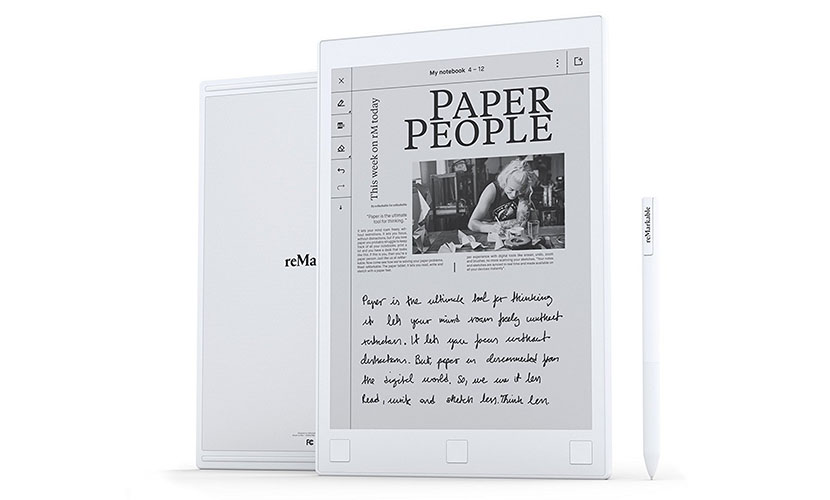 If we compare its design, it is quite sleek and handy comparatively. It is a solid device that looks exceptional at first glance as it is made up of thick white plastic with a healthy bezel to ease the grip. And the three buttons on the front, flip pages forward and back, while the center button takes you to the home screen. However, it's not all plastic as the back of the device is covered with an aluminum plate that makes you feel relaxed and gives your hand a solid feeling.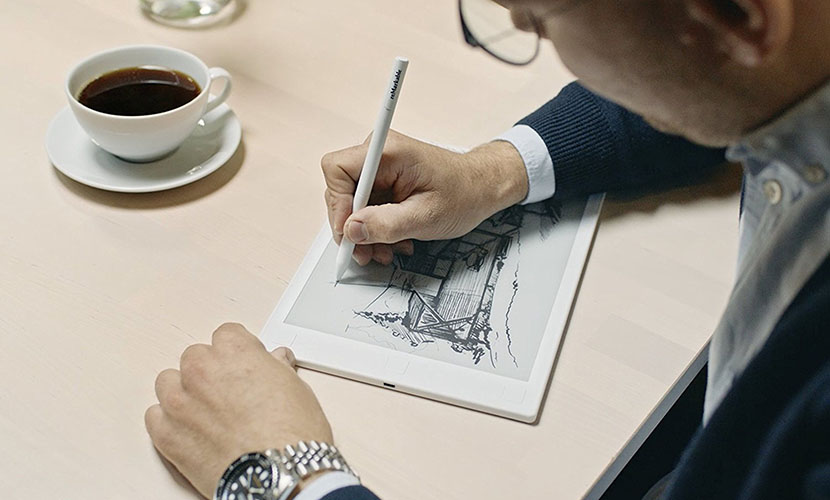 Now let's talk about the about the screen of e-ink tablet where the magic begins. The display has 226ppi for great reading experience to users. The only hurtful aspect about the display is, it doesn't have a backlight so you cannot use this tablet in darkness. Furthermore, the display is fully touch-enabled; you can hit any icon with your thumb instead of the pen. However, the screen is not covered with glass, but it is virtually unbreakable. You won't find any scratch on the screen even if you keep it upside down in your bag.
Dreamlike pen to enhance your creativity
Writing on reMarkable table is like a dream comes true. I mean you'll surely get that unbelievable feeling as it seems you are actually writing on a piece of paper. And for pen, I must say it is an admirable device! Purely wireless and fueled by electromagnet induction from the tablet. The tip of the pen is designed in a way that it gives you a real feeling, but with a limited lifeline. The durability of the tip completely relies on the way you use it for writing or sketching. But don't worry you'll be getting 10 tips packed in the box.  If we consider sketching and taking note task, you have a range of tools to choose from such as pen, paintbrush, marker, pencil, and highlighter. Amazing, isn't it? It's like you are actually purchasing stuff for your school as you'll be getting features like undo, eraser, etc., to make you work so perfect.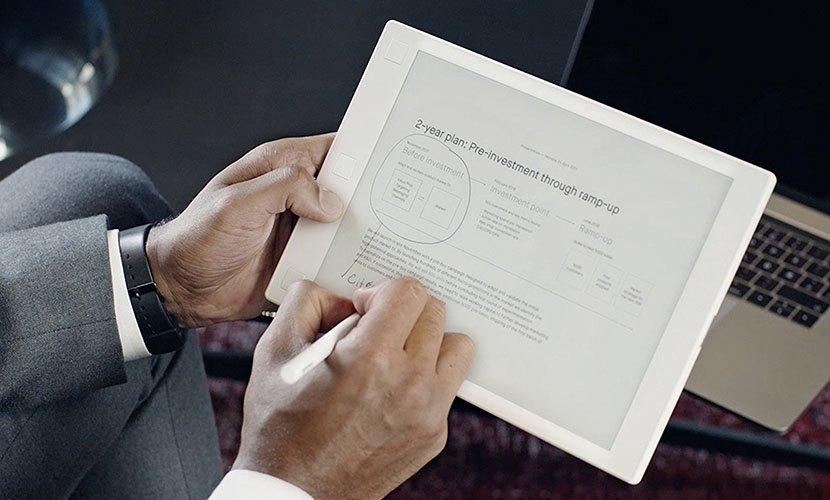 Besides this, the device has 1 GHz ARM Cortex A-9, running on its own hardware platform namely Linux and Codex operating system. It has a RAM of 512MB and 8GB storage, making your life easier with regards to storing all the documents seamlessly. Moreover, there's a micro USB at the bottom that is actually used for charging and transferring data files in your system. Hence, it's not focused on software or performance much. We can conclude that it works well comparatively in terms of performance; this is what you can expect from these kinds of tablets.
The reading on reMarkable paper tablet seems so genuine. For example, if you are reading a newspaper on the tablet and you solve some puzzle you can do so. Just take out your pen and start solving right at that moment. Even student, if you want to solve your question papers this can be your perfect partner. Instead of using a paper or pen or some books, why not use the tablet for you solving your papers then and there. And your parents can easily check your answers with the help of the marker or highlighter so that you could see right and wrong answers. So perfect!
Some additional features that shine like a star
reMarkable paper tablet pen doesn't have a battery or need charging only the tips are replaceable, which you can change after two or three weeks. That doesn't mean the pen becomes useless, it just impacts the efficiency of pen while working on the tablet. Wow, there's so much in this small device! It has everything that you need.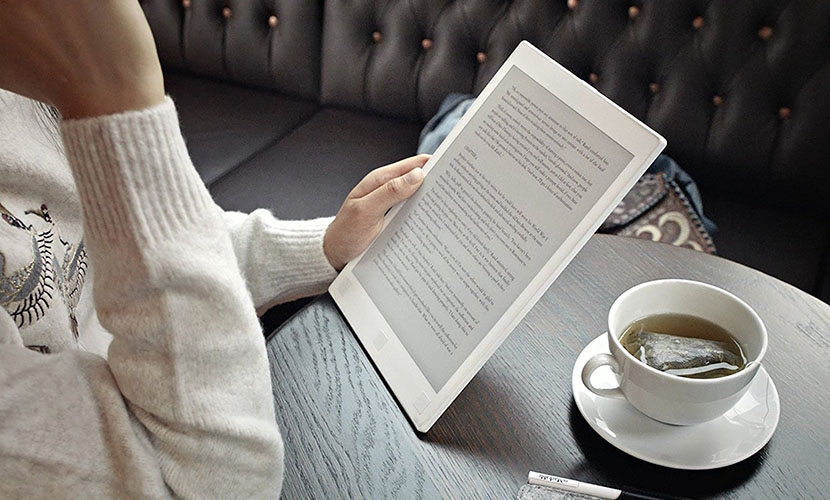 And the battery of the tablet is 3000 mAh that can last up to several days without any glitch. It completely depends upon your use. If you turn off your Wi-Fi and entirely turn-off your tablet without keeping it on standing, you can take more advantage of the battery of this device. Furthermore, you can charge your tablet faster as it has the potential to charge in an hour up to 88%. Now just stay relaxed, enjoy your day at the office without worrying about the battery and your crucial document you can maintain your productivity well.
To protect your device you can also buy a folio cover that will help you secure the tablet in a better way and make more adjustable in any bag you keep.
Verdict
The part where this device excels is in writing well and making you feel like you are actually writing or scribing on a paper with a harder pen or pencil. The reason why you feel so is- the screen of e-ink is never entirely smooth so that rough texture might help you to write perfectly. In a nutshell, it's a remarkable digital device replacing papers and notepads for better work efficiency and comfort. Don't just go by its features, buy it today and enjoy the benefits of this device as much as you can!