Android Tablets market is already over-crowded by lots of entry-level or budget devices in the foray. RCA introduced another one titled Voyager 3 in the same segment. This device covers every essential aspect required in any affordable tablet and can be used for web surfing, reading ebooks, checking emails, playing normal games, and streaming videos. Powered by Intel Atom 1.2 GHz Quad-Core processor and 1 GB RAM is good enough to perform all your study and business-related tasks. Highly portable 7-inch touch screen fueled by Android Marshmallow 6.0 edition operating system presents every visual to the screen.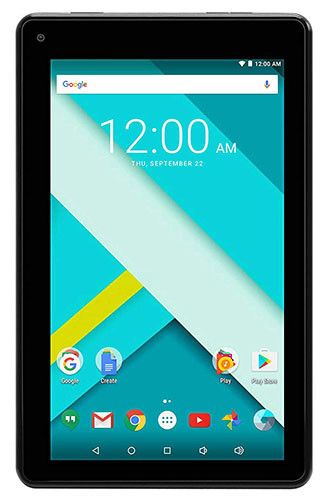 The Combo of front and rear web camera can be used for different purposes as per your desire or requirements. Storage front is supported by in-built 16 GB ROM and the additional option of Micro SD card expandable up to 128 GB is available to store your important data, files, and videos. Apart from single USB which can be used as charging point and data transfer option, there are not many wired connectivity options associated with this tablet. Google's play store and map support are quite handy for performing various tasks and finding ways on the move. So, all you can say a compact device to accomplish your tasks at very reasonable pricing.
Dull Design
RCA is quite popular electronic brands in America for decades and symbolizes innovation, quality, performance, and value-centric products. In computing arena, they have products like laptops, tablets, 2-in-1 Windows and Android tablets. RCA tablets are widely known as cost-effective solution in the highly competitive market and Voyager III Android tablet is one of them.
The whole plastic design is base of Voyager II design. You can hardly see any curves, slim profile, or attractive color choice for this tablet. The actual 7-inch size remains to be the high point in terms of designing as it is easy to carry along with you and easy to hold in the hand as well while reading, working, or enjoying entertainment. The overall dimensions of 5.4 x 8.6 x 1.9-inches help to slip this device into your medium sized bag or purse pretty easily.
At the back, you will find a thick black plastic layer covering the whole back. RCA trademark logo is placed in the center as usual. The rear web camera is attached on the left top whereas speaker bars are present on the right top corner. Alone USB slot, audio jack, power button, volume rockers, and Micro SD card options are provided on the top bar. This device is not much heavy as it weighs only 15 ounces means 0.6 lbs making it easy to hold this device for a longer duration without any issues. Overall, very generic design and black plastic make it even difficult to turn your heads or catch your eyes.
Display
This tablet comes with the ideal screen size of 7-inch. This IPS screen comes with the resolution of 1024 x 600 pixels which produces vivid and bright images for the users. Picture quality and graphics experience is also not that much worse. In the broad sunlight, the screen becomes reflective making it very difficult to see any text or use this tablet in the outdoors.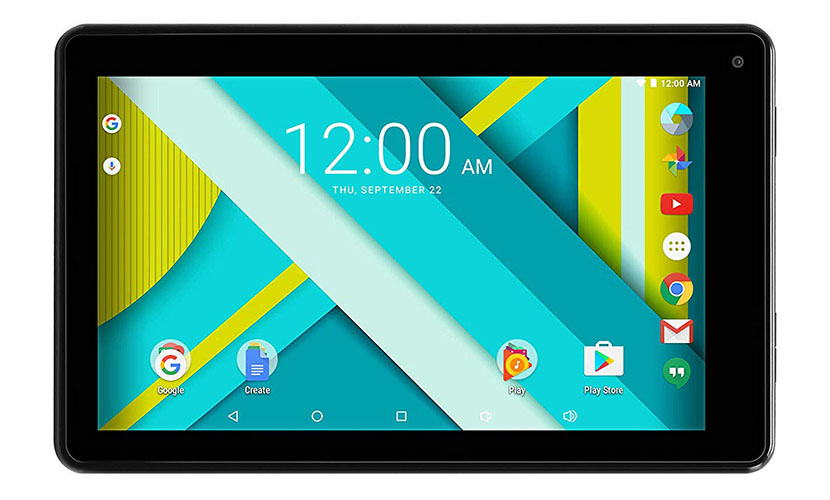 Hardware Specifications
RCA Voyager III Android tablet comes equipped with Atom 1.2 GHz Quad-Core processor from Intel paired up with 1 GB RAM. This hardware is enough to perform your routine tasks, web-surfing, checking emails, studying, social collaboration, videos, and normal games. The 7-inch IPS touch screen panel brings every visuals or graphics on the screen. You can store your videos, data, files, apps, and games on internal 16 GB memory and in case you cramp up for free space use additional Micro SD card option which can be expandable up to 128 GB.
USB port enables users to connect other devices or transfer data to this device. The wireless connection can be managed through 802.11 b/ g/ n WiFi router and Bluetooth 4.0 option. In addition to this, you can also pair up any Bluetooth devices like keyboard and speakers using Bluetooth. This device holds a lithium-ion battery which claims to keep alive this tablet up to 6 hours. On high loaded configurations and maximum resolution display setting this battery will offer you around 3 hours so on average 4-5 hours of backup what you can get on RCA Voyager II android tablet.
Camera and OS
This tablet is incorporated with two cameras, one on the front and another on the rear. Both cameras are of 2 MP and can be used for various purposes. The front camera can be used for clicking selfies or making video calls to your family members, friends, and business associates whereas rear camera can be used for taking photos or scanning the documents.
Android Marshmallow 6.0 operating system is few generation old version from Google. RCA added its enhancements to the base UI and provide a whole new Android experience for the users. Google play store gives access to unlimited apps, games, utilities, and a lot of other functions which makes your tasks easier and faster as ever.
Bottom Line
The RCA Voyager 3 android tablet combines with some of the good advantages like robust build quality, responsive 7-inch touch screen display, required port connectivity, wireless communication, storage option of internal 16 GB and expandable up to 128 GB using Micro SD card, and Android Marshmallow 6.0 making this tablet a good package to work with.