RCA is widely renowned for producing brilliant machines at budget-friendly prices. Viking series is an exciting prospect for many users in terms of stylish design, decent hardware, big screen, adequate cameras, ample storage space, and massive battery life. There are different versions of RCA Viking series available in the market and Viking Pro III is a very latest addition to this range. This tablet is designed as a hybrid tablet which can be used as a standalone tablet and normal mini laptop as well at the same time. Enough power under the hood motivates you to perform usual routine tasks, enjoy videos, multi-tasking, and web-surfing without any issues or fuss. The Android operating system let you explore through the world of unlimited apps, freebies, maps, Gmail, and several business utilities.
Design
RCA Viking Pro III lies in value-centric devices range so expecting some premium designing or features are mere imagination. The whole device is covered by plastic casing so fingerprints are quite visible on cheap plastic. The dimensions of 10.20 x 6.50 x 1.15-inches enable users to slip this device into small or medium sized bag or purse and carry it anywhere. The weight of approx. 2.28 pounds makes it a little bit painful while holding the device for a longer duration.

The 2-in-1 design comes with adjustable folio case and detachable keyboard which can attach or detach through magnet slots beneath the tablet. Where adjustable kickstand gives you different positions for comfortable viewing, detachable keyboard converts it to a mini laptop. Various color options include Black, Blue, Pink, Purple, Red, and Rose Gold give users numerous color choices to choose from. The front screen comes with a 10-inch display panel surrounded by thick bezels all around the corners.
The upper bezel is loaded with a front-facing camera. On the back, you will find Micro SD card slot, volume rockers, and reset button. The rear camera is also placed as usual on the top of the back panel. The Micro USB port and HDMI slots help you connect various external devices to the system. Various usability functions or modes provides you the flexibility of using this device in different ways. Use it either as a normal standalone tablet, tent-shaped position, or mini-laptop mode every mode is quite easy and convenient to use.
Display
This tablet receives the massive 10.1-inches screen. The screen size becomes very handy when you have to perform some tasks in a compact space. This 10.1-inch multi-touch capacitive screen comes with full HD 1280 x 800 pixels resolution and IPS display panel. IPS panel helps you to view clear text and vivid images on bright sunlight as well. Different type of positioning allows comfortable viewing at different angles.
Hardware Specifications
RCA Viking Pro III Tablet is an upgraded version of Viking II. There are a lot of similarities in this device as compared to earlier versions but hardware got a major update for much more improved power and performance for the users. This device is powered with 1.3 GHz Quad-Core processor and 1 GB DDR RAM. Perform any office tasks, school or college related tasks, small business utilities, web-surfing, or enjoy videos at a good speed and smooth processing.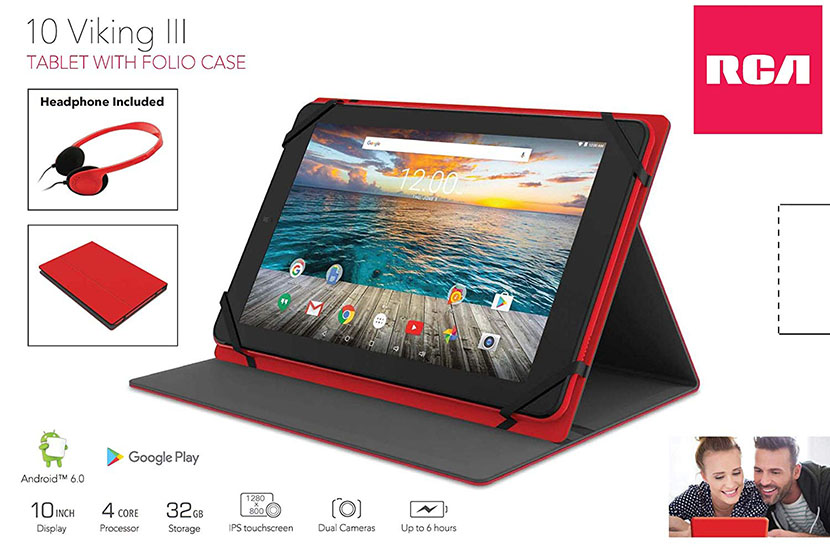 To store a number of files, unlimited video content, favorite apps, and games integrated 32 GB of internal memory is provided. In case you get cramped up for more room and space utilize Micro SD Card option which gives you an additional storage for usage. With the help of a detachable keyboard, you can easily enjoy the functionality of a laptop in the tablet. The keyboard is a little bit limited but features comfortable keys and 17 shortcut keys to enjoy long typing sessions. The battery also remains an important factor for portable devices and this device is also equipped with a durable one. The battery life of this device lasts up to 5-6 hours which is decent enough to perform urgently required functions on the move.
Cameras
This device receives dual camera option for performing several camera related tasks with ease. The front and rear camera can be used for a wide variety of tasks. The front camera can be used for video conferencing with your family members or friends. The rear camera is quite handy while capturing memorable moments on the move. Camera quality is not up to the mark but not that much worse either.
Android
Operating system helps you to work with apps or switching between the apps. Looking at the popularity of Android, this device also comes with Android 6.0 Marshmallow edition. The Android platform gives you the flexibility of working with Android apps. In addition to this, Google Play Store gives you the world of opportunities to work with unlimited apps. Gmail, YouTube, Netflix, and number of related apps offer a wide variety of usage.
Connectivity
Establishing connections to other devices becomes easier through an unlimited number of connectivity options attached in this device. Full-size USB, Micro USB, and HDMI ports can be used for making wired connections, whereas 802.11ac WiFi or Bluetooth option can be used for making wireless connections. Enjoy web surfing, read or write emails, and multi-player gaming with a smooth and wide reach of network connections.
Conclusion
RCA started with electronic components and slowly moves to computing devices. Durable products with superb quality at reasonable prices are resemblance of RCA devices. Viking is a very successful tablet series from the company and Viking Pro III tablet is their latest offering. This 2-in-1 device gives you the ease of a tablet and the functionality of a laptop. Massive screen size enables large video or image quality, decent processor and RAM allows swift movement and smooth processing, internal memory and Micro SD Card option provides ample free space to install new apps or games, dual cameras for clicking memorable moments, and 5-6 hours of battery life give users handful of options. In the available price range, this is a nice to have device for the users.