Convertible devices are very useful because it gives you dual advantage of laptop and tablet on a solitary device. RCA Viking II Pro 10-inch tablet is the same sort of device offering standalone tablet and mini laptop using a detachable keyboard in a single device. Android 6.0 Marshmallow edition empowers apps, games, and entertainment to flow as smooth as ever. Google Play and GPS like functionalities ease out your tasks and searching paths in unfamiliar conditions.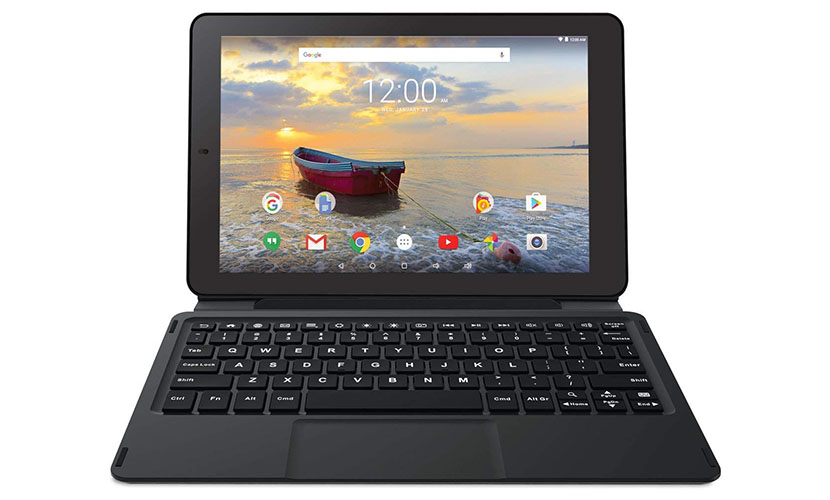 MediaTek MT8127 Quad-Core processor runs at 1.3 GHz in combination with 1 GB DDR3 SDRAM ensures required speed, power, and performance for the device. The 10.1-inch 5 point multi-touch High Definition resolution display floats superb visuals to the screen. Front and rear cameras allow you to perform cameras related tasks with utmost ease and clarity. As a storage unit, this device is incorporated with 16 GB of internal storage and add up to 32 GB using Micro SD Card option. Wired connectivity through HDMI, USB, Micro USB and wirelessly using 802.11 AC WiFi router and Bluetooth let you explore the unlimited opportunities connecting various devices to a tablet. Battery life up to 8-9 hours adds more flavor and value to RCA Viking II Pro 10.
Design
RCA is a well-established name in computer peripherals and majorly renowned for producing affordable devices to the users. Be it a laptop, tablet, or convertible devices top-end hardware configuration at reasonable prices are RCA's priority. In the convertible segment market, Viking II Pro is upgraded version, hence comes with a lot of upgrades and enhancements.
The overall design is lackluster and dull. There is nothing which grabs your attention or forces you to take a second look at this device. The whole plastic body makes the look very common. Available in two color options Black and Blue gives different color options for the users to choose from. Interesting is that colors are extended from the keyboard chassis to the whole back means the same color for the whole tablet which often misses from budget tablets.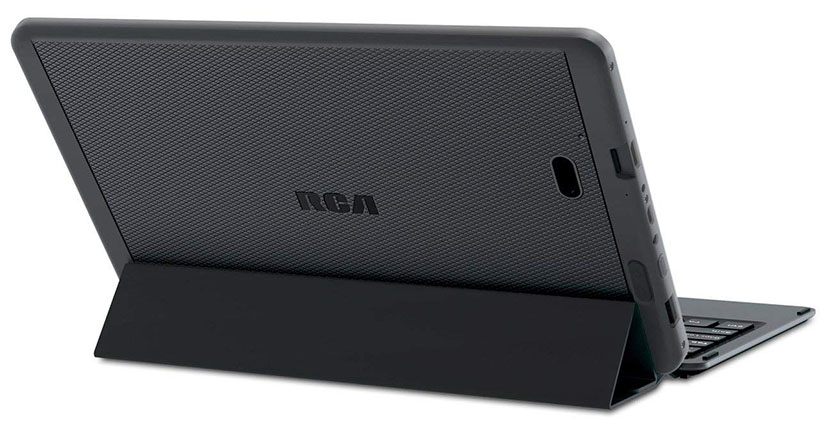 On the front, there is 10.1-inch HD screen compromised with two-sided normal and other two-sided thick bezels. The web camera is placed on the top bezel and quite used for making video calls. The detachable keyboard chassis with full alphabetical keys and numeric buttons are comfortable to work with. The touchpad is smooth and responsive.
Back panel with cross lining texture and RCA logo in the center looks impressive. The rear camera with flash lies at the top as usual. All connectivity options like USB, HDMI, and Micro SD card option is provided at the top bar. Optional flap ensures durability and security of the device. The dimensions of 10 x 6.5 x 1.5-inches and a weight of 2.75 pounds complete the profile of this 2-in-1 device. Overall, a very common design we already see on a lot of devices.
Display
As the title suggests and we already mentioned that RCA Viking II Pro holds 10-inch HD multi-point touchscreen IPS panel to present every visual on the screen. HD display and IPS panel make images more vibrant and vivid. Moreover, this display comes with 1280 x 800 high definition resolution, bringing crisp text, detailed images and enriched graphics for the users. The touchscreen panel is also very responsive and quite smooth to handle.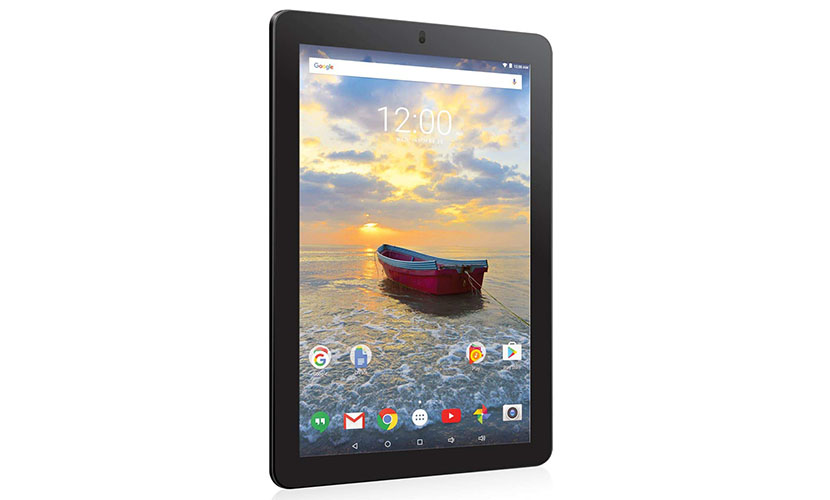 Storage and OS
Storage is an important factor as you require a lot of free space from time to time for storing your valuable data, pictures, files, apps, and games on the device. This tablet consists of 16 GB internal memory from which approx. 12 GB of free space is provided and 4 GB is taken by the Android Marshmallow OS. In addition to this, Micro SD Card option is also available which gives you up to 32 GB of free space for storing your data.
Android Marshmallow 6.0 operating system enables users to play with the apps, games, and utilities as per the requirement. Google Play store gives you free access to unlimited apps and games. Functionalities like GPS let you explore adventurous routes and help you to reach the target in unfamiliar areas.
Hardware Specifications
The RCA Viking II Pro comes equipped with MediaTek MT8127 Quad-Core 1.3 GHz processor coupled with 1 GB DDR SDRAM. In combination, enough speed and performance are provided to accomplish your routine tasks, business activities, enjoy entertainment, and play normal games. This device claims to deliver massive whole day battery life of 8-9 hours, which seems to be sufficient to perform any tasks on the road.
Connectivity and Cameras
For connecting this device to any other external device both wired and wireless options are available. The USB, Micro USB, and HDMI ports help you to make any compatible wired connections to this device. The Bluetooth and 802.11 ac WiFi router enable the user to make a hotspot and attach various wireless devices.
The dual cameras allow you to perform camera-related functions easily. You can click selfies or make video calls with your family members, friends, or business associates using the front camera. The rear camera can be used to click photos, scanning documents, and a small video recording to capture your favorite and enjoyable moments.
Bottom Line
RCA Viking II Pro 10-inch convertible tablet can be used in different ways, delivering a major advantage for users. Enjoy the routine tasks or entertainment on the move using standalone tablet mode and complete office tasks or writing jobs by attaching a keyboard to it. Adequate hardware unit, superb 10.1-inch HD touchscreen display, internal 16 GB memory and expandable up to 32 GB Micro SD card, dual cameras, and massive battery life adds few more points to the overall value of this device. The dull plastic design and bulky profile are not up to the mark but the price range makes up to that.