Tablets are growing in stature day by day due to its properties, functionalities, and slim, sleek design. RCA Mercury II 7-inch tablet is also one of the tablets which function great with the help of superb hardware unit attached to this device. This device is quite useful for performing usual tasks, small business-oriented tasks, school or college level studying, or entertainment without being much heavy on the pocket. This is a highly affordable tablet so appearance may not stand out as per your expectations, but performance wise you can't feel it that way.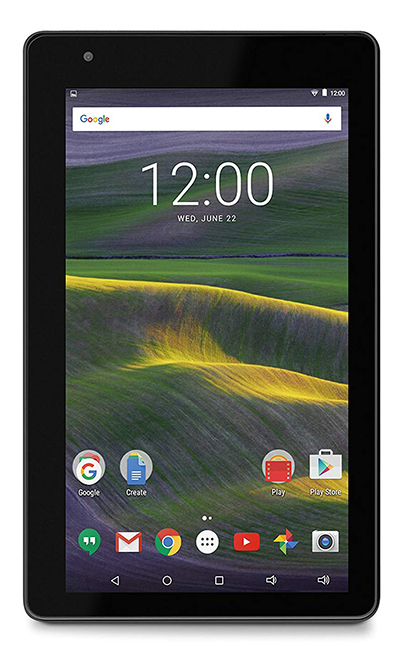 This 7-inch tablet is handled by an Android 6.0 Marshmallow operating system gives you the feature of various apps, games, or utilities on your fingertips. Power driven from 1.3 GHz Quad-Core processor and 1 GB DDR3 SDRAM offers smooth processing speed and required speed for a lag-free visual treat. This tablet is not much bigger in size so it is quite easy to slip this tablet into your bag or purse easily. On the storage front, this device is incorporated with 16 GB of space which looks sufficient to store your documents, apps, or videos. Front and Rear camera give you a handy option to make video calls, conference calls, or clicking photos. Wireless connectivity and excellent battery are some other features, making this device a wonderful entity to explore the unlimited opportunities on the horizon.
Overview and Design
RCA is not so quite a popular name among various computer peripherals brands but holds lots of options in their kitty for different kind of users and budget. RCA is known for making terrific devices at very reasonable pricing and Mercury II RCT6673W43M is one of them. This tablet is rich in features and very low on pricing, making it a perfect device for school or college going students, small business users, or normal users.
On the design front, you can't notice any extraordinary curves or designing. This tablet holds the same characters as we normally find in various tablets across the region. The face of this tablet is covered by two slightly narrow bezels and two thick bezels. The 7-inch screen size is perfect for accomplishing various tasks as per the requirement or desire. The web camera is also placed on the top bezel as we usually see in normal tablets.
There is nothing on the side profiles, simple clean finish is provided on all sides for strong gripping. Top end is loaded with quite a few options and so at the rear end as well. One more camera option is provided at the rear end, which is handy in clicking photos. RCA logo is placed in the center of the rear end. Speaker grills are provided at the bottom half of this tablet.
This is a budget-friendly device and every attached material seems to be providing proof of that fact. The plastic material is very bulky and chintzy while handling. The dimensions of 9 x 5.5 x 2-inches and 8 ounces of weight again seems to be on high-end in terms of a tablet. This is unfair to say that you love the design of this tablet because there are certain things which you can't ignore, but if you look at the price you may feel satisfied a bit.
Hardware and Performance
RCA Mercury II got enough power to accomplish your tasks with ease and utter smoothness. Where 1.3 GHz Quad-Core processor and 1 GB DDR3 SDRAM extracts power and performance for the tablet, 7-inch screen brings perfect size and resolution for brilliance all the way. The 7-inch high-resolution display comes with 1024 x 600 pixels resolution, another splendid effort from the company to deliver balanced picture quality for the users. Enjoy swift processing, smooth visuals, lag-free videos, and superb net surfing with so much fun and enjoyment.
On the Storage front, this device comes with two options 8 GB or 16 GB internal storage. In case, you are middle of something and lacks on space use Micro SD card slot options which gives you up to 64 GB of additional space if required. So choose the option as per your requirement and get ample space to store your documents, videos, movies, or apps without any compromise. Front web camera comes with 1 MP option and gives you the facility of making video calls with your business partners, conference, meeting, friends, relatives, and near & dear ones without any issues or fuss. Rear camera of 2 MP is amazing while capturing photos and quite useful for scanning documents. Android 6.0 Marshmallow operating system comes loaded straight out of the box, giving easy access to Google Play Store and making it easier to download a lot of apps or day-to-day utilities to accomplish tasks.
Ports and Battery Life
While the device is small, medium or big, connectivity options remain to play a major role in deciding with or against the device.  There is Microphone or audio jack, volume rocker button, charger slot, Micro-USB port and the power button is provided at the top bar of this tablet. At the rear end, you will get Micro SD card slot option. Wireless network connectivity can be managed using 802.11 b/g/n or Bluetooth option.
The battery of this tablet lasts up to 6 hours, which seems to be sufficient to perform a lot of tasks on the move or without connecting to power.
Final Thoughts
RCA Mercury II 7-inch looks to be a superb device with good high-resolution 7-inch screen, 1.3 GHz Quad-Core processor, Android Marshmallow operating system, brilliant front and rear web camera, wireless network connectivity, superb storage of in-built 16 GB and extendable up to 64 GB Micro SD Card capacity, and reasonable pricing are some of the strong features associated with this device.