All New Fire HD 8 2018 has bombarded the market with its price. It actually defines its name! This low budget tablet has surprised the customers as it has been designed with great innovation that will blow your mind. Yes! All New Fire HD 8 2018 has won the heart of customers and is in high demand today as getting the best in fewer prices is what everyone desires.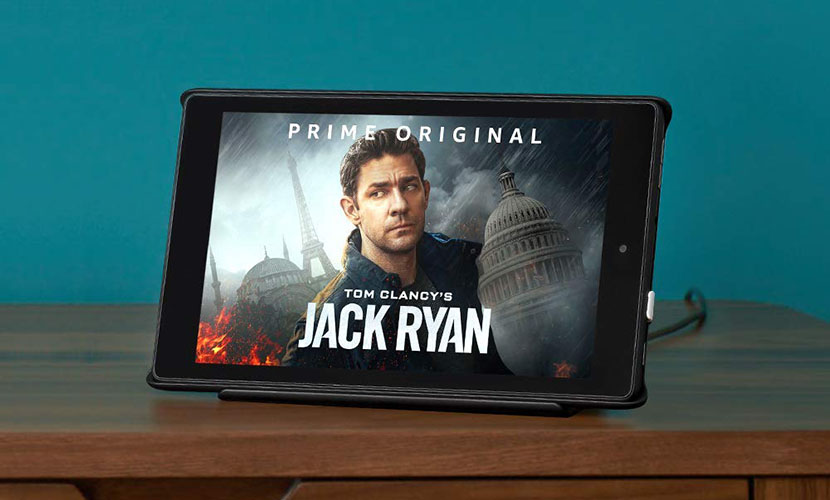 Being a cheap tablet, you cannot doubt its capabilities as the company has maintained the quality and compacted the tablet with exciting features. However, $79.99 is what you might be spending daily on food, but what if I say; you can purchase a new gadget, which is one-of-a-kind? Don't be surprised by the price only; I have more shocking things for you. Take a look at its features once and then make a viable decision:
Stylish design and ultimate display
The screen size of All New Fire HD 8 2018 is average, i.e., 8inches full HD display. It offers a resolution of 1280×800, giving you 189 ppi over thousands of pixels so that you can enjoy your favorite movies and shows with great fun. Better resolutions and vivid colors brighten up your day with sharper and deeper contrast image quality. And the exciting fact about the display of All New Fire HD 8 2018 is, you can easily switch IPS display to LCD. The design is very sleek and stylish with curvy edges that give you comfortable hold over the tablet. The dimension of the product includes 8.4 x 5.0 x 0.4 inches weighing just 12.8 ounces that makes you feel like you are holding a smartphone. More so, if you want to enjoy the display thoroughly, you can use the HD camera. Surprised? Yes, in such a budget, you are also getting a camera in the tablet with 2MP rear and 2MP front-camera to make your experience more exciting. The tablet is available in four beautiful colors namely Black, Marine Blue, Punch Red, and Canary Yellow. And if you look at the device while rotating, you can find a microSD card reader, USB port for connecting with PC or laptops or to charge the tablet with include power adapter and an audio jack as well. And the speakers compacted in the tablet is one of the best. All New Fire HD 8 has Dolby Audio speakers that give you theatric sound quality and take the particular to the next level. You can enjoy your favorite music and go into deep thoughts- thinking about life and spend some alone time with yourself to get the right to any of your problem.
Powerful hardware
This cheap tablet will actually burn a fire in your mind and heart because the hardware of the tablet is astonishing. All New HD Fire 8 2018 includes powerful CPU with 1.3 GHz and RAM of 1.5GB that gives you ultimate smoothness while playing your favorite game or watching your favorite show on this tablet. What else you want? Furthermore, the storage has two choices whether you can go for 16GB or 32GB with expandable internal storage up to 400GB. I mean you can evaluate your tablet usage to make a better decision.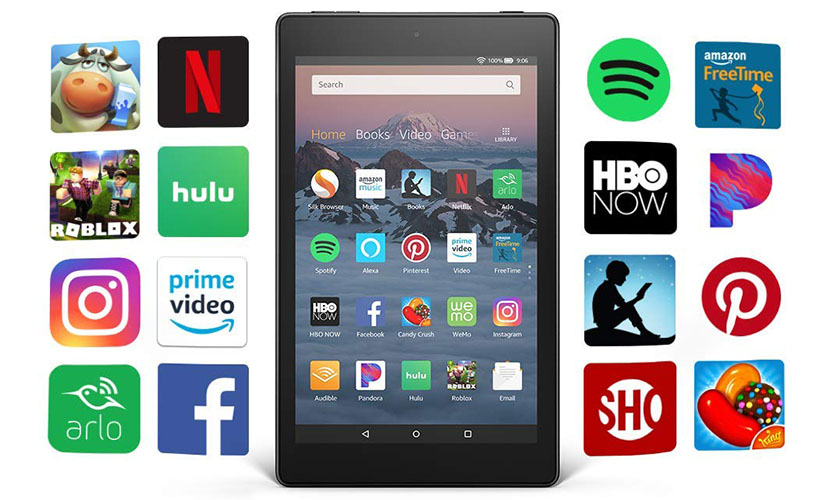 And this device has proven to be the best for parents. You know kids are fonder of new technology, and smartphones or tablets are what they love the most. Even 6month baby laughs when they see mobile phone or videos you play on your phone. Many parents make use of tablets to educate their children by playing video or use Kindle books to improve the reading habits of their children and a lot more. And the most significant advantage of using this tablet is, you can control a number of accounts of your kids with parental control feature. And you will meet innovative Alexa on this tablet. The new Amazon OS version has brought dynamic changes in the new Fire HD 8. And the Alexa, before you need to unlock the tablet and then you can command Alexa, but now, things have changed. You can lock your tablet and command Alexa anything you want. Alexa will be your obedient child performing all the tasks quickly and accurately.

Durable battery life and useful accessories
You will be surprised to know the battery capacity of the All New Fire HD 8, which makes this tablet stand out of the competition. The tablet can last for 10 hours with continuous web browsing, watching shows online, playing games and a lot more. However, if you use heavy software or apps, there can be a minute change in battery consumption. More so the tablet offers basic connectivity options, which is Wi-Fi and Bluetooth to keep you- connected with the world and make the sharing process more seamless. Accessories are completely stunning!  Besides adapter and quick guidebook, you'll be getting strut back cover for the tablet. The cover is solid and keeps your tablet safe from nail prints and fall downs. However, you have to buy this cover separately, which is also available in the multiple colors, allowing you to flaunt in your friends.
Bottom Line
All New Fire HD 8 2018 is an ultimate device reaching its goal- to make the lives of humans easier and comfortable. And the price factor is what you, don't have to worry about because this tablet is cheap and quality features are admirable. Anyone can buy or gift this exceptional piece to their friends or loved ones. I hope the features mentioned above would have given you a glimpse of this tablet and to make a better decision as low price always doesn't mean that piece is worst or there would be no quality. To survive in this competitive era, every business is striving hard to deliver the best at an affordable price to the consumers, and that's what All New HD Fire 8 has done! So what are you waiting for? Order it now on Amazon and enjoy all the exciting features!