Gadgets often described as the mirror of the future and tablets are one of them. An everyday new tablet is introduced adding some of the futuristic technologies providing new horizons for the user to explore. NeuTab N7s Pro 7-inch tablet launched with cutting-edge technologies and Android 5.1 Lollipop ensuring smooth and zero delay performance. Play store helps you to access tons of apps, utilities, functions, and games and enjoy production and entertainment to the fullest. You never remain short on power and performance with the help of super-fast Quad-Core Broadcom 1.5 GHz processor and 1 GB DDR3 RAM attached to the system. Quad-Core processor believes to be 30 percent faster than the previous generation and it seems to be true by looking at the quick and responsive processing of NeuTab N7s Pro 7-inch tablet.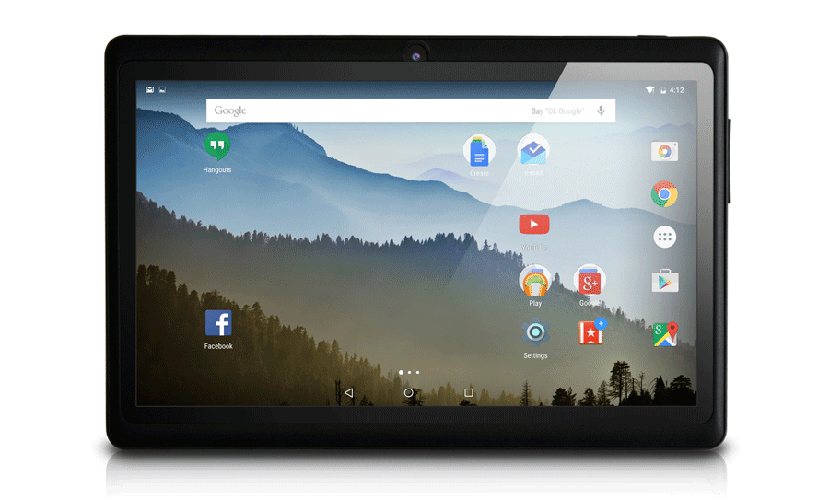 The 7-inch IPS multi-touch screen offers good colors, rich detailing, crisp texts, vivid graphics, balanced picture quality, and vibrant images. For storage, inbuilt 8 GB memory is provided by the company but in case you have a space crunch add up to 32 GB of extra space with the help of Micro SD card slot. Wireless connectivity options allow you to connect this device to any other device wirelessly. Different variants give various options for the users to choose from. In all, a compact device useful for completing your day-to-day tasks and enjoy gaming and entertainment conveniently and efficiently.
Overview and Design
Neutab is in the market from past few years and known for providing an electronic device, tablets, and computer peripherals at very budget-friendly pricing. Neutab Tablets are quite popular in the market due to its durable design and best available hardware unit. N7s Pro 7-inch tablet is one of the devices from NeuTab loaded with tons of features and functions making your tablet experience much better and innovative.
The design of NeuTab N7s Pro 7-inch tablet is fascinating and doesn't give you the impression of the budget-friendly device. The front screen incorporates 7-inch beautifully crafted screen with narrow bezels surrounding that. Two-sided bezels are edge-to-edge and rest are narrow not much thick. A web camera is placed at the center of top bezels and fits smartly in the chassis.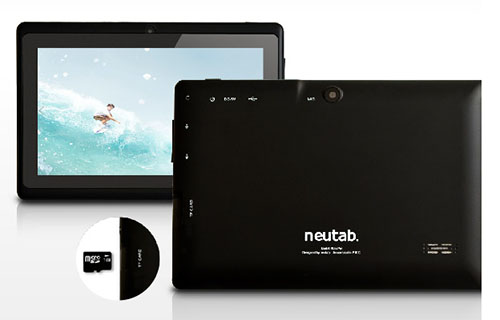 Side profiles will get the required buttons and connectivity ports. The right-hand side is covered with audio jack, Volume rockers buttons, and Micro SD card slot. The upper bar gets a power button, charging slot, one USB slot, and microphone jack which will be very handy in performing a different kind of operations. Left and bottom bars are left empty. The dimensions of 7.4 x 4.5 x 0.3-inches and weight of 10.1 ounces competes for this tablet in slim, sleek, and lightweight category. Colors like Rose Gold, blue, black and white colors provide different color choice for the users to choose from. Kids version with extra parental control is also good to have an option for many worried parents.
Back of this device consists of a durable plastic material with names mentioned for the available slots and buttons. NeuTab branding with the specific model number and other information residing at the bottom. Speakers also provided in parallel to the logo. Slanting round shaped edges on all sides ensures a firm grip on the tablet. Overall neat and clean package to carry anywhere and perform your tasks or enjoy your entertainment on the road.
Hardware and Performance
NeuTab N7s Pro 7-inch tablet holds decent hardware to carry out brilliant performance throughout your tasks or entertainment. Quad-Core processor doubles up the speed in comparison to Dual-core processors and this tablet is loaded with Broadcom 1.5 GHz Quad-Core processor assuring 30 percent improved performance from its predecessors. Support of 1 GB DDR3 RAM enables swift app launching, smooth gameplay, and quick net surfing. Android 5.1 Lollipop version provides the software support for this device. Using Google Play Store, download your favorite apps, utilities, and games in quick glance.

The screen size of 7-inch is picture perfect, it is neither too small nor too big to slip into the medium purse or bag quite easily. The resolution of 1024 x 600 pixels helps to extract vivid visuals for the users. This display comes with 178-degree IPS wide viewing angle screen delivering crisp, clearer, and vibrant images on every angle. On the storage front, 8 GB Nand Flash internal storage memory is attached to store important documents, videos, apps, games, and important data. Additional up to 32 GB can be used using an expandable Micro SD card allows more downloads or storage in case you feel short on space.
This device is incorporated with two cameras one at the front used for making Skype or Business conference calls with your friends, near and dear ones, and business contacts. The second camera of 2 MP at the rear supports scanning of documents and clicking photos.
Connectivity
Interaction with other devices is important and it is possible only through varied connectivity options provided in any device. Tablets often doesn't provide much of options due to compact build quality and this device is no different in this regard. There is one USB OTG slot is provided to attach any wired device to this tablet. Wireless connectivity can be managed by Wireless N 802.11 b/g/n and Bluetooth option.
Final Thoughts
NeuTab N7s Pro 7-inch tablet is a budget-friendly device and don't give you much chance of complaining in this segment. Quad Core 1.5 GHz processor and Android 5.1 Lollipop is USP of this device. Adequate 1 GB RAM, IPS display, internal storage of 8 GB and expandable 32 GB, battery, dual cameras, and wireless connectivity are some other features which make this device a fabulous device to work with. Yes, camera and plastic build quality may lack a bit but at the price of this tablet, you can't find many options better than this device.