Lenovo gained considerable popularity in the market with the first launch of ThinkPad laptops and tablets- it actually gave recognition to the brand in the year 2005. ThinkPad laptops and tablets were particularly designed for business lines of operations and it, in fact, these laptops and tablets gave that amazing professional appearance. In 2013, Lenovo's ThinkPad shipment immensely doubled by 5%, which clearly means that this laptop hit the market with a positive response from people. In addition to its evolving popularity, it became more prosperous by launching Windows 8 in the year 2012.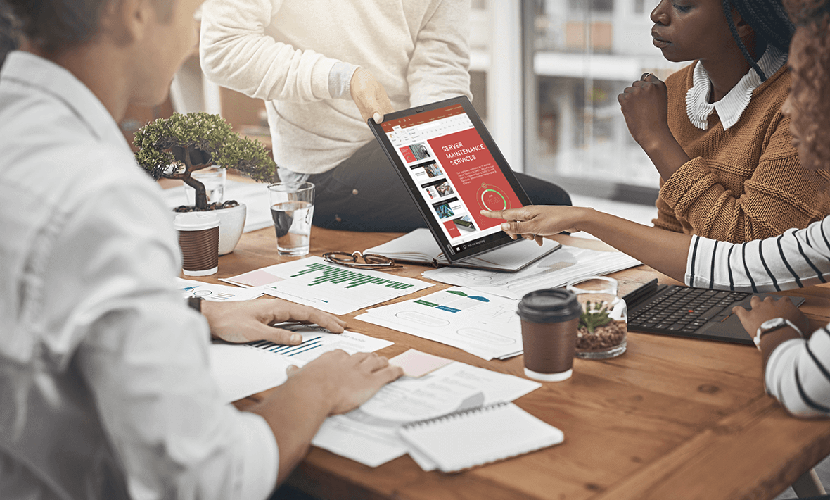 Being from the genetic of ThinkPad, ThinkPad X1 (3rd Gen) tablet is one of the best tablets launched by Lenovo that perfectly suits your office needs, giving you a chic professional look. It could be an added star to your black pant, white shirt, and black blazer.  Not only the design, but the features will also allure you towards this elegant and powerful tablet, which is 2-in-1 so that your productivity doesn't get hampered at any point of time.
Let's dive into its smart features:
Attractive design and display
ThinkPad X1 is known for its beautiful design and a fantastic display. The dark black color truly makes this tablet an apple to your eye. With curved edged and corning gorilla glasses this tablet is very solid and robust, from any water spills or drops- stay assured that ThinkPad X1 will stay with you in the entire journey of life. The dimension of the product is 11.96 x 8.88 x 0.35 inches, weighing 1.90 lbs, which makes this tablet quite handy and comfortable.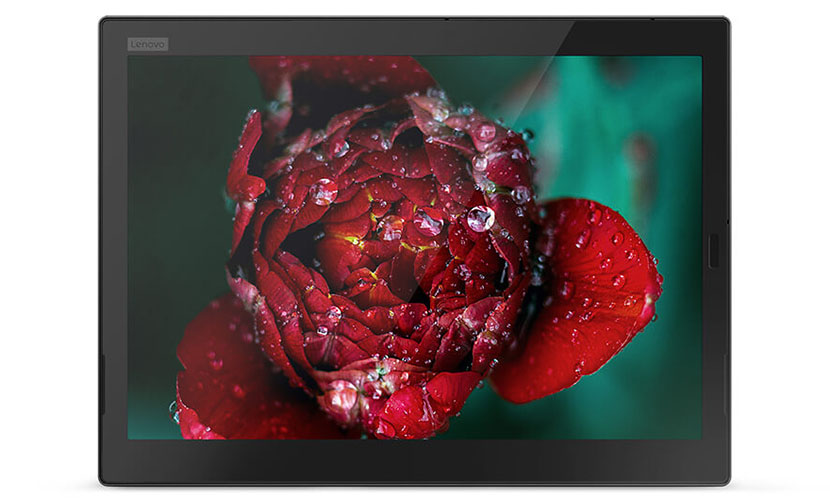 With the thickness of 8.9 mm, ThinkPad X1 is manufactured to fulfill the needs of professionals. You might be wondering why ThinkPad X1 has been labeled as re-engineered? It is because of its amazing attached keyboard and highly comfortable stand that allows you to use your keyboard flexibly. And unfortunately, if your tablet falls down the strong glasses won't leave your screen broken. The screen size of the tablet is 13 inches QHD with IPS multi-touch display that gives you brighter and sharper pictures. The contrast is intense so that even you are standing under the sun; you can use your tablet without any glitches.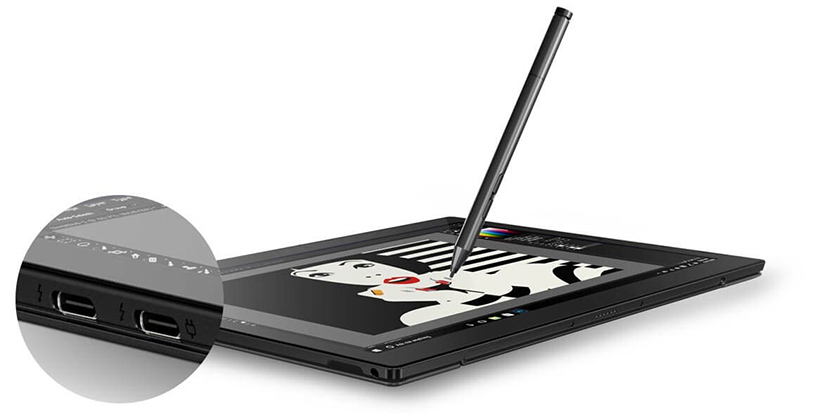 Besides the keyboard, ThinkPad X1 also offers a pen that enables professionals to explore their creativity in every aspect be it signing a vital contract or doing some edits in documents or take notes and a lot more. The tablet also comes with a camera option, i.e., 2MP front-facing and 8MP rear camera, which connects you to your dear ones with any aggravation. The tablet is genuinely one-of-a-kind as it is also equipped with Dolby Premium technology to provide you with mesmerizing sound quality along with noise-canceling dual-array feature so that in any circumstances you are not disturbed with background sound.
Powerful processor and high-security
Are you working in an IT admin or planning to provide your IT administrators? ThinkPad X1 has been equipped with dual 8th generation Intel core processor and Thunderbolt ports, which provide users with rapid data speed and flexible video output. More so, whether you store just your photos or crucial information- everything will be highly secured and only be accessible by powerful fingerprint scanner and optional IR camera. With 8GB of RAM and 256GB storage, you can just sort through your office day-to-day activities. What sets ThinkPad X1 security apart? Well, it is obviously FIDO authentication! Yes, you read it right. ThinkPad X1 is equipped with FIDO authentication that secures your logins and passwords efficiently. And the dTPM- discrete Trusted Platform Module ensures that all your files are secure as it encrypts all the information you store in the tablet.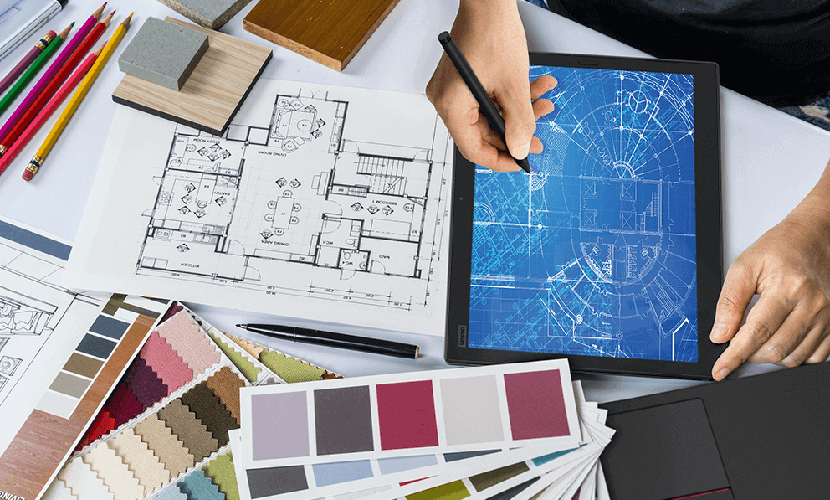 If we talk more about Thunderbolt, it brings excellent speed to your Thunderbolt USB-C type that contributes the speed of 40 Gbps. Now you can transmit data efficiently when you connect your device with another Thunderbolt device in no time.
You can operate the tablet seamlessly as it runs on Integrated Intel UHD Graphics 620 that enables users to run all the applications without any hassle. And the latest Windows 10 makes the interface more user-friendly. Anybody can use ThinkPad X1 with extreme ease without performing any R&D. Once you glance over the tablet, you'll find 2x USB 3.1 Gen 2 Type-C as I have mentioned above its Thunderbolt capabilities. Besides this, you'll also find a 4-in-1 MicroSD card reader, headphone jack, and a Nano SIM slot. The tablet is LTE-enabled and also includes Wi-Fi capabilities so that you stay always connected to the internet world.
Durable battery and accessories
Well, the tablet has a long-lasting battery back-up to support you through the ups and downs of your day-to-day activities. With Li-ion 42 Whr the battery lasts up to 9.5 hours while browsing or watching online video or shows seamlessly. Are you surprised? But you have to believe it that Lenovo is providing you with so much battery life in a tablet come laptop.

And Alexa is there to assist you! You can enjoy your hand without your hands much by commanding Alexa for all your tasks such as for watching the news, playing music, get control over your smart home appliances or do your shopping. You just have to raise your voice, and everything will be available immediately on your tablet.
Inside the box, you'll be getting ThinkPad X1, Keyboard, 65Wpower adapter, Pen, Quick start guide and 1-year warranty to protect your device internal hardware and repairs.
Verdict
ThinkPad X1 can be an ideal choice if you are planning to buy it for yourself to accomplish your office tasks or planning to give it to your employees so that you get all the reports without any difficulties. Buy ThinkPad X1 tablet and transform your traditional business model by eliminating paper reports or paperwork as you will take a step in the world of digital.