Kivors 9.6-inch 3G touch tablet is designed as per the requirement and desire of current generation. This compact and lightweight device is easy to carry, easy to work out, and easy to store device. Enough power is provided under the hood for lively performance and uncanny zeal to accomplish any task without any issue or fuss. This tablet is multi-dimensional device allows you to perform any computer related tasks like studying, day-to-day normal tasks, small business oriented activities, medium range gaming, or internet surfing and phone related tasks like calling or surfing.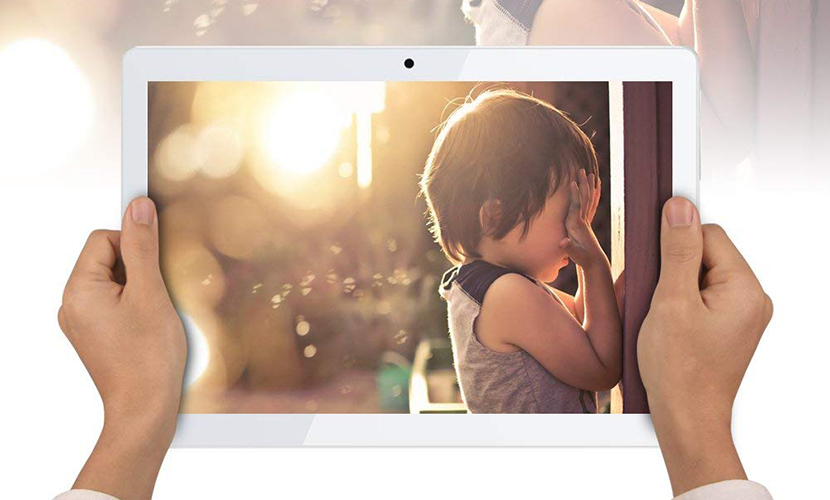 Stylish tablet delivers brilliant performance fueled from Cortex A7 1.3 GHz Quad-Core processor combined with 1 GB RAM. The high-resolution HD display of 9.6-inch floats crisp, clear, and vibrant visuals for the user. Auto-Focus rear camera and adequate front web camera enables you to click photos or making a video or Skype calls. This tablet comes with Dual Sim option which can support any GSM, WCDMA, and AT & T phone networks or frequencies. Download your favorite apps like Facebook, YouTube, Skype, Instagram, or royal war and store these on 16 GB inbuilt hard disk. In case, you cramped for space just use expandable SD Card option which can get extended up to 32 GB. Overall a complete package to perform your tasks, enjoy your favorite movies or videos, and surfing on the net.
Check: The New 9.7-inch Apple iPad Review
Good-looking Design
Kivors is not a well-known entity in tablets or computer peripherals arena. There were very few devices launched by Kivors till date and 9.6-inch 3G Touch Tablet is one of those. Very simple neat and clean dynamics from the outset and plenty of features under the hood define this tablet.
On the designing part, there are no extravagant curves or angles, just a very simple normal design is provided in this tablet. To start with there is a 9.6-inch screen with two-sided thick and two-sided little bit trimmed bezels. This tablet is available in five color options Gold, Rose Gold, Silver, 2.5D Curve Screen Black, and 2.5D Curve Screen Gold. All colors look attractive and match perfectly with the dynamics attached to this tablet.
The 2.5D Curve screen tablets come in little bit bigger size 10.1 and placed in the range of phablets. Silver color matches with the chassis more than any other available color for this tablet. The web camera is placed at the center of the top bezel as we normally find in usual tablets. Side profiles are painted with a grey color that's why it matched with outer silver color the most. Rounded edges on all corners and slanting curves on the sidelines make the appearance more attractive and impressive.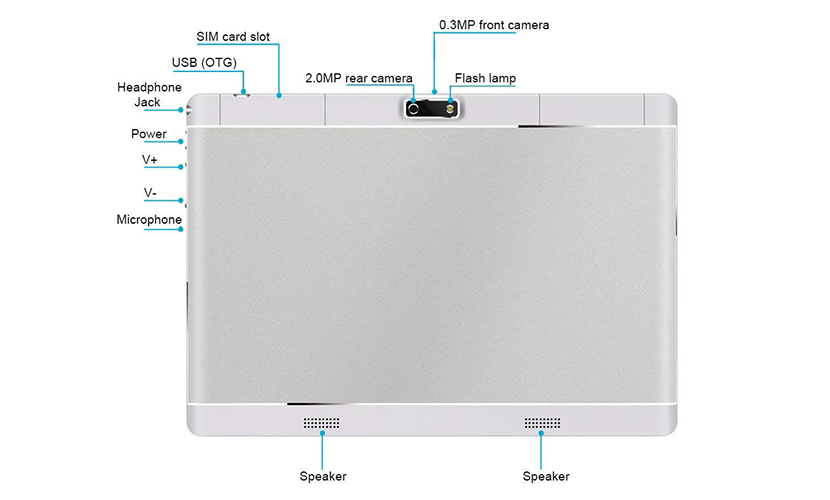 Back is where things changed in terms of design compared to traditional tablets. The rear section is divided into three sections. Shiny small bars at the top and bottom separate the sections. Upper bar holds the web camera at the center with a flash lamp and small vertical bars on both sides of the camera. USB and SIM card slots are provided on the top bar and power button, volume rockers, headphone, and microphone slots are provided on the right-hand side. Bottom bar holds dual speakers option. The dimensions of 8.9 x 6.2 x 0.3-inches and weight of just 15.7 ounces makes this tablet highly slim, sleek, and lightweight device which can slip into your purse or medium sized bag very easily.
Incredible Under the Hood
Kivors 9.6-inch 3G Touch Tablet incorporated with superb hardware unit for deriving adequate power and smooth performance. This tablet is powered by excellent Cortex A7 1.3 GHz A33 ARM Quad-Core processor paired up with 1 GB DDR3 SDRAM. Enjoy games, apps, and videos at lag free brilliance. The display of 9.6-inch full HD IPS touchscreen display with 800 x 1280 pixels resolution ensures crisp and vibrant images from every angle. As an operating system, this system works with Android 5.1 Lollipop which gives you the freedom of creativity or exploring new horizons.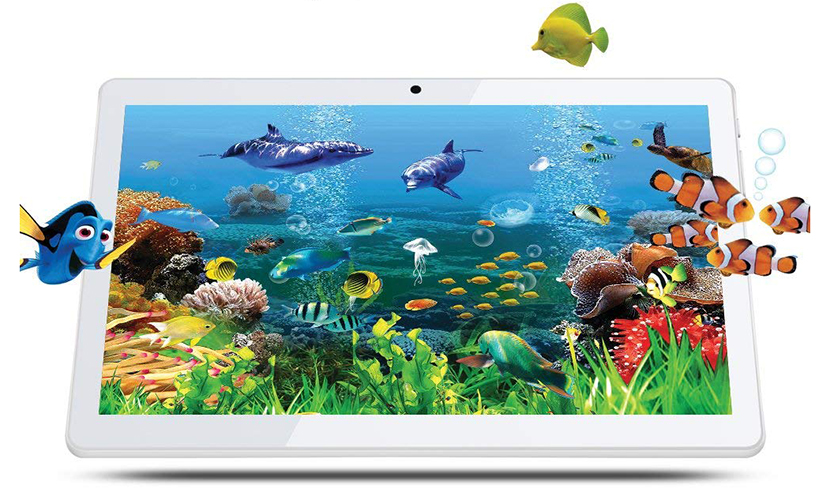 Dual camera option is provided in this laptop. Front web camera of 0.3 MP is very useful in making video calls to your family or friends or conference calls through Skype. The rear camera consists of 2 MP camera with auto-focus technology enables you to snap your favorite moments or scan your documents with ease. Internal storage unit receives 16 GB memory and can be extended using Micro SD Card which can be expandable up to 32 GB. So, store your college stuff, business documents, or favorite videos without thinking too much about the space or storage. The tablet is equipped with 3800 mAh battery which claims to last up to 8 hours without any break.
Connectivity Options
Input and output possibilities can be managed through various connectivity slots attached in Kivors 9.6-inch 3G touch tablet. The USB 2.0 port is there for charging or making connections to other devices and dual SIM card slot ensures 3G calling or net surfing. Wireless internet connection can be managed using 802.11 b/g/n WiFi or Bluetooth options.
Final Thoughts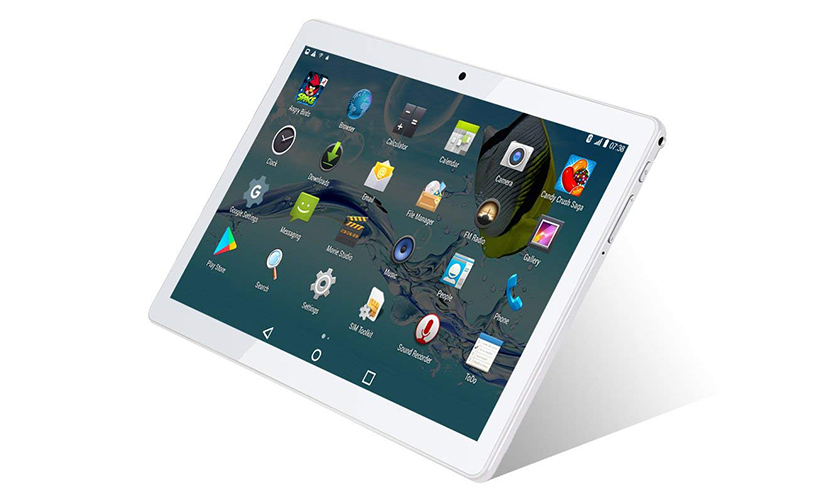 Kivors 9.6-inch 3G Touch Tablet is well thought out, nicely designed and performance oriented device which can be used in various ways by different kind of users. Stylish design with durable components and five color options to choose from, Quad-Core processor for superb performance, 3G GSM or WCDMA network frequency, dual 0.3 front and 2 MP rear with auto-focus technology, massive battery life with 3800 mAh battery, ample storage with 16 GB internal memory and up to 32 GB expandable Micro SD Card, 9.6-inch IPS HD touchscreen display, and more importantly comes at very reasonable price.
This is a perfect gift for your child, parents, friends, or any family members. Enjoy the performance of this tablet and conquer the challenge.