iRULU eXpro X3 7-inch tablet is relatively a new player in the overcrowded affordable tablet market. This device comes loaded with every basic amenity enabling you to perform tablet related tasks on the way. The price of eXpro X3 gives you a certain edge by delivering brilliant performance and not putting much load in your pocket as well. You can use this tablet accomplishing your business activities, studying, reading, watching videos, playing normal games, social networking, and web-surfing. All-rounder ARM A33 Cortex A7 1.3 GHz Quad-Core processor combined with 1 GB DDR3 RAM helps you to attain power and performance.
Image quality has been taken care by 7-inch capacitive 5-point touchscreen TFT panel and backed up by Mali 400 MP2 graphical processing unit. Store your valuable data on 8 GB internal storage and expandable Micro SD Card slot which allows adding another up to 32 GB of space. Google's Android 6.0 Marshmallow operating system provides the platform to install your favorite apps, games, and business-related utilities. With Play Store get access to tons of free apps and accomplish your tasks with utter smoothness and swiftly. Dual cameras on the front and rear, wireless connectivity through 802.11 WiFi or Bluetooth, and 2800 mAh battery are some other features making this device a good pick in reasonable pricing segment.
Design
iRULU is a specialist in developing a huge range of affordable Android tablets and eXpro X3 7-inch tablet is the latest offering in this range. The company put a very simple design on the outer. There is nothing in terms of design which turns your head or making it eye-catching. The whole dull black plastic build up is bulky, flimsy and boring. The dimensions of 7.5 x 4.8 x 0.4-inches and weight of 15.2 ounces completes the profile of eXpro X3. The front face is covered by a 7-inch screen with two-sided narrow and two-sided thick bezels. Web Camera is placed at the center on the top bezel with the upper side as rounded and below as straight matching the screen line.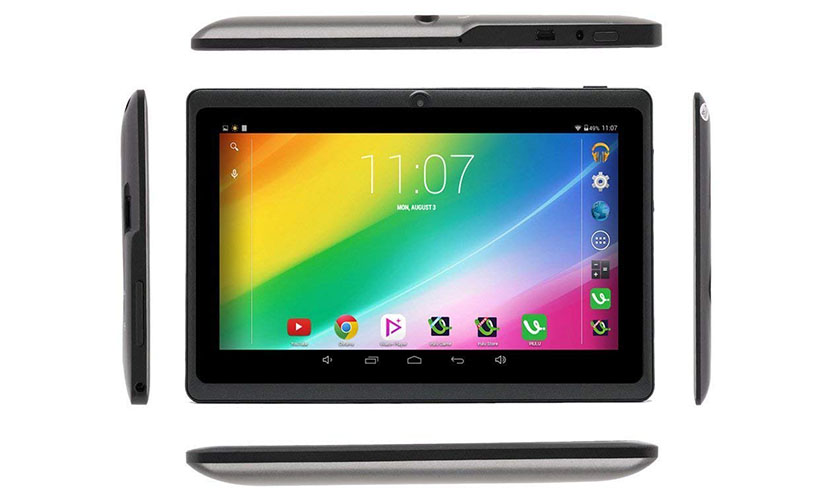 This tablet is available in three color options Black, White, and Pink. Black and White are regular choices as we usually notice on most of the devices but pink is something very unique. Maybe Company wants something specific for the girls. On the back, the web camera is placed as usual on the top and iRULU trademark logo at the center. Speaker Bars and holes are available at the bottom. The power button, USB slot, and charging port is provided on the top bar. Micro SD Card, Volume rockers, and audio jack can be found at the right-side bar. Overall, complete design with the number of available options but there is nothing fancy or stylish.
Display
The 7-inch screen size is said to be an ideal size for any tablet as it is easy to grip that device even with one hand plus it's pretty easy to carry the device anywhere with you. This 7-inch display comes with capacitive TFT display and a 5-point touch panel. The screen can extract up to 1024 x 600 pixels resolution which is OK in terms of picture standard. The color saturation, brightness and image quality is good while using this tablet in the indoor facility but outdoor visibility is very poor. It is highly reflective and you can only see your own ghost on it.
Hardware and Performance
iRULU eXpro X3 possessed with ARM A33 Cortex A7 1.3 GHz Quad-Core processor and 1 GB DDR3 RAM. This hardware unit will derive power and performance required for the tablet to perform routine tasks, reading, be studying, and be providing superb entertainment for the users. The 7-inch TFT LCD display fueled by Mali 400 MP2 GPU brings visuals to the screen. Good amount of storage is necessary as this gives you freedom of storing tons of files, videos, apps, and games to the device. This device receives 8 GB NAND Flash internal memory and Micro SD Card which is expandable up to 32 GB.
Camera and OS
Dual cameras of iRULU eXpro X3 enable you to click photos and making video calls. The front camera is of 0.3 MP allows you to make video calls with your family members, friends, and business associates. The rear camera is of same 0.3 MP and becomes useful in clicking photos or scanning documents. Both cameras are mediocre and you can't expect good picture quality in any one of them.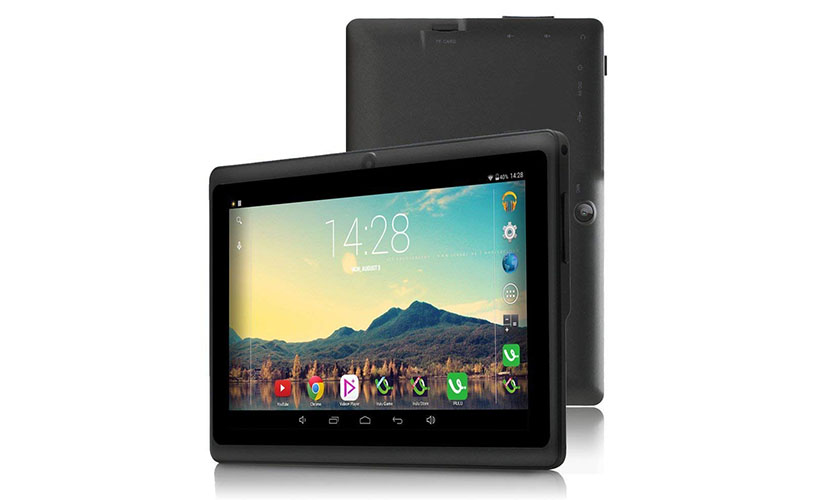 Android 6.0 Marshmallow provides a platform to explore various apps, utilities, games, and functionalities. Google play store helps you to access and download tons of applications absolutely free. Google Maps are very helpful for finding unfamiliar routes and features like Gmail allows you to access your emails on the go.
Communications and Battery
Interaction with other devices can be possible through both wired and wireless options. The wired option can be explored through alone USB port whereas wireless communication can be managed using 802.11 b/g/n WiFi router (supports 3G devices) and Bluetooth 4.0 options. You can also connect any Bluetooth devices like keyboard, speakers, mouse or any compatible device using Bluetooth as well.
Portable devices require a long-term of backup as it is one of the necessary requirement while you are on the road or out of power for a longer duration. This device comes attached with 2800 mAh 3.7 v Li-ion Polymer battery which claims to provide you 5-6 hours of backup on standard usage. It may vary according to different usage and display setting.
Final Thoughts
iRULU eXpro X3 comes with a lot of benefits like Quad-Core processor, 1 GB RAM, ideal 7-inch display size, 8 GB internal and expandable up to 32 GB storage, multi-connectivity communication ports, Android Marshmallow 6.0 OS, and reasonable pricing above all. But still factors like boring design, not so good picture clarity, low-grade front and rear cameras, and awful battery life force you to take a look for some other options as well in same price range before making the final decision.