iRULU eXpro X1 7-inch tablet is powered by Android and fits into highly affordable price segment. This is an entry-level tablet from the company and introduced to cater the need of the school, college going student or small business activities. You can perform reading, enjoy videos, and play normal games fluently on this device. The price range makes it a more value for money kind of device. Power and performance are driven through highly efficient ARM A33 Cortex A7 1.3 GHz Quad-Core processor and 512 MB RAM.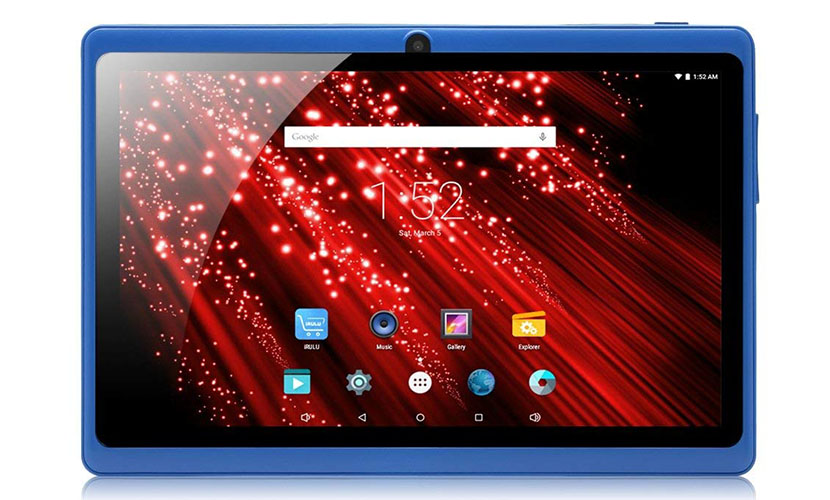 The 7-inch capacitive TFT display floats every visuals, pictures, and graphics to the screen. Dual camera option let you capture your favorite moments or make video calls to your near and dear ones. The camera resolution is not that much high rated but good enough to perform your camera functions. Internal 8 GB memory and expandable Micro SD Card option which can be extended up to 32 GB enable you to store your documents, valuable data, videos, apps, and games on this device. Android 4.4 KitKat version provides a platform for all your apps and utilities. Wired connectivity has not many options but wirelessly you can connect multiple devices to this system. This tablet is GMS certified and tested ensuring accurate and precise data and peace of mind for the users.
Design
iRULU eXpro devices are enriched in the hardware and software part but remain very light on your pocket. X1 7-inch tablet is the same sort of device featuring a potential hardware unit to perform your tasks, ideal size screen, comfortable operating system and above all, low-level price range not disturbing your budget.
As this is just an entry-level tablet, not much of pleasing characters attached to this device. The company kept the design very simple as we normally see on other available tablets. The dimensions of 7.72 x 4.72 x 0.35-inches and weight of 1.05 pounds completes the overall profile of this device. Bright Blue color definitely forces you to turn your head once for sure. The face of the device is loaded with 7-inch capacitive touch screen display surrounded with two-sided (left and right) quite narrow and rest two-sided (top and down) with normal bezels. A web camera is attached on the top bezel with a unique half-round shaped and flat from the bottom.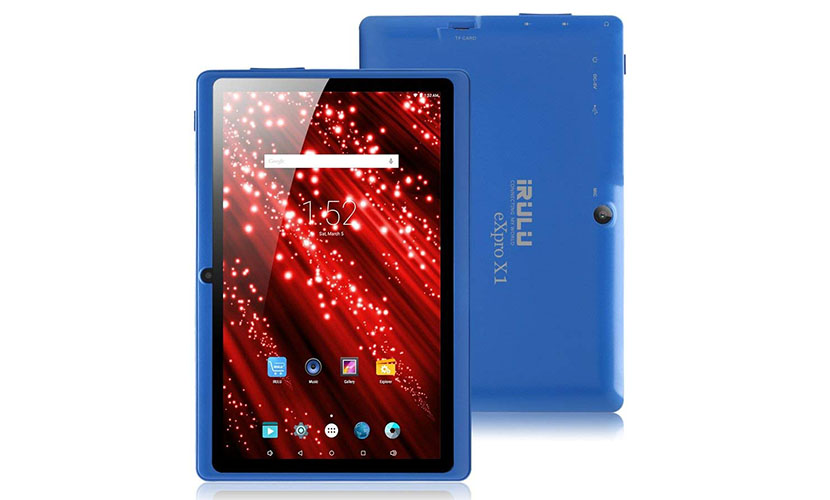 Back of the device is covered by iRULU trademark logo, tagline and model number eXpro X1 embarked in the center. Instructions, manufacturer's details, and speaker bars lie at the bottom. The right-side bar is attached with audio jack, volume buttons, and Micro SD Card option. Power, charging slot, and Mic button is provided at the top bar. So, on the design front there are every option which is required on any tablet but if you are expecting some premium features then this tablet is not for you.
Display
This tablet consists of 7-inch capacitive TFT touchscreen display giving you the dual benefit of holding and carrying this device easily. Due to the compact display size, you can carry this device anywhere with you while holding it in small bag or purse and it perfectly fits in the palm making it easy to hold this device. The resolution of 1024 x 600 pixels helps to extract true picture quality for the users.
Camera and OS
Both front and rear cameras are present in this tablet but the resolution of just 0.3 MP on the front and the same on the rear doesn't please many photo enthusiasts. The front camera can be used for making video calls with your family members, friends, and business associates whereas photos and scanning documents can be performed on the rear camera. The front camera is still suitable but the back camera is mediocre and below par in terms of performance.
Android 4.4 KitKat OS powers all apps and games to run smoothly and fluently. Again, this version seems to be quite old in the era Android 8 Oreo edition. You still get the facility of Gmail, Chrome, You Tube, Google Play Store, and Maps with this version. Well recognized GMS certification definitely adds few more points to the overall value of this device.
Hardware Specifications
iRULU eXpro X1 7-inch tablet boasted with ARM A33 Cortex A7 1.3 GHz Quad-Core processor and 512 MB RAM. This hardware unit will allow you to perform your day-to-day tasks, playing normal games, be studying, and be watching videos flawlessly and lag-free. The 7-inch TFT touchscreen floats every image or graphics on a screen. You will get an average battery life of approx. 5-6 hours from the system's battery.
Storage and Communications
Storage becomes an important factor if you want to use any device for routine tasks and the same rule applies to this tablet as well. This device is equipped with 8 GB of internal storage and provides you the option of Micro SD Card which can be expandable up to 32 GB. In combination there is enough space to perform your daily chores, storing ebooks, apps, and videos.
You have no option for wired connectivity, but wirelessly you can connect this device to any other device using 802.11 b/n/g WiFi router and Bluetooth options. In addition to this, you can connect any Bluetooth enabled device like a keyboard, speaker and keyboard to this device as well.
Conclusion
iRULU eXpro X1 7-inch tablet is just an average looking tablet. Performance wise 1.3 GHz Quad-Core processor is adequate, storage is enough with the help of internal and Micro SD Card option, wireless connectivity, and 7-inch display size are few supportive features in this tablet. What we not like is its dull appearance, plastic and bulky profile, mediocre cameras, less amount of RAM, and an old Android version, but the price makes up for those disadvantages.