Mobile workstation and entertainment are the need of the time as everyone is short on free time and want to accomplish every task on the move. Tablets are said to be best suited for these type of requirements as it holds perfect screen size to store it anywhere and sound hardware unit to perform every task efficiently. iRULU eXpro 5 S 7-inch tablet is one of the devices featuring a durable design, high-performance hardware, vibrant visuals, and smooth functionality through Android 7.0 Nougat edition operating system. Use various ports to connect an external device to this tablet.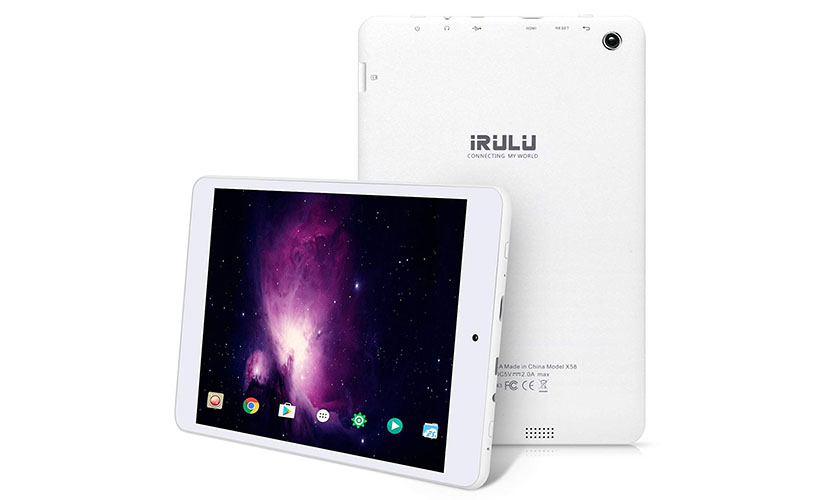 Capture your favorite moments through 2 MP rear camera and make Skype video calls possible using a front web camera. Power derived from 1.3 GHz Quad-Core processor and 1 GB RAM enable you to perform any work related tasks and enjoy entertainment to the fullest. The display of 7.85-inch HD screen floats balanced picture quality for the users. Dual storage option including 16 GB internal memory and expandable up to 64 GB Micro SD Card stores your valuable data. This tablet consists of 4200 mAh battery ensures longer backup time and increased productivity hours to accomplish your tasks uninterruptedly. Wireless connectivity and pre-installed Google play store enable you to study, reading, and net surfing with ease. This is GMS certified tablet so no more forgetting or inquiring about the way.
Design
iRULU may be new or not so popular brand name for most of the tablet users, but they are experts in making tablets. eXpro comes in different sizes and models ranging from 7-inch to 10-inch models. S7 is a fifth generation tablet in the eXpro range from iRULU so some enhancements and upgrades are quite visible in comparison to its predecessors.
This is a budget tablet but still holds a very slim and sleek profile to start with. The dimensions of 5.94 x 4.05 x 0.27-inches and a weight of just 0.75 lbs provide claims for that. The screen size of 7.85-inch with narrow bezels on the sideways and thick bezels at the top and bottom welcomes you. Front Web Camera is placed in the center of the top bezel as we normally find in normal tablets or related devices.
From the sideways, this device looks extremely slim and sleek all thanks to the slanting profile on the back. You can also notice rear web camera on the top corner and iRULU branding at the center with the tagline "Connecting My World". Speaker Bars are present at the bottom beneath the manufacturing details and instructions. All buttons and ports also mentioned at the top for the reference. A Micro SD card option is provided on the right sidebar apart from that, every port or button is attached to the top bar.
Display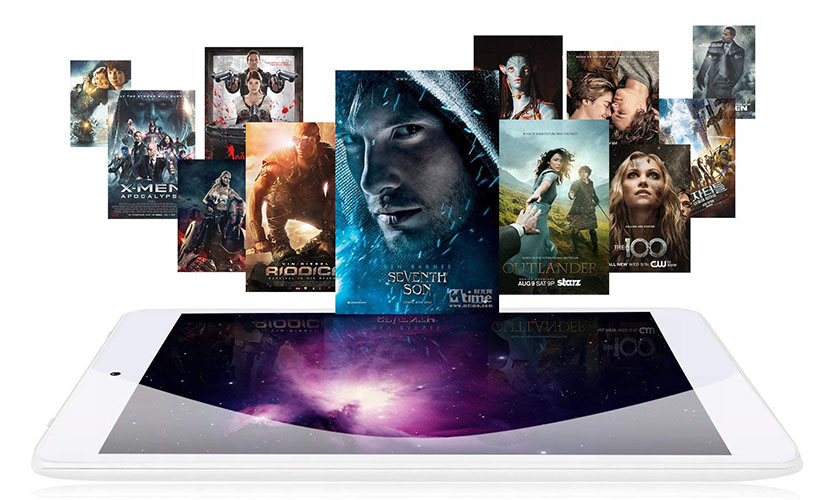 The screen size of 7.85-inches gives you dual benefits, one it is very easy to hold and grip the tablet even with one hand and second it makes it a highly portable device. This tablet holds IPS  HD touchscreen receives 5 point capacitive touch panel and resolution of 768 x 1024 pixels ensures responsive functionality and crisp and clear image quality. The 4:3 screen ratio makes your reading and gameplay more enjoyable and hands-free.
Efficient Performance
Adequate hardware is required to perform any tasks efficiently and this tablet doesn't lack in that department. This tablet is powered by superb 1.3 GHz A64 64-bit Quad Core processor which in combination with 1 GB RAM delivers the best performance for the users. The 7.85-inches HD IPS touch screen panel brings vivid visuals and amazing graphics.
eXpro 5 S supports Microsoft office applications as well, so you never cut away with your work while in the office or on the move. This device can support 4K HD Image using X5 and HDMI port. The battery of 4200 mAh claims to keep alive your tablet up to 8-9 hours, which is decent in any circumstances and conditions.
OS and Camera
This device is powered by Android 7.0 Nougat version allowing swift performance and smooth functionality of apps. Using Google Play Store, get access to unlimited apps, favorite games, business-related utilities, and a lot of fun and entertainment at no cost.
The front VGA camera is of 0.3 MP which we hardly see on any device and the rear camera is of 2 MP which is still decent in terms of performance. The front camera can be used for making Skype or video call with your business professionals or family or friends. Rear Camera with the ability of 720p video can be used for clicking photos or recording small clips.
Storage and Connectivity
On the storage front, 16 GB of internal memory is provided to store all of your important stuff, videos, and data. In case you have lots of data and feel that you may get drained out of storage very quickly don't worry, there is an additional option of Micro SD Card gives you an additional up to 64 GB of space.
Wired connectivity can be managed through USB and HDMI port, whereas wireless connection can be done using 802.11 b/g/n and Bluetooth option. Pair any Bluetooth devices like speakers and keyboard easily too.
Final Thoughts
iRULU eXpro 5 S 7-inch Tablet is a nice compact device designed to target most competitive market. This is a superb tablet loaded with the finest hardware 1.3 GHz Quad-Core processor, vivid display of 7.85-inch HD IPS touch screen panel, dual storage option of 16 GB plus up to 64 GB expandable, wired and wireless connectivity options, dual cameras, and elegant design.
If you are a photo addict then front and rear camera discourage you a bit. All this comes at a very affordable price range making it a good value-driven device for the users.