Apple has once again amazed us with the release of iOS 17 during WWDC23, a remarkable software upgrade that brings many new features and improvements to our beloved iPhones. Similar to all of the previous versions of iOS updates, Apple has also included some interesting features this time, making it hard not to update your iPhone to experience them.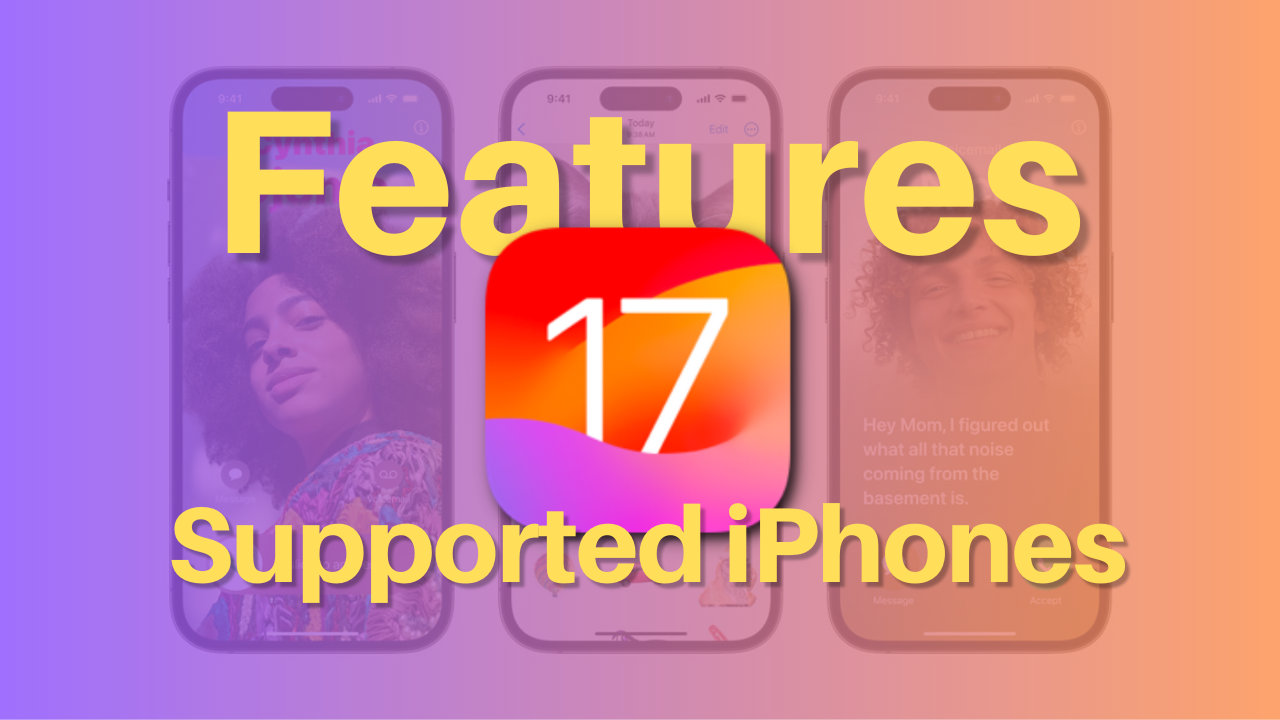 In this article, we will explore some of the best features that Apple has shipped with iOS 17 and also see if your iPhone supports the latest iOS update.
1. Customizable Contact Posters
One of the most noticeable changes in iOS 17 is the ability to customize the calling screen while receiving the call. This feature lets you combine the caller's photo or Memoji with a range of sleek and vibrant fonts and colors to create a unique caller ID experience.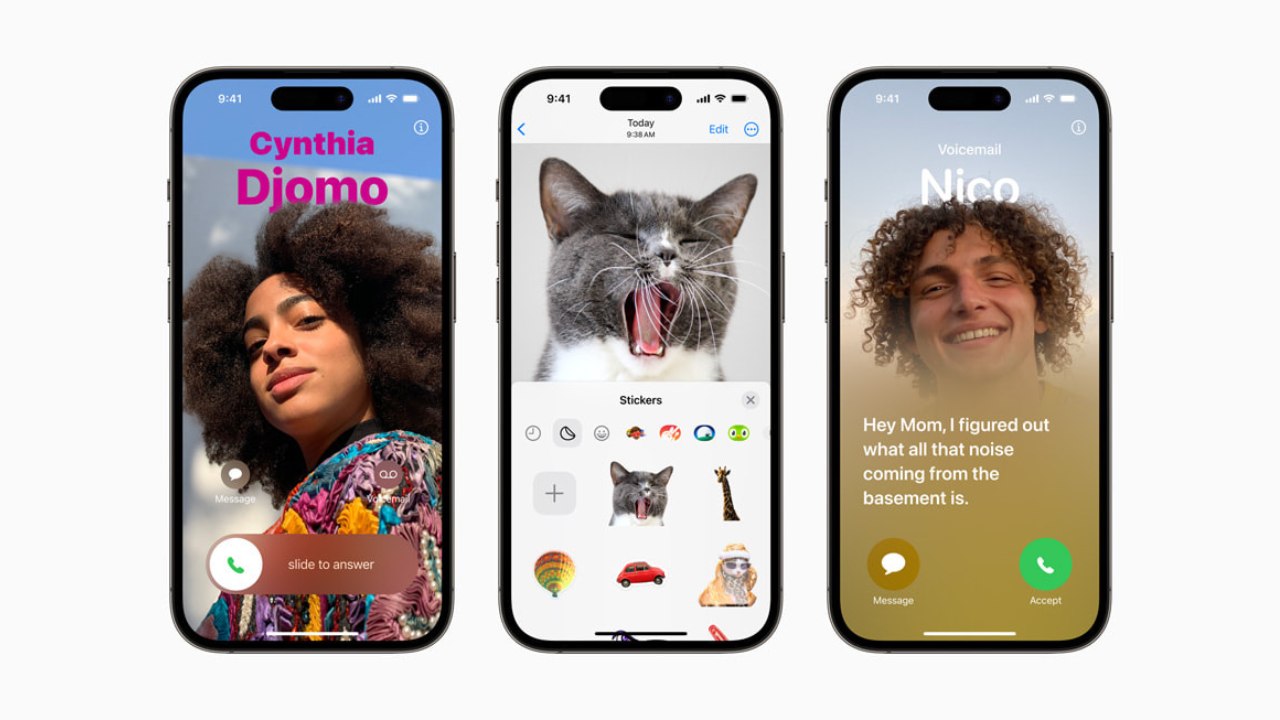 You can also use the newly launched NameDrop feature to share your contact information with another iPhone user by simply putting your devices next to each other. Users can also use the same gestures to start SharePlay to listen to music, watch movies, or play games together.
2. Live Voicemail with Transcription
With Live Voicemail, you'll get a real-time transcription of voicemails, allowing you to see why someone is calling you before even answering. This feature will be useful for rejecting spam calls flagged by carriers. The transcription process is secure and confidential as it will be conducted on the device and won't be shared with others.
3. Video Voicemail and Reactions on FaceTime
iOS 17 enhances FaceTime by letting the users leave audio or video messages if they cannot answer call. FaceTime also gets interactive gestures to display fun reactions like hearts, balloons, fireworks, and more during calls. Apple even allows third-party video calling apps to incorporate these effects into them.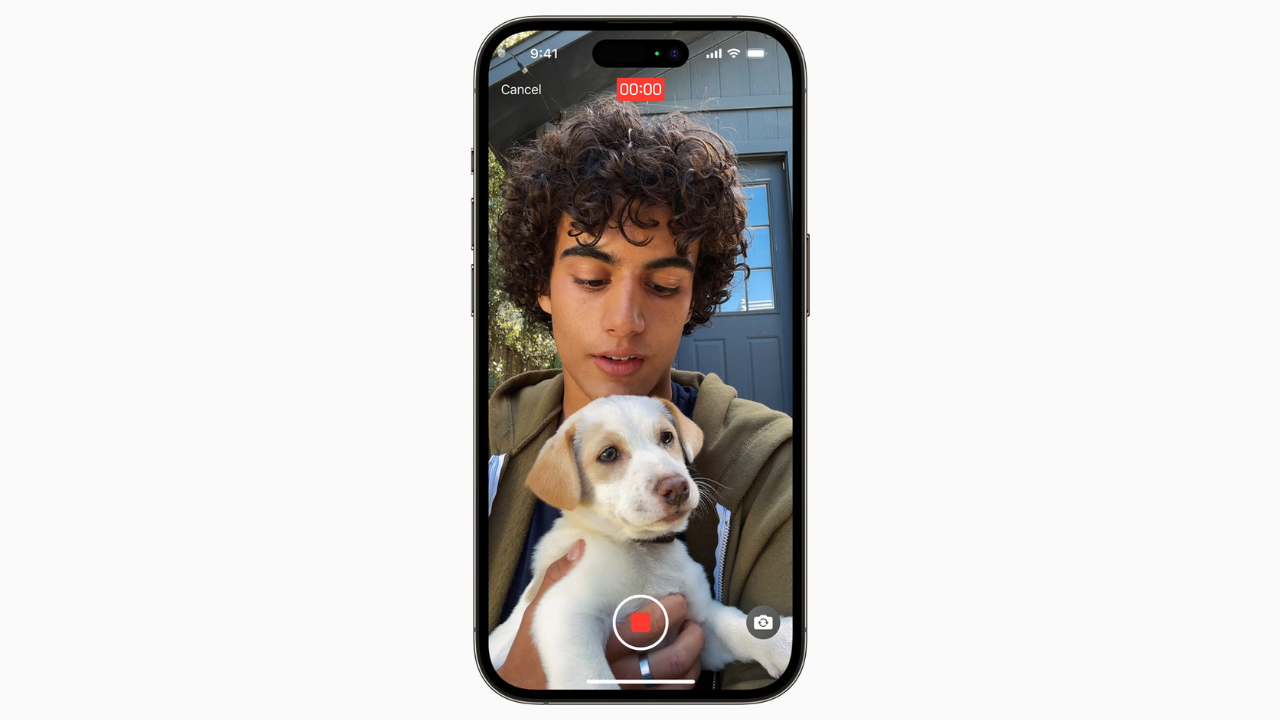 4. Message App Gets Major Updates
The Messages app receives significant updates in iOS 17. The search feature gets a new filter option to find specific messages quickly, catch up on extensive group discussions by jumping to the first unread message, and swipe on text bubbles to reply to particular messages. The app also automatically transcribes voice notes and displays real-time location updates within the chat.
One notable addition is the revamped stickers feature, which introduces new emoji stickers and allows users to create Live Stickers by extracting subjects from photos and applying effects to Live Stickers. Users can access all these user-generated stickers from a dedicated drawer in the keyboard.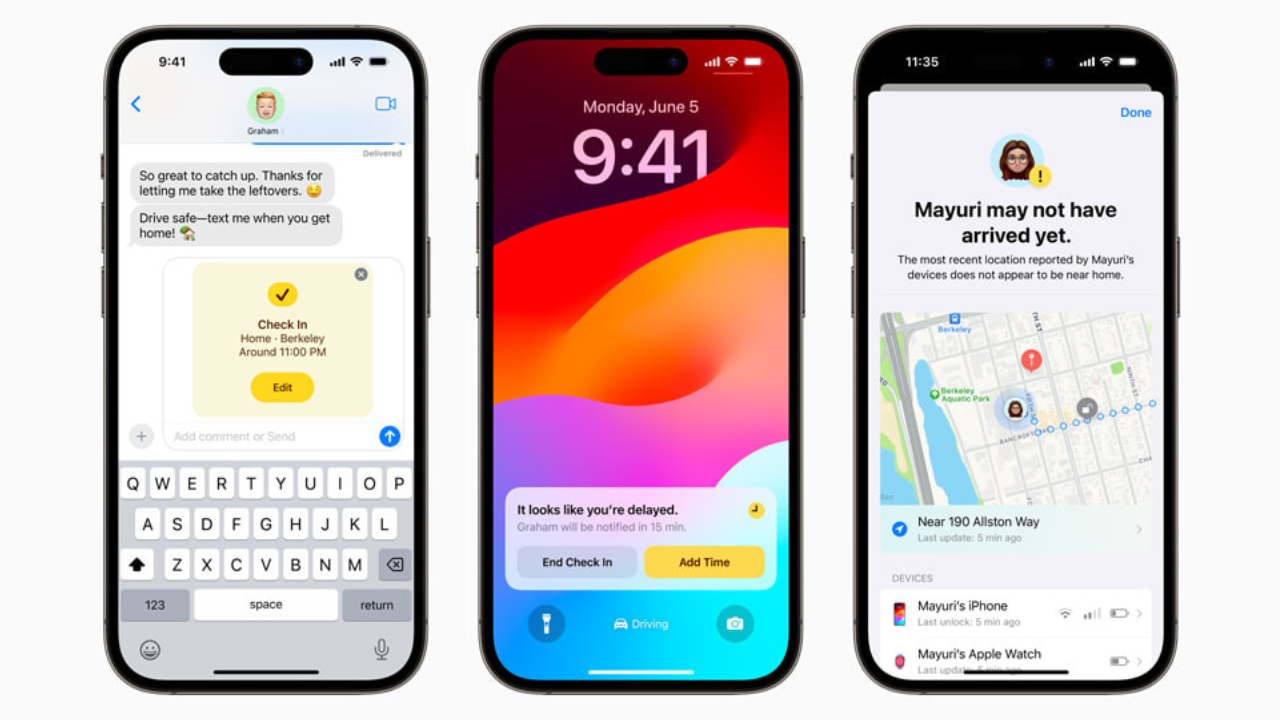 The app's UI has also received updates, such as a sleek expandable menu accessible with a simple tap, where you can see all the iMessage apps. Another noteworthy feature in Messages is Check-In, which users can use to notify their family members or friends of a safe arrival at a destination.
If there is no progress towards the destination, relevant information such as the device's location, battery level, and cell service status is temporarily shared with the contact in encrypted form.
5. StandBy
This is an interesting feature! When you charge your iPhone vertically (on its side) and put it down, StandBy mode will be activated. It will provide a full-screen experience with essential information such as Live Activities, incoming calls, and critical alerts; all can be viewed from a distance.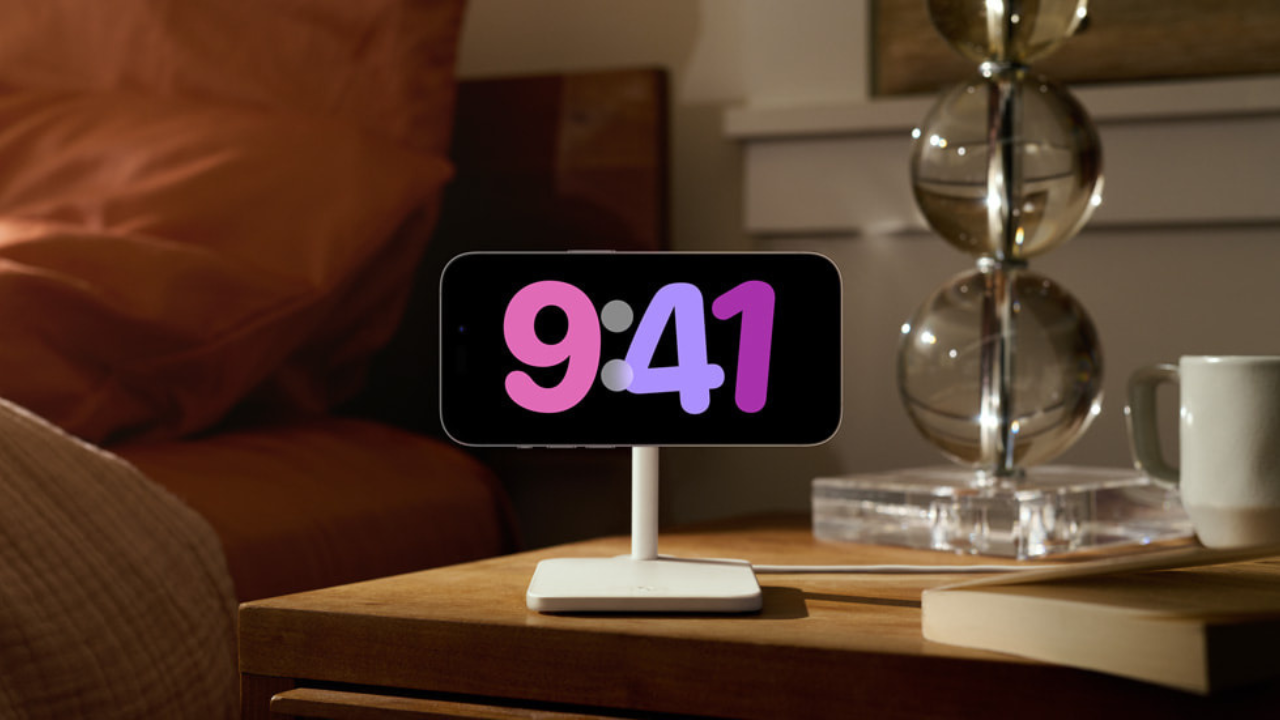 You can also use Siri to get information, such as accessing the weather or setting a timer. StandBy mode also supports interactive widgets that let you take action with a tap, such as playing music or controlling smart home devices. You can customize the Lock Screen with clock designs, favorite photos, or widgets.
6. Journal app
With iOS 17, Apple aims to make your iPhone the go-to device for all your needs, including journaling. The Journal app is perfect for those who like journaling and helps them organize their thoughts, memories, and ideas and even express appreciation through writing.
Journal uses on-device intelligence to suggest entries based on your activity and recent activities, including photos, people, locations, and music, such as photos you took or places you visited. The app lets users create entries with text, photos, videos, audio, drawings, and more.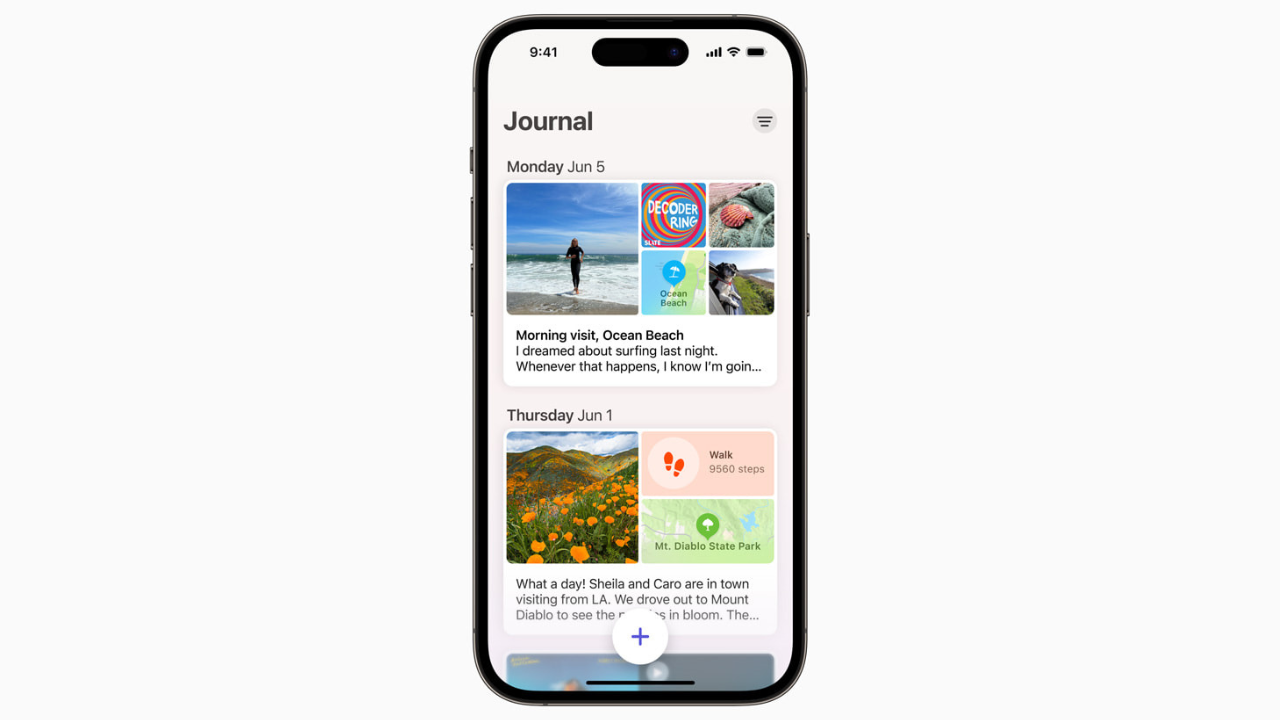 Users can also add tags, locations, dates, and people to their entries to make them easier to find later. Users can also browse their entries by timeline, map, or grid view. There's even an option to schedule alerts to encourage writing further, and offers end-to-end encryption ensures your privacy.
7. Safari Gets Profiles and More
iOS 17 introduces Safari Profiles, a feature that lets users create separate browsing profiles for different themes such as Work and Personal. You can keep your browsing history, extensions, Tab Groups, cookies, and favorites separate and easily access them by switching between profiles.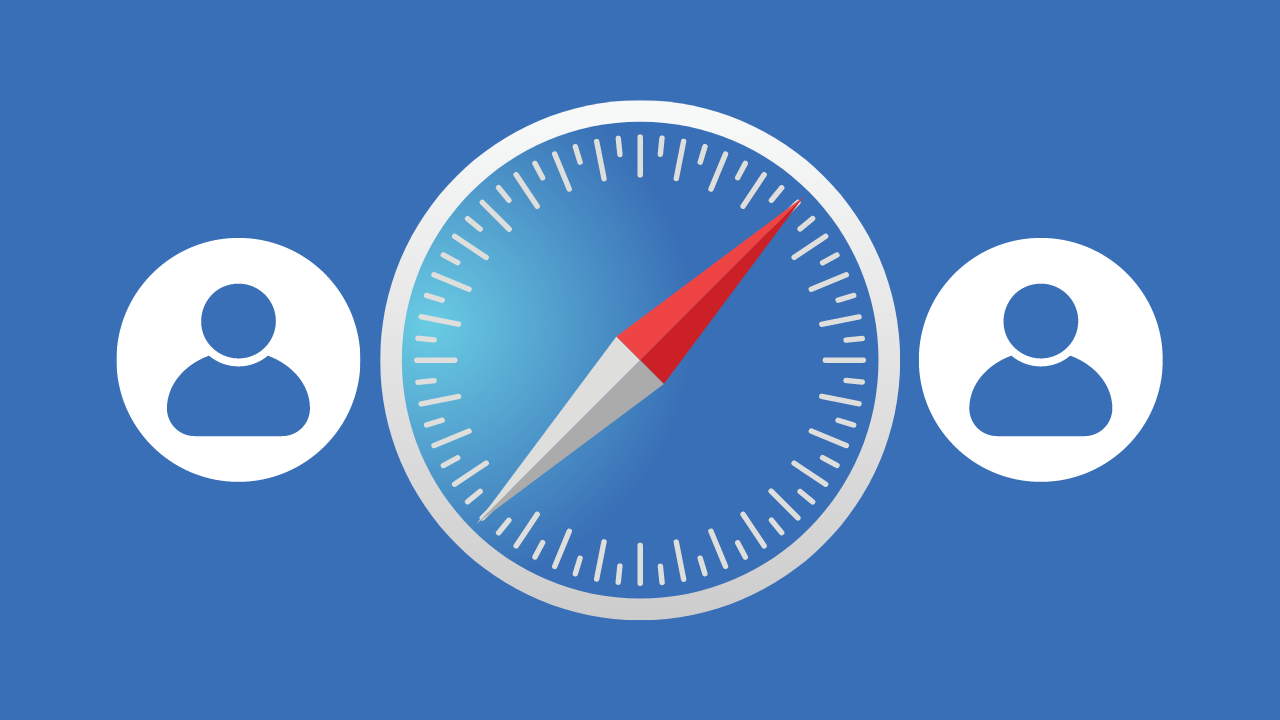 Apart from that, Safari has also enhanced the level of security in Private Browsing, shielding users from trackers and any potential unauthorized access to their devices. Moreover, Private Browsing now automatically locks when inactive, enabling users to open their tabs even when they step away from their devices.
8. Use Maps Offline
You can now save a map region on your iPhone and use features such as turn-by-turn navigation, estimated arrival time, and even find places even when you're offline. Maps also provide real-time charging availability for those who own an electric vehicle.
9. Improved Health App
The Health app also has some interesting features, among which there are certain functionalities for mental health. Users can now conveniently log their daily moods and momentary emotions, gaining insights into potential factors influencing their minds.
Furthermore, users can also use the app's built-in depression and anxiety assessment tools based on the ones used in clinics, along with regional resources for additional support. Users can also use the new Screen Distance feature in Screen Time to measure the distance between their iPhone screen and their eyes.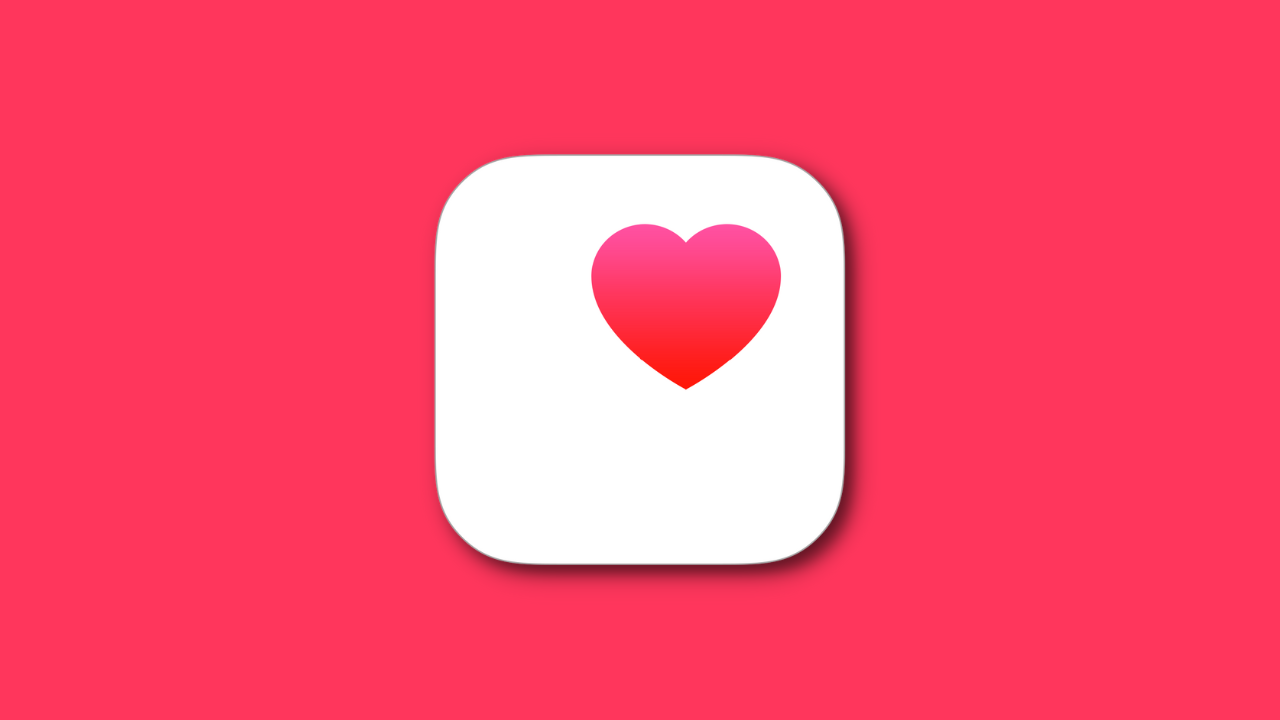 With the help of the TrueDepth camera, users can move their device further away if they have held it closer than 12 inches to their face for an extended period. The Health app also prompts iPhone 14 Pro users to indicate their current emotional state.
Other Interesting features
Autocorrect gets a significant upgrade with the advanced on-device machine learning language model, enhancing word prediction. Autocorrect now also receives an advanced capability to fix a wider range of grammatical errors. Users can also use the inline predictive text recommendations while typing.
Dictation also receives updates for an enhanced speech recognition model, where users can experience higher accurate results.
Share passwords and passkeys users can now share credentials with trusted contacts through iCloud Keychain. Within the group, everyone can add or edit the passwords. Since the data is shared using iCloud Keychain, data transfer will be end-to-end encrypted, enhancing the overall security of the shared information.
AirTag now supports sharing with up to five individuals in a group, including friends and family. Everyone in the group can view the item's location, play a sound, and utilize Precision Finding to help locate a shared AirTag.
Apple Music introduces Collaborative Playlists, where users can listen to music with their friends or the people they choose. In addition, SharePlay in the car allows all passengers to contribute to the playlist. Listeners can control music from their devices, even without an Apple Music subscription.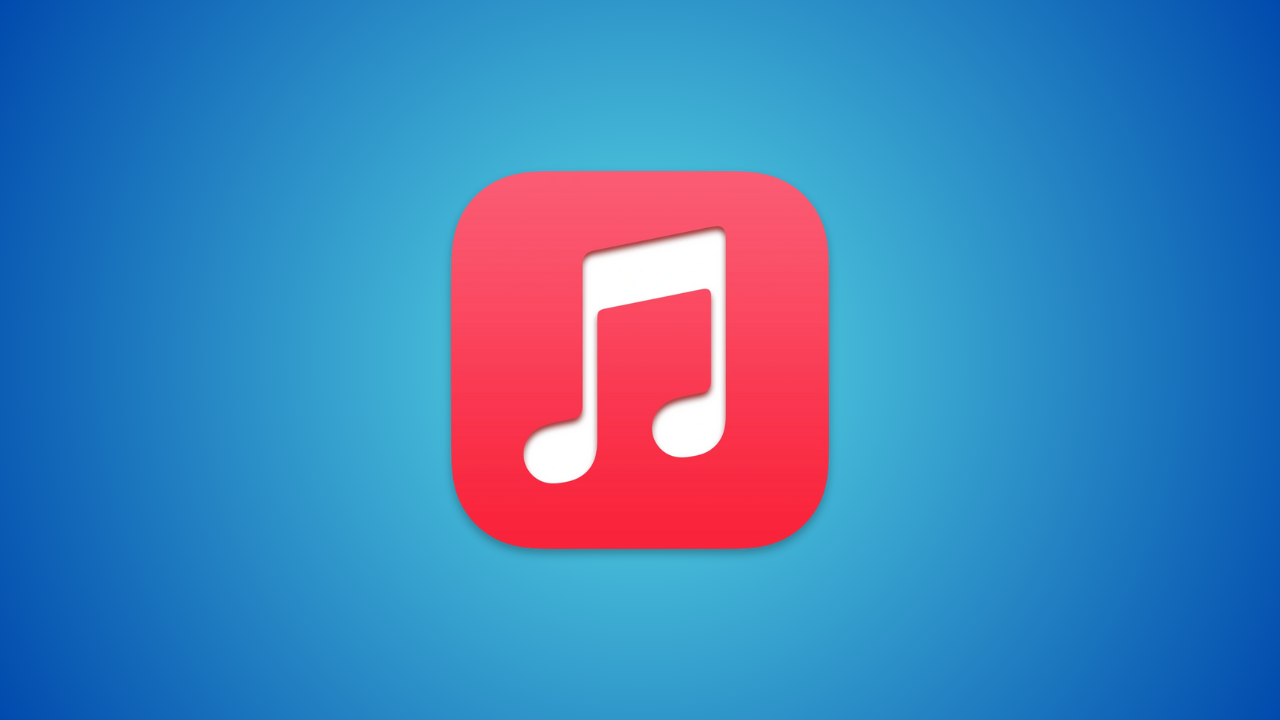 AirPods now receive Adaptive Audio, Personalized Volume, and Conversation Awareness. Furthermore, the Automatic Switching and call controls have also been improved.
Home app allows users to view up to 30 days of activity history for door locks, garage doors, alarm systems, and contact sensors.
Reminders get a grocery list feature that automatically categorizes added items. Users can customize these groups and save the list based on their preferences.
Visual Look Up will work even with the paused video frames, where it can identify food, storefronts, signs, and symbols and even extract specific subjects.
Siri can be activated simply by saying "Siri," with which users can issue multiple commands without needing to reactivate the assistant.
People album in Photos uses on-device machine learning to recognize users' favorite people, cats, and dogs.
iOS 17 is compatible for the following iPhones
Now that you know every feature of iOS 17, it's time to look at all the supported iPhones. By default iPhone, 15 series will be shipped with iOS 17 out of the box. As for the rest of the devices:
iPhone 14, 14 Plus, 14 Pro, 14 Pro Max
iPhone 13 mini, 13, 13 Pro, 13 Pro Max
iPhone 12 mini, 12, 12 Pro, 12 Pro Max
iPhone 11, 11 Pro, 11 Pro Max
iPhone XS, XS Max
iPhone XR
iPhone SE (2020 and 2022)
iOS 17 is now as Developer Beta and will soon be available for Public beta. You'll be able to experience iOS 17 in the mid of September 2023. Are you excited about the latest iOS update? What's your favorite feature you are excited about?